April 2019 Post and Promotion Ideas for Dental Practices
Stress Awareness Month
Engagement Post Idea:
Photo Assignment: Host an activity that encourages staff to release stress from their lives. Provide balloons and markers. Have staff write down their biggest source of stress on the balloon. Release the balloons outside as a practice. Snap a photo of the event!
Post Text: #StressAwarenessMonth: Don't 😬grind your teeth due to stress! Let go of what weighs you down and focus on what lifts you up.💖

Stop by our office and join us in saying 👋goodbye to negativity! There will be balloons and markers at our front desk all month long. #WeAreHereForYou
---
Oral Cancer Awareness Month
Promotional Post Idea:
Offer complimentary screenings to promote patient care and oral cancer awareness.
Photo Assignment: Snap a photo of patients getting oral cancer screenings.
Post Text: In honor of #OralCancerAwarenessMonth, we're offering complimentary screenings for the month of April. 📲Call [PRACTICE NUMBER] to schedule your appointment and put 😁#OralHealth first! #PRACTICENAME
Engagement Post Idea:
Video Assignment: Create a short video explaining the symptoms or signs of oral cancer and best practices to avoid oral cancer.
Post Text: #OralCancerAwarenessMonth: Steer clear of tobacco, consume alcohol in moderation, and keep up with dental visits to avoid #OralCancer. Remember, 😁oral health influences 🌱overall health! Take care of those gums and pearly whites.💖 #PRACTICENAME
---
Easter – 4/21/2019
Promotional Post Idea:
Fill your patient's Easter Baskets with goodies! Offer a special discount on Teeth Whitening to make sure the stains are on eggs, not teeth!
Photo Assignment: Take a fun group photo of your EGG-cited staff in pastels, bunny ears or their best Easter gear!
Post Text: Double check those Easter Baskets! 🐰 [PRACTICE NAME] is egg-cited to offer our patients [INSERT $ or %]  OFF Teeth Whitening treatments, now until [EXPIRATION DATE]. Keep the stains on the eggs 😉! Call 📞 PRACTICE NUMBER today to schedule an appointment today!
Engagement Post Idea: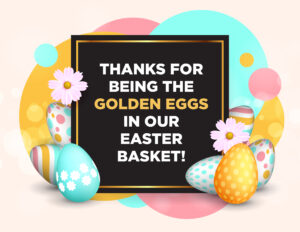 Photo Assignment: Want to show your patients a little love this Easter? Take an EGG-citing photo or

Boomerang

of your staff in their Easter gear, holding this printable graphic!
Post Text: We just want to thank you all for being our main #peeps🐣! From the entire staff at PRACTICE NAME, we wish you and your families an 🥚EGG-ceptionally  #HappyEaster!

🐰
---
Earth Day – 4/22/2019
Engagement Post Idea:
Photo/ Video Assignment: Record a fun, short video or take photos of a staff member (or members) practicing sustainability at your practice!
Post Text: Happy #EarthDay Family & Ferns🌿! Always remember that small actions can make a big impact! What are you doing today to take care of this beautiful 🌎 rock we call home?