Bariatric Surgeon in Alexandria Debuts New Informative Weight Loss Surgery Website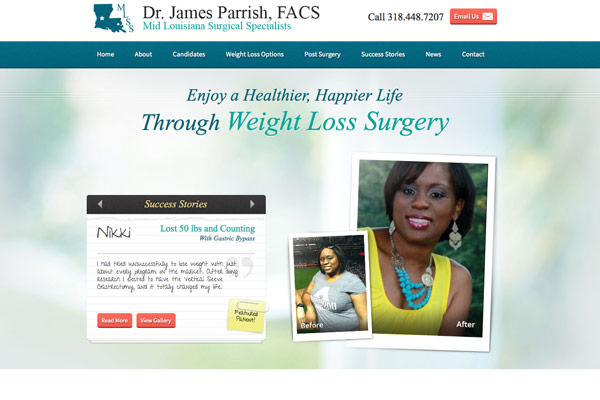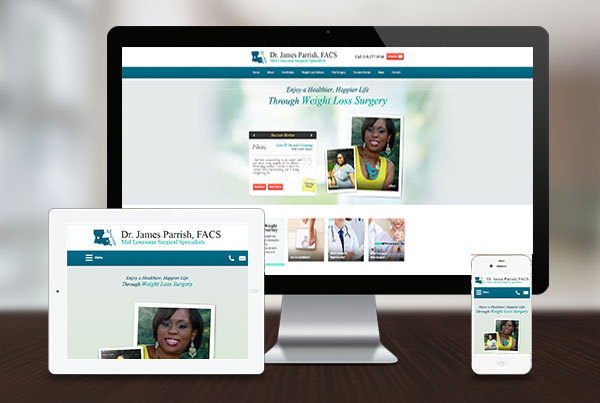 Dr. James Parrish recently launched a responsive website to serve as a resource for individuals considering bariatric surgery.
Alexandria, LA — Dr. James Parrish recently announced the launch of a new website for his practice offering bariatric surgery in Alexandria. Dr. Parrish says the new website is designed to be a comprehensive weight loss surgery resource that can help individuals who are researching options to combat morbid obesity. He says he hopes those who have already had weight loss surgery can benefit from the site, as well. Visitors to the practice's new site can find answers to frequently asked questions, as well as learn more about the variety of weight loss procedures available. Some other features of the website include:
Dr. Parrish says the newly designed website is thoughtfully organized in a way that makes it easy for patients to navigate and find the information they need. "I want people to be able to visit this website and learn more about what their surgical options are, as well as to get a clear picture of how these types of procedures can change their lives."
To further improve the online experience, Dr. Parrish says his website was designed to cater to the user through responsive website design. He explains that this unique feature makes the site compatible with all types of internet-ready mobile devices, as well as home computers. Dr. Parrish says that unlike a mobile version of the website, responsive design allows viewers to access all of the same information available on the full site, no matter what type of device they are viewing it on. When viewed on a smartphone or tablet, visitors can call or e-mail the practice easily with one-touch connectivity.
To create his customized bariatric surgery website design, Dr. Parrish says he partnered with medical marketing and website design firm, Rosemont Media. According to Dr. Parrish, the company worked closely with him to build a personalized website that was user-friendly and educational. He says he hopes his new website will allow more people to gain a better understanding of weight loss surgery so they can start a journey toward a healthier lifestyle.
About James N. Parrish, MD, FACS
Dr. James Parrish is a member of the American Society For Metabolic and Bariatric Surgery, is the President of the Louisiana Chapter of the American Society for Metabolic and Bariatric Surgery, and actively participates in several other prestigious medical organizations and societies. He is also the Medical Director of Bariatric Surgery at both Christus St. Francis Cabrini Hospital and Central Louisiana Surgical Hospital. Dr. Parrish is available for interview upon request.
To learn more about Dr. Parrish and his practice, please visit alexandriabariatricsurgery.com.