Is Your SEO Firm Legit? 5 Qualifying Questions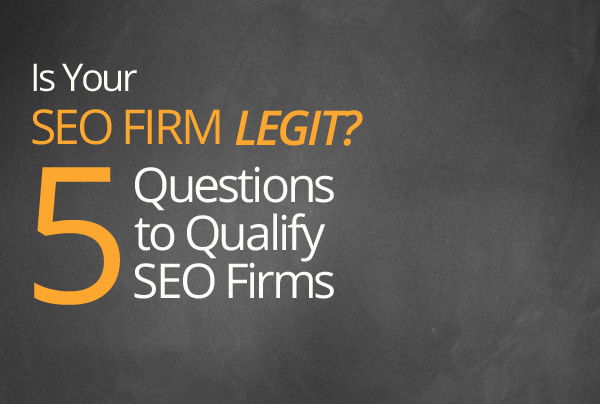 If you own a business, you have probably set a goal of getting your name as close to the top of internet search engines as possible. And since search engine optimization is one of the best ways to advertise your business on the internet, you may be looking for qualified SEO experts to help you get there. But be careful: just as in any business today, there are some SEO consultants and so-called "specialists" who may not be the most trustworthy you can find. In an in-depth and extremely helpful article posted on live-pr.com, Aniruddha Badola of Enovabiz Solutions runs down a list of areas you should definitely consider reviewing before settling on an SEO consultant to help improve your website's rankings.
5 Qualifying Questions
Are they guaranteeing a Number 1 Google ranking for your website?
Are they quoting extremely low prices?
Are they promising results but not revealing how they will accomplish them?
Are they recommending shady SEO tactics (Black Hat Techniques)?
Are the techniques they are using out of date?
Badola says any consultant claiming they can get you to #1 on Google could be willingly misleading you. Badola says, at best, consultants can claim they can get you into the top 10, but getting to number one requires a lot of various components and knowing Google's precise algorithms is impossible because they are some of the industry's best-kept secrets. Badola further recommends that you be wary of low prices because, in most cases, quality SEO is hard work from a team of people, and that doesn't often come cheap. Badola also says to watch out for Black Hat Techniques. These tactics – such as hidden text containing keywords in your website – are not only unethical, they can wind up getting your website heavily penalized.
Also, Badola urges you to make sure the SEO company is using techniques that are up-to-date as opposed to outdated tactics such as keyword stuffing; and don't listen if a consultant says their way of achieving results are "secret." It's your website, you have every right to know how it's being maintained. And don't forget to verify the consultant's record with other clients, that should give you a reasonable idea of how successful they've been.