Vein & Cosmetic Center of Tampa Bay Launches Bio-Identical Hormone Therapy Specialty Website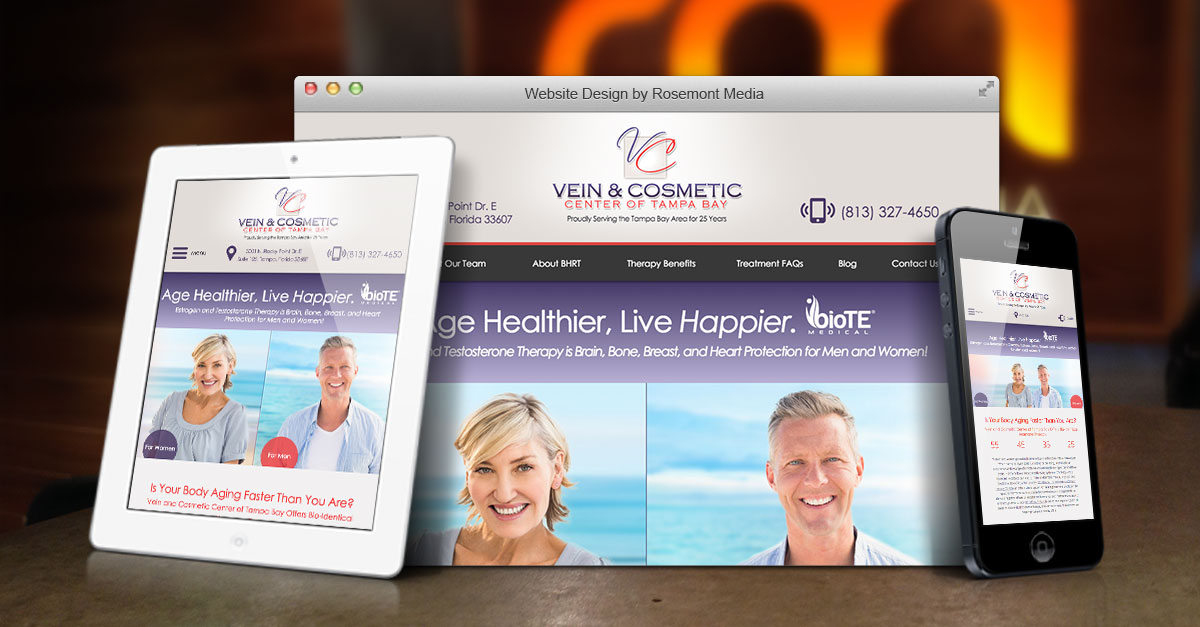 Jeffrey Hunt, DO, RVS, RVPI and Rosemont Media recently created a new website dedicated to educating patients about the anti-aging benefits of Bio-Identical Hormone Replacement Therapy (BHRT).
Tampa Bay, FL – Dr. Jeffrey Hunt has spent many years extolling the benefits of bio-identical hormone replacement therapy at his practice, the Vein & Cosmetic Center of Tampa Bay. In order to further promote and educate patients about this increasingly popular anti-aging therapy, Dr. Hunt decided to create a new specialty website, focusing solely on bio-identical hormone replacement therapy (BHRT). Similar to the main website that the Tampa physician currently has for his practice, he wanted the new site to be fully responsive to a range of digital platforms and to incorporate a blog, custom-developed content, and other helpful resources. This combination of features allows the website to:
Supply comprehensive, well-organized, and up-to-date information about BHRT
Automatically adjust to fit mobile phone, tablet, laptop and desktop screens
Deliver an easily navigated menu bar and user-friendly experience
Connect with individuals interested in learning more about BHRT
Establish Dr. Hunt as a trusted BHRT practitioner and authority on hormone pellet therapy
Intended to educate men and women about treating the symptoms of hormone level depletion during the aging process, the new website clearly outlines the physical, mental, and psychological benefits that BHRT can offer. Throughout the site, Dr. Hunt discusses BioTE® Hormone Pellet Therapy and Nutraceutical Supplements as a comprehensive treatment program designed to balance hormone levels. He says many of these therapies can help improve mental clarity, enhance energy levels, reduce mood swings, enhance physical wellness, increase sexual desire, and help reshape the body. For visitors with questions about bio-identical pellet therapy, Dr. Hunt has compiled a complete list of answers to frequently asked questions, which cover the differences between synthetic and bio-identical hormones, in addition to talking about the relative safety of all-natural BHRT.
Ultimately, Dr. Hunt hopes that the new website he created with the help of Rosemont Media, a San Diego-based medical website design firm, delivers the message that BHRT performed by a trained and knowledgeable physician has the potential to improve quality of life as the body ages. He believes this website will be a valuable resource to individuals who are facing aging-related hormone fluctuation and considering BHRT as a possible solution.
About Jeffrey A. Hunt, DO, RVS, RVPI
Dr. Hunt is certified by the American Osteopathic Board of Family Physicians and has a special focus in bio-identical hormone replacement therapy, vein treatment, and medical aesthetics. After graduating from the West Virginia School of Osteopathic Medicine, Dr. Hunt completed a three-year residency at Cuyahoga Falls General Hospital and maintained a successful family practice in Akron, Ohio for seven years. Since moving to Tampa Bay, he has become both the founder and Medical Director of Vein & Cosmetic Center of Tampa Bay. Dr. Hunt is a member of several prominent professional associations, including the American College of Phlebology, the American Osteopathic Board of Family Physicians, and the American Osteopathic Society. He is available for interview upon request.
For more information about Dr. Hunt and his practice, please visit tampabioidenticals.com, veincentertampa.com, veintreatmenttampa.com, and facebook.com/veincentertampa.