The Difference Between Custom and Customizable Sites
Is your website custom or customizable? Many of our clients in the past have been led to believe custom is the same as customizable but the differences are vast. At Rosemont Media, all our sites are custom. Our graphic designers work closely with our clients to create unique practice websites. Customizable sites on the other hand, are template based and have a similar look. Below we explain the differences in more detail using help from Mexican food.
Customizable Sites are Like Fast Food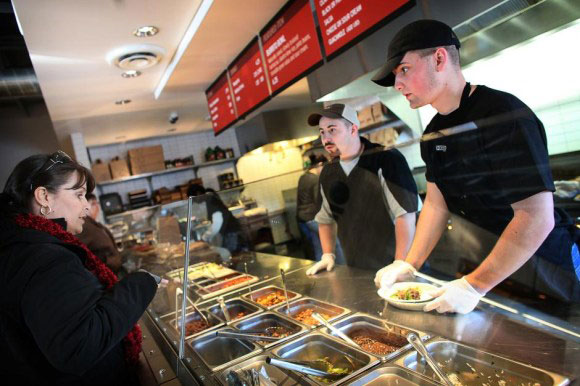 Think of customizable sites like the Chipotle restaurants. You wait in line, and create your meal from set ingredients. Customizable sites are templates with set layouts. You may be able to change photos and colors, but your site will look similar to many other sites due to the template. Just like how burritos and bowls at Chipotle vary slightly in ingredients. Sometimes you can customize the layout yourself, but often you pay a company not only for the template, but also manipulating it.
Chipotle restaurants are standard looking, and the meal is cheap, but you wouldn't impress a first date by going there. The same goes for customizable sites, the cost may be less, but you are getting an average-looking, non-unique site. Also, when it comes to technology, many custom sites are basic, like Chipotle's Americanized version of Mexican food.
Custom Sites are Like Hiring a Private Chef
Custom sites are a whole different class than customizable sites. Instead of going to Chipotle for dinner, custom sites are like having expert Mexican food chef Rick Bayless cook a meal for you in your own kitchen. Chef Bayless would use the freshest ingredients, listen to what you like, or don't like and create an authentic dish that matches your palate. Your guests would be wowed and enjoy their time there.
You want the same experience for visitors to your website. A custom site is made according to the needs and style of the practice. At Rosemont Media, we work hard to make sure your new site is created with the best quality and process. We have a team of graphic designers to create the perfect design, developers to build the site, and project managers to make it all flow smoothly. Our consultants are our client's main contact dedicated to making sure all communications are implemented. We keep up to date on all the developing web technologies and changes in Google's suite of products to make sure client sites are leading their competition. In the end, paying a little more for quality and support is going to be worth it to your practice and patients.
What Experience Do You Want Patients to Have?
Your practice website is your virtual storefront, how do you want it to appear and what experience do you want your visitors to have? By knowing the difference between custom and customizable sites you can choose the type of site you want to complement your practice. If you want your website to be one of a kind and of the highest quality with a support team, find a company that solely makes custom sites. And don't blame us if you start craving Mexican food!