Beverly Hills Dentist Launches New, Responsive Porcelain Dental Veneers Website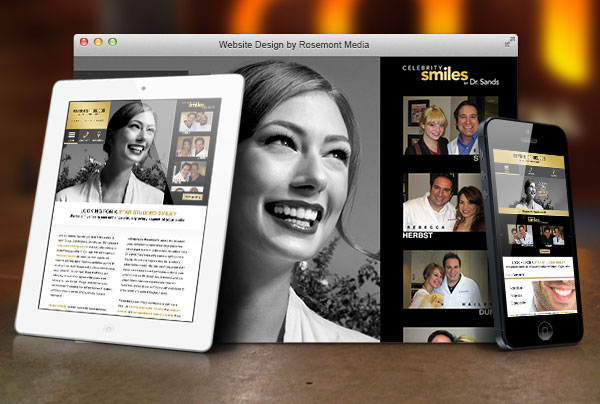 Dr. Kevin Sands opens the virtual doors of a new website focused on porcelain veneers, one of the most popular cosmetic dental treatments. The site is designed to be read easily and comprehensively across a range of digital platforms.
Beverly Hills – Dr. Kevin Sands, a cosmetic dentist in Beverly Hills, has a deep understanding of how porcelain veneers can significantly enhance a person's smile – and that's why he is devoting an entire website to what's become one of the most popular aesthetic dental treatments available. Dr. Sands says the recently unveiled website focuses solely on explaining the many aspects of porcelain veneers, which are treatments designed to mask the effects of chips, gaps, stains, misalignment, and other common dental imperfections.
Dr. Sands' new website is "responsive," meaning it is designed in such a way that it can be easily viewed on desktop computers, laptops, smartphones, and tablets without sacrificing content or ease of readability for a smaller screen. The website offers information on the benefits of porcelain veneers, the various types of veneers available, candidates for porcelain veneers, and what patients can expect during the procedure. Viewers can also find a before-and-after photo gallery featuring some of the many patients Dr. Sands has successfully treated with porcelain veneers.
Dr. Sands says porcelain dental veneers are custom-designed to fit over only the visible portion of the affected tooth, and offer many patients a way to renew the appearance of their smiles with results that look and feel natural. He notes that this state-of-the-art new website, developed in collaboration with San Diego-based dental marketing company Rosemont Media, can give individuals looking to correct common dental issues a detailed and educational resource that helps them discover the long-lasting value of this popular treatment.
About Kevin B. Sands, DDS
Dr. Kevin Sands graduated from the University of Southern California School of Dentistry and completed courses in Advanced Anterior Aesthetic Dentistry at the Las Vegas Institute for Advanced Dental Studies. He is a member of the American Academy of Cosmetic Dentistry, the American Dental Association, the California State Dental Association, and other organizations. Dr. Sands has treated a number of the world's most famous actors, singers, and entertainers, and has been featured on The Learning Channel, the Style Network, and other major media outlets. In addition to porcelain dental veneers, Dr. Sands' cosmetic dentistry practice offers teeth whitening, Invisalign® clear teeth aligners, dental implants, total smile makeovers, and other options. Dr. Sands is available for interview upon request.
For more information about porcelain dental veneers, visit porcelainveneersinbeverlyhills.com and facebook.com/cosmeticdentistbeverlyhills.