Las Vegas Cosmetic Dentist Launches Responsive Website as Comprehensive Patient Resource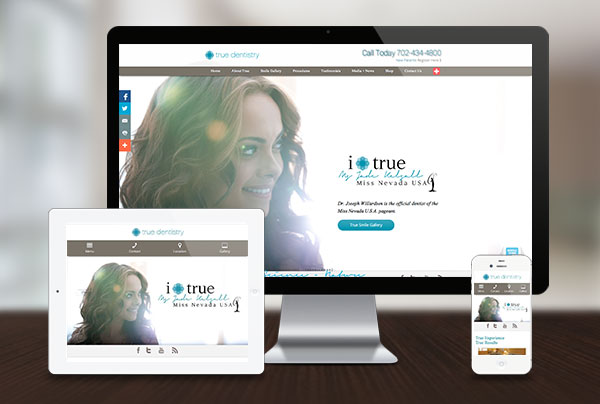 Dr. Joseph Willardsen announces True Dentistry's site redesign, describing it as a thorough resource for patients to learn about dental procedures.
Las Vegas, NV – Dr. Joseph G. Willardsen of True Dentistry recently unveiled the newly redesigned website for his Las Vegas dentistry practice. He believes the new site is more consistent with the team's goals, as it utilizes advanced technology and helps to thoroughly educate current and prospective patients on available procedures. Along with its practical uses, Dr. Willardsen says the redesign provides a more organized layout with easy navigation, helping patients find the information for which they are looking.
Dr. Willardsen describes the updated website as a comprehensive resource for patients to use as they are considering dental treatments. By having the details available online, patients can gain a basic understanding of procedures, which he believes will help them make the most of their time at the office and make a more informed decision. The new site is home to a wealth of content, covering a wide range of the procedures patients tend to discuss with Dr. Willardsen the most. Some of these treatments include:
In addition being an elaborate source of valuable information, the new True Dentistry website abides by the team's goal of staying up-to-date with technology. Dr. Willardsen says he is proud to offer an advanced website layout that adjusts with the user's internet device. The responsive website reformats its screen size to accommodate a variety of technologies, including tablets, mobile devices, and desktop computers, without sacrificing content or becoming less user-friendly. This increased usability allows current and potential patients to find the information they need while at home or on-the-go.
Dr. Willardsen and his team of dental professionals say they are excited to share the new and enhanced website's features with the public. By working closely with the responsive website design team at Rosemont Media, they believe patients can more easily access dental information and better understand the procedures they are considering.
About Joseph G. Willardsen, DDS
Dr. Joseph G. Willardsen graduated from Loma Linda University School of Dentistry in California. He received specialty training on a variety of advanced subjects at the Las Vegas Institute and studied with The Dr. Dick Barnes Group at Arrowhead International. Furthering his expertise in the field of dentistry, Dr. Willardsen graduated from Occlusion Connections in Las Vegas. His level of skill and expertise has led to an array of dental opportunities, including his work as the official dentist for the Miss Nevada USA Pageant. He is a member of the American Academy of Cosmetic Dentistry, the American Dental Association, and other dental organizations. Dr. Willardsen is available for interview upon request.