Midtown Manhattan Dentist Updates Website for Improved Patient Education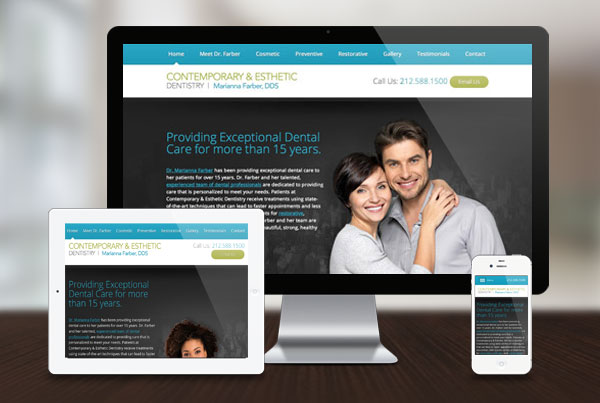 Dr. Marianna Farber, a New York City dentist, just launched a newly redesigned informational website for her dental practice.
New York, NY — Recently, New York City dentist Marianna Farber, DDS launched a newly redesigned website for her midtown Manhattan dental practice, Contemporary and Esthetic Dentistry. Dr. Farber explained that the new website is designed to enhance user's experiences when researching dentists and dental issues. The website features informational pages on cosmetic, preventive, and restorative procedures offered at the practice, including:
Dental implants
Periodontal (gum) care
Full mouth rehabilitation
Teeth whitening
Invisalign®
Smile makeovers
The newly designed site also features an extensive biography about Dr. Farber, as well as a photo gallery featuring before and after photos of some of Dr. Farber's patients who have had restorative or cosmetic dentistry procedures. Dr. Farber says she hopes this information, along with patient testimonials and other details about advanced dental care at her practice, can help individuals who are looking for a new dentist.
Dr. Farber says she hopes that the new website will also be able to improve her current patients' experiences. With the informative material provided on the site, she believes patients will be able to familiarize themselves with the procedures and feel more comfortable during their appointments.
The Manhattan dentist notes that the website is crafted specifically to adjust to any size screen in order to improve users' experiences on mobile devices, such as smartphones and tablets. She explains that the responsive design of the site will help to make the information easier to access. Dr. Farber says the website might look slightly different, depending on what type of device it is viewed on, but all the same information will be available and easily readable.
According to Dr. Farber, she was able to create her new website by partnering with dental website design firm, Rosemont Media. She says the company worked closely with her to build a website that was customized specifically for her and her practice. Dr. Farber says she is excited to unveil her new website, and hopes it will allow her to help more people achieve healthy, beautiful smiles.
About Marianna Farber, DDS
Dr. Marianna Farber is a member of the American Dental Association and The American Academy of Cosmetic Dentistry (AACD), as well as several other prestigious dental organizations. She earned her doctorate of dental surgery from New York University College of Dentistry, and participates in continuing dental education in an effort to stay informed of new dental techniques and technology. Dr. Farber is available for interview upon request.
For more information about Dr. Farber and her practice, please visit mymidtowndentist.com.