Counting Blessings in 2021: Happy Thanksgiving!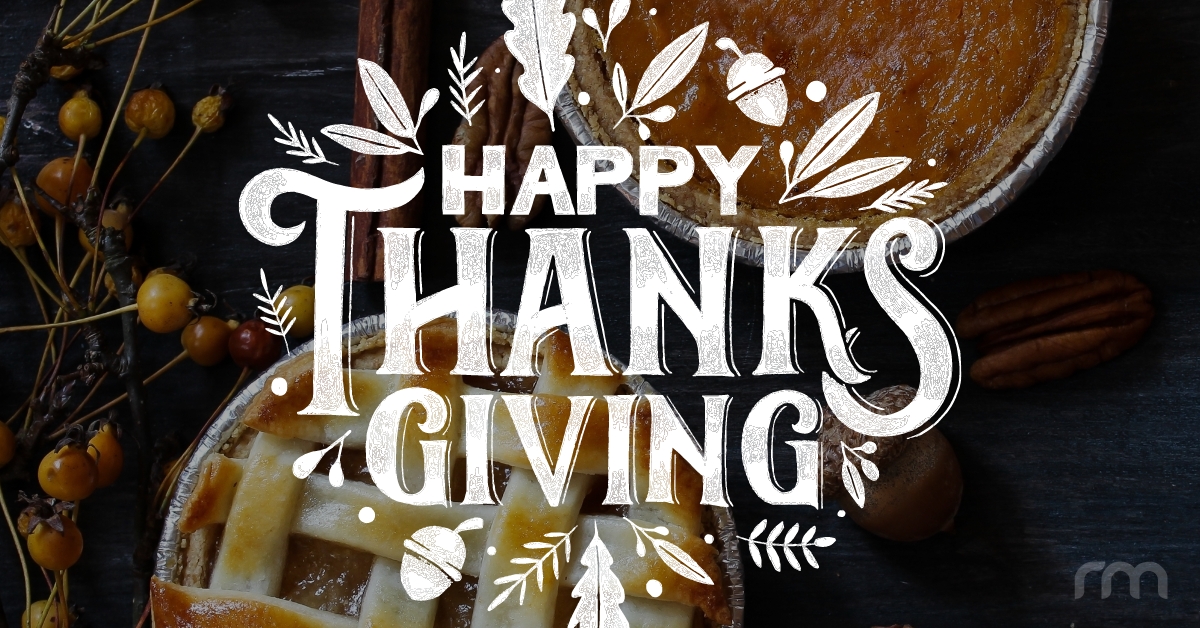 Thanksgiving has always been a celebration of the past year's blessings and 2021 is certainly no exception. For many, this year was viewed as the dawn following a period of darkness and extreme unpredictability. Through all of the advances and hardships that accompanied the year, there's always been a curative beauty in the simple act of breaking bread. Even in times of uncertainty and adversity, it's no small comfort to know that there are — and always will be — things to feel grateful for.
As we all prepare for a holiday of warmth, stories, and togetherness in San Diego and beyond, the RM team continues our annual tradition of sharing thanks:
Keith: "I am very grateful for the vaccine, and that my kids are also eligible now as well. The pandemic has made us very grateful for the simple things in life, like hanging out with friends and family, going to restaurants, movies, etc.! I am also happy that we get to spend Thanksgiving together with our extended family."
Chelsea: "I am thankful for my health, my wonderful family and friends who support me, my dog who gives me unconditional love, and the ability to work from home!"
Alicia: "Good health, great co-workers, a loving family, sunshine, laughter, my circle of friends, and most importantly — my son, Julian, who makes my heart smile so big!"
Andrew: "I'm thankful for the little things — quality time with friends and family, fresh food, a nice breeze on a sunny day, a warm cup of tea on a cold night."
Megan: "SO much to be thankful for! I've got the 3 best boys in the world (1 husband, 2 cats) who brighten every single day and never fail to leave a mess around the house. Forever thankful for Cadillac margaritas and the best friends, who will drink them with me. And of course, my Peloton bike (thanks Josh!) to help burn off all those margs. Last but not least, I'm very thankful for the health of myself and my loved ones. Cheers to another great year!!"
Cassie: "This year, I am most thankful for doctors and scientists. Thanks to the incredible developments that have been made, I will actually be able to host my entire family at my home for Thanksgiving this year. My husband and I have been making dinner for around 12 people every year for the past several years, so last year's backyard dinner for four wasn't quite the same. I am so grateful to be able to be with my loved ones again this year!"
Natalie: "I'm thankful for my wife and family, my wonderful group of friends, and my three dogs: Jax, Milo, and Otis. I'm also thankful for all of the amazing RM family that welcomed me with open arms this year to join them! Oh, and we cannot forget, I am most thankful for dinner rolls."
Kristin: "I'm thankful for the ability to gather with friends and family this year (so also thankful for the vaccine)! We get to celebrate with my husband's family and their close family friends. We haven't done this in a while, but I'm hoping they'll bring back the annual Turkey Bowl! We set up a slip n' slide in the backyard, set up plastic bowling pins on one end, and try to knock them down by rolling a small, frozen turkey at them. It's pretty hilarious and there's a trophy for the winner."
Karishma: "I am thankful for a happy and healthy family. Last year, I spent Thanksgiving with my mom and brother (and our pet bird) and it was great, but I'm definitely excited to spend Thanksgiving with my extended family this year! It's my favorite holiday of the year because we are all able to come together and spend quality time together."
Erin: "I'm thankful for the healthcare that keeps us safe, the Internet that keeps us connected, and the people and pets that keep us loved. 🥰"
Laura: "This Thanksgiving, my super special gratitude spotlights are: my superstar family, my goofy husband, my baby dog (who I suspect is part bear), getting to call sunny San Diego my home, my brain and body (they work so hard for me!), and all the wonderful moments of happiness I experienced this past year! BEYOND thankful this holiday season!"
Holly: "I'm thankful to have been welcomed into this company full of super talented, warm, wonderful people!"
Carlos: "I am grateful for my health and being able to wake up every morning. I am extremely grateful for all my friends and family as well. It's been a long year and I'm happy we are all here to celebrate the holidays with loved ones."
CB: "Personally, I'm thankful for the people around me, my family, friends, etc. And the fact that we're getting back to normal, I've been able to travel and play organized soccer recently, and that feels great.
Professionally, I'm thankful for all the commitment our team has shown over the past year or so. We've transitioned from being primarily in-office to being primarily remote, and we haven't skipped a beat. In some ways, we've improved and gotten even more efficient."
Jordan: "Being my favorite holiday, mainly because of the food, I am thankful for Thanksgiving. I'm thankful for my girlfriend, Preslie; my three cats, Odesza, Frank, Rusty; and my 13 year-old dog/brother, Newton. I'm extremely thankful for my new job where I get to work from home and be around these interesting characters I call my family at all times. For a brief moment in the year, this holiday reminds me and allows me to think about the things I am truly thankful for; I'm thankful for that."
Marissa: "I am eternally thankful for my wonderful friends, loving family, and very fluffy cats."
Victoria: "There are so many things I am thankful for, but most importantly a healthy family, our home, my husband, having the pleasure of being a mom to an amazing 12 year-old boy, and our 2 cats and dog that keep us smiling and laughing every day.
And very thankful for having a job and being able to work remotely."
Katie: "I'm thankful for my health, my wonderful friends and family, and the news that my husband and I will be welcoming a little one in the spring!"
Whether you're celebrating with family, friends, furry companions, or in the solace of your own company, we hope you'll join us in raising a toast to all of the blessings yet to come in 2022. Happy Thanksgiving from the Rosemont family!