Holly Jolly Holiday Wish List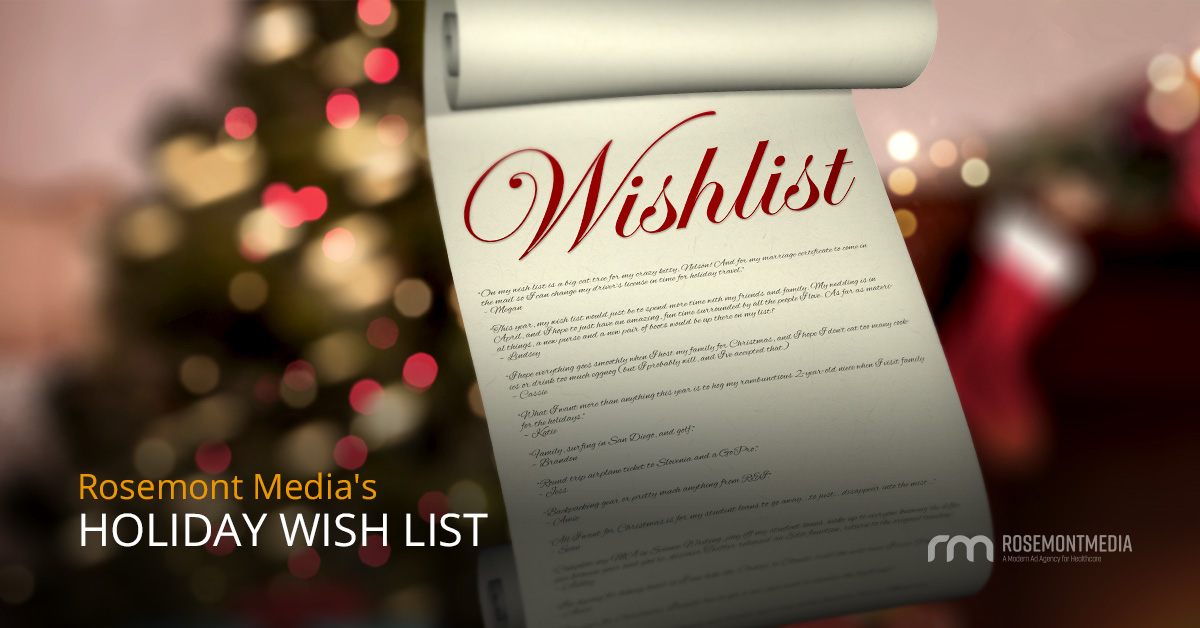 We might still be stuffed from our Thanksgiving feasts, but as we begin December, we can start thinking of all the goodness this season brings. From warm cider to fireside chats, homemade treats, and spending time with friends and family—it truly is a season of joy. The long-standing tradition of exchanging gifts typically plays a large role in the happiness this month brings, but how often does an adult get asked what's on their wish list?
No matter which December holiday you celebrate, exchanging a gift with someone else is an act of generosity and kindness. Gift-giving is a way to say, "I thought of you," or, "You deserve something nice."
This past year may have left many people shaken from a multitude of tragic events. However, together, we can focus on bringing some positivity and holiday cheer to a friend, family member, coworker, client, or complete stranger.
So why not ask them the question everyone is dying to answer: "What's on your wish list this year?" Who knows; they might be wondering what's on yours, too!
Here are some of the items on Rosemont Media's list this year:
"On my wish list is a big cat tree for my crazy kitty, Nelson! And for my marriage certificate to come in the mail so I can change my driver's license in time for holiday travel." – Megan
"This year, my wish list would just be to spend more time with my friends and family. My wedding is in April, and I hope to just have an amazing, fun time surrounded by all the people I love. As far as material things, a new purse and a new pair of boots would be up there on my list!" – Lindsey
"I hope everything goes smoothly when I host my family for Christmas, and I hope I don't eat too many cookies or drink too much eggnog (but I probably will, and I've accepted that)!" – Cassie
"What I want more than anything this year is to hog my rambunctious 2-year-old niece when I visit family for the holidays." – Katie
"Family, surfing in San Diego, and golf." – Brandon
"Round trip airplane ticket to Slovenia and a GoPro." – Jess
"Backpacking gear or pretty much anything from REI." – Amie
"All I want for Christmas is for my student loans to go away…to just…disappear into the mist…" – Sean
"Complete my MA in Science Writing, pay off my student loans, wake up to everyone knowing the difference between your and you're, discover Twitter released an Edit function, return to the original timeline." – Ashley
"I'm hoping for hiking boots so I can hike the 'Cactus to Clouds' trail the next time I visit Palm Springs." – Anna
"This year for Christmas, I would love to get a cat; just need to convince the boyfriend!" – Cortney
"More time to spend with good family and friends and a trip to the Eastern Sierra Mountains." – Andrew
"Ray Bans, Kendra Scott rings/earrings, Gucci bag, for my credit card to be paid off, a trip to Switzerland, a gift card to Lulus (since this store has given me a shopping problem), and a Big Bear season pass." – Kelsey
"An Eagles Super Bowl" – Keith 
From everyone here at Rosemont Media, we wish you a merry and bright holiday season!