Rosemont Media Gives Thanks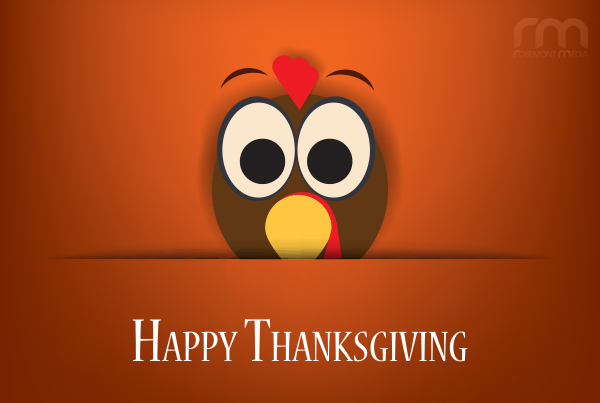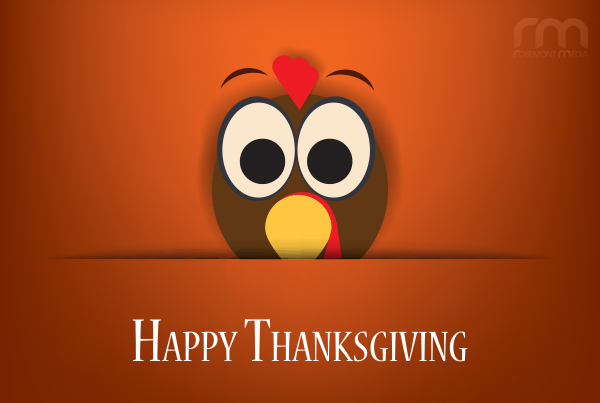 Thanksgiving is upon us, and the usual question is on everyone's mind: "What are you thankful for?"
Our CEO, Keith Humes, had an excellent response: "I am thankful to live and work in San Diego and work with great people every day. I am also blessed to have a wonderful wife and daughter!!!"
Our employees also listed some important things to be thankful for this year, including:
Family
Friends
Health
Happiness
Living in San Diego
Fun co-workers
A job at RM
Noise-cancelling headphones
In addition to these common answers, RM employees shared some other things for which they are grateful:
"I'm also thankful for a much needed vacation to the Bahamas next year!" –Scott
"I am really thankful for my dog, Ralph, who I adopted in June. He makes me laugh every day!" –Kate
"The chance to spend time with my wonderful family and friends!" –Jana
"I am thankful for this job and the fun, talented people I work with. This job brought me to the lovely city of San Diego and I couldn't imagine being anywhere else!" –Teresa
"After moving out here from New England, I was most worried about missing my close family and friends. I am thankful that I have met new friends that have become like family to me here. And my family loves to come visit Southern California around the holidays – although I can't image why! 😉 " –Kim
"A new baby on the way! And good San Diego local beer (for me of course, not my wife 🙂 )." –Brian
"I am thankful for: my children (every day is a true joy when looking through their eyes!); my husband (my partner, my rock) and the cherished moments we have together; and the people I am surrounded by (my family, friends, coworkers, and acquaintances) – the part they play in my life helps make it great." –Kenneda
Some employees got really creative:
"Food – lots and lots (and lots) of food, paid holidays, and my cat Rufus's unconditional good opinion of me." –Ashley
"Chai tea and my blanket in our cold office, the few trees in San Diego that change colors in the fall, looking at the ocean every day at work, GIFs of corgis, it almost being acceptable to listen to Christmas music, moving to a house soon, and watching the snow stay on the news." –Katie
"In addition to being thankful for the usual … I am thankful for Teresa, the latest addition to our social media department. She is such a rockstar and will play an integral role in supporting the growth of the department. Of course, I am also most thankful for Tom for putting up with my shenanigans on the daily. Bless his heart." –May
"I'm thankful for dogs (not a specific one, I just really dig the species in general – shout out to Roxy though), not having Ebola (yet), the Green Bay Packers, my impeccable dance moves, people who confidently wear hats (how do they do it?!), and I guess my family and friends are cool too." –Carrie
"Drones, Poo-Pourri, toothpicks, Gatorade, green lights, and Pearl Jam." –John F.
All in all, our fun-loving staff is excited to celebrate the holiday by giving thanks! To make sure they all have a chance to spend time with their friends and family, we will be closing at 2pm PST on Wednesday, November 26th. We will also be closed all day Thursday, November 27th and Friday, November 28th, and will return to our normal hours on Monday, December 1st. We appreciate your understanding, and we wish you a happy Thanksgiving!