RM to Attend The Aesthetic Meeting 2014 as Fourth Stop on Tour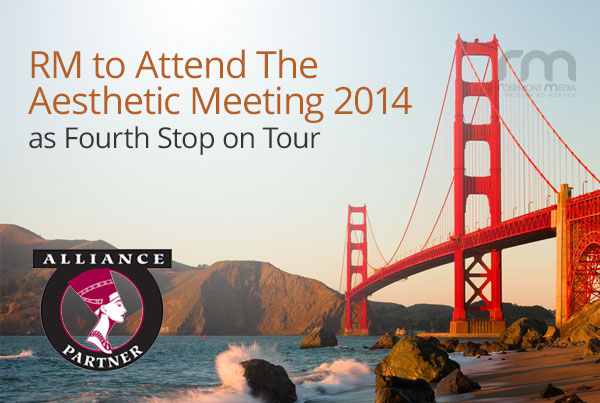 For our fourth stop on the "Rosemont Media Conference Tour," we are pleased to announce we will be attending The Aesthetic Meeting 2014. Hosted annually by the American Society for Aesthetic Plastic Surgery (ASAPS), this year's conference is scheduled to take place at the Moscone Center in San Francisco, CA from April 24th-29th.
Heading north to represent our medical website design and marketing team will be CEO Keith Humes, Director of Medical Consulting Brian Lyle, and four of our experienced medical consultants – all of whom will be available at booth 601 to answer any questions regarding Internet marketing for plastic surgeons during the following exhibit hours:
9:00 am – 4:30 pm on Saturday, April 26th
9:00 am – 4:30 pm on Sunday, April 27th
9:00 am – 4:30 pm on Monday, April 28th
Additionally, beginning at 7:30 am on Tuesday, April 29th, Keith will be participating in a panel discussion titled, "Advanced Internet Marketing." The focus of his presentation will be on mobile marketing, a now essential component of successful plastic surgery marketing as the use of mobile devices by those conducting online research continues its exponential rise.
If you are interested improving your practice's online visibility in your marketplace, we encourage you to attend Keith's lecture and stop by our trade show booth learn about the exclusive plastic surgery web marketing services we offer at Rosemont Media. Our friendly and knowledgeable consultants will show you examples of our latest custom website designs, as well as answer any questions you may have about online marketing for plastic surgeons.
For more information about where we'll be set up and what we'll be showcasing in the exhibit hall, or to learn more about Keith's lecture on mobile marketing, please feel free to contact Rosemont Media today.