Does anyone click on AdWords? Part 1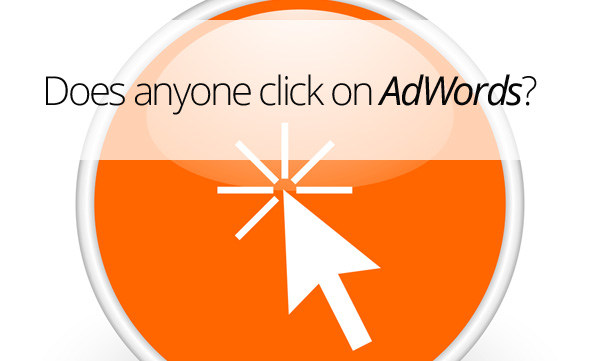 As mentioned in our previous blog post, "How to Maximize Your Real Estate on Google's Search Results," combining an AdWords campaign with your current SEO strategy can create a more comprehensive search engine marketing plan and help your business appear on the first page of search engine results. That being said, you may be asking, "Does anyone actually click on AdWords?"
The answer is a resounding YES. In fact, not only do people frequently click on AdWords, Google actually designs its results pages so that AdWords appear before any organic results are listed. This design makes it imperative to implement an AdWords strategy for your practice in order to position yourself at the top of page one. The benefit of AdWords traffic is that it is keyword driven and can be tailored to target a specific geographic area.
In this two-part blog series, we will break down how Google encourages visitors to click on AdWords, how AdWords affects organic clicks, and how Google addresses fraudulent clicks.
Google Wants You to Click
As touched on in the last post, AdWords are the main source of Google's revenue, which was $42.5 billion in 2012. AdWords customers using a pay per click (PPC) campaign only pay for ads when they are clicked, so the more clicks on ads, the more revenue Google makes. Google encourages clicks by utilizing its strategic layout for each search results page. Text ads are placed in the most high-trafficked areas: at the top of the page and along the right side of results. This placement is shown to be the most viewed area of the first page, as seen in the eye tracking study from Google Think Insights.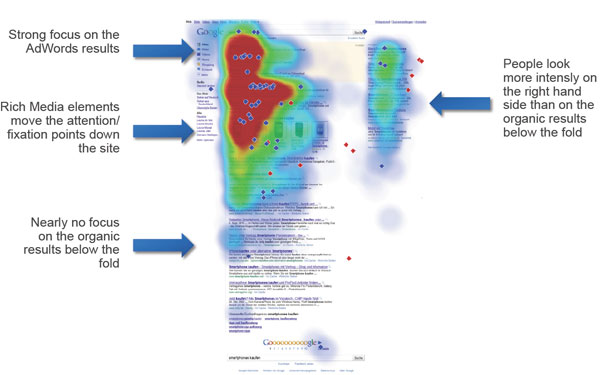 These studies show that eyes are drawn to the first results displayed, which often leads to more clicks. For this reason, and because click-through rates for an ad decrease the lower it is positioned, placing an ad higher generally produces the best results.
Look for Part 2 of this post
To learn about the effect AdWords have on organic results, as well as how the validity of clicks on your ads is determined, look for our next blog post, entitled, "Does anyone click on Adwords? Part 2."