Industry Jargon Explained: What Are Organic Search Results?
When you submit a phrase or question to a search engine, you receive two kinds of results: organic and paid. Whereas paid results are essentially targeted advertisements, organic search results are unpaid listings the search engine has deemed to be the most relevant resources related to your search. Since the vast majority of people use Google as their preferred search engine, let's use Google's search results as an example.
When I search for Rosemont Media, this is a snapshot of the results I see on Google. The first listing is a pay-per-click ad we have purchased, which is denoted with a small green box reading "Ad," and below that are the unpaid, organic listings that Google has provided to help me learn more about my search topic, "Rosemont Media." Depending on the nature of the search you submit, the results layout may change, but paid listings are always going to say "Ad."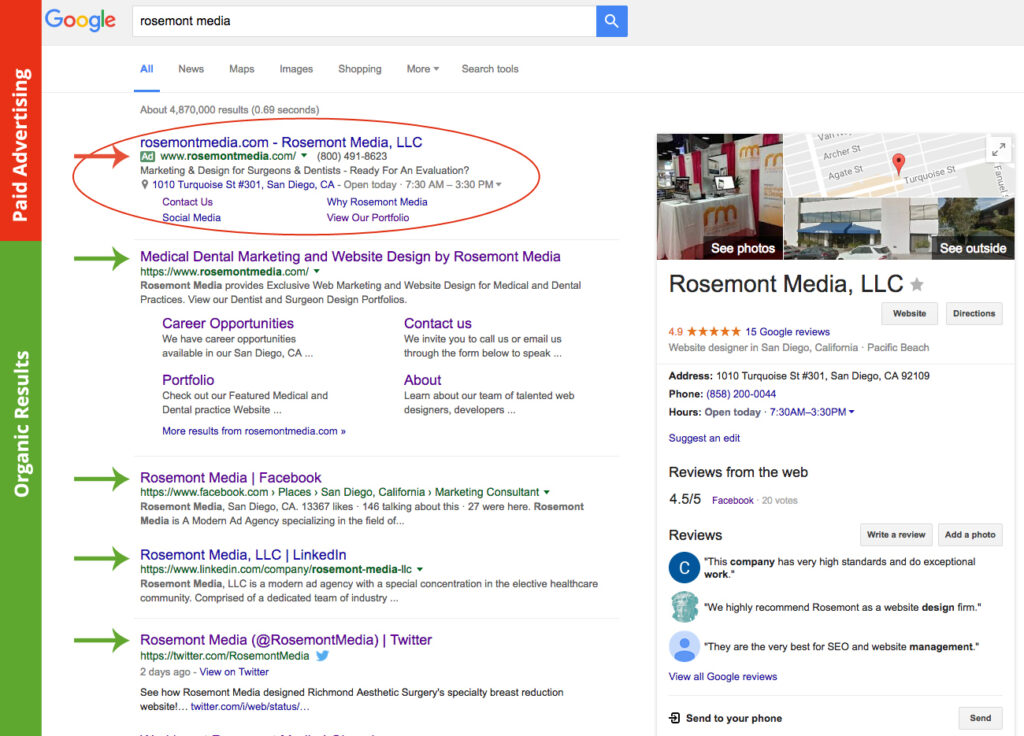 Why is My Organic Positioning Important?
Prime organic positioning is essentially free to those who invest the time, energy, and resources it takes to create a website that Google will favor with its infamous, ever-changing algorithm. Also, organic results are most often interpreted to be most reputable sources of information by Google users.
For medical and dental websites, we highly recommend focusing a significant portion of your website marketing budget to improving organic positioning for search terms related to the location of your practice and the services you provide. Achieving these goals is by no means a small task; however, with the guidance of a dynamic website marketing company, you can cultivate a comprehensive search engine optimization strategy that will help maximize your website's organic visibility and deliver measurable results.
Rosemont Media Can Help
Interested in learning more about how you can improve your health care website's organic positioning on Google? Contact our knowledgable representatives at Rosemont Media for a full evaluation of your website performance. Our experienced marketing specialists can explain the value of our services and discuss a custom-tailored strategy designed to help your practice succeed online.