2014 AAOS Annual Meeting Marks Third Stop on Tour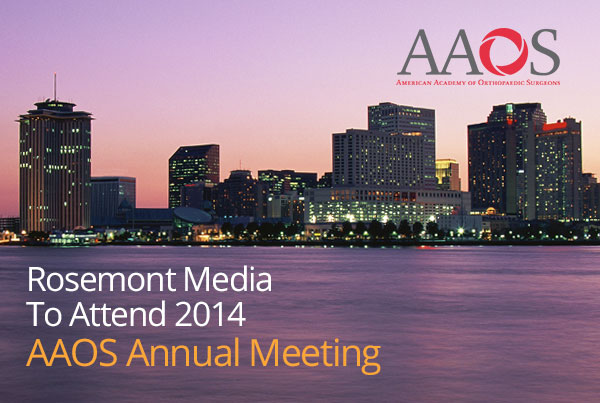 We are happy to announce we will be attending the 2014 Annual Meeting of the American Academy of Orthopaedic Surgeons (AAOS) on the heels of our return from the 31st Annual Dallas Rhinoplasty Symposium. The AAOS meeting – which marks the third stop on this year's "Rosemont Media Conference Tour" – is scheduled to take place at the Morial Convention Center in New Orleans, LA from March 11th-15th.
Once again representing our medical web marketing and design team will be CEO Keith Humes, this time accompanied by Consultants Jana Wallis and Kimberly Barwise. All three RM representatives will be occupying booth #4534 in Hall F during the following trade show exhibit hours:
9:00-5:00 pm on Wednesday, March 12th
9:00-5:00 pm on Thursday, March 13th
9:00-4:00 pm on Friday, March 14th
If you are interested in strengthening your practice's online presence, we encourage you to stop by and take a look at the custom orthopaedic surgery websites we've designed, and currently maintain, for our clients. Our team will be more than pleased to speak with you about search engine marketing and optimization, website design and management, media buying, and any of the other inclusive Internet marketing services we can provide to help your orthopaedic practice maintain a competitive edge in your respective online marketplace.
For more information about where we'll be and what we'll be doing throughout the entirety of the AAOS meeting, please don't hesitate to contact us today.