ASAPS 2019 New Orleans: Over a Decade of Plastic Surgery Marketing Excellence with Rosemont Media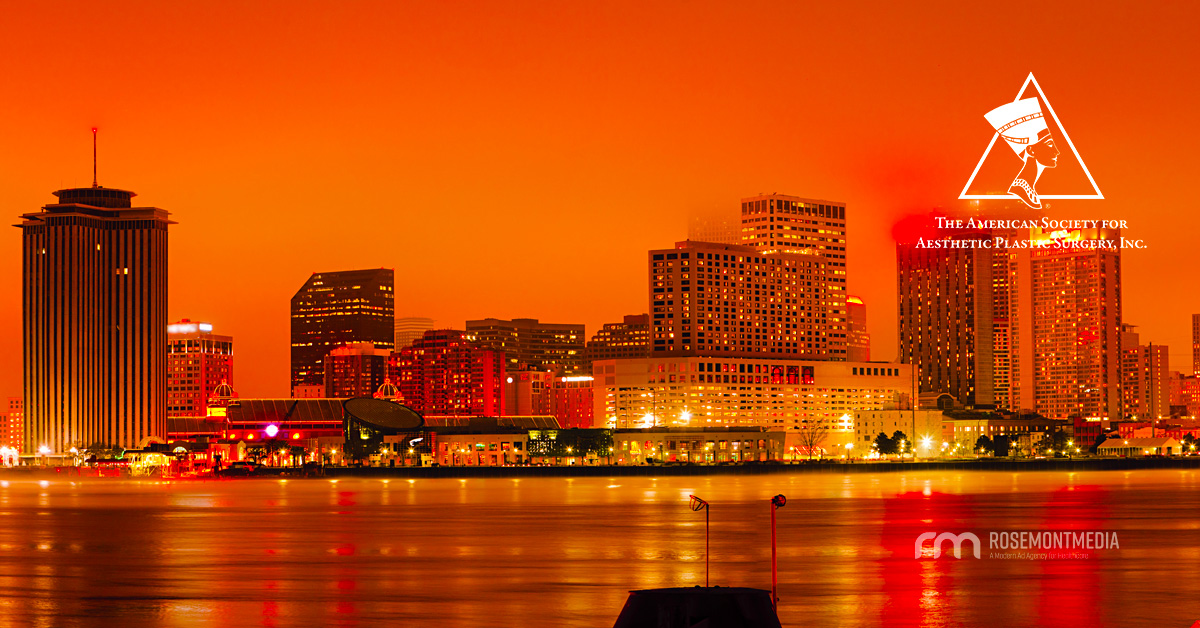 Plastic surgery marketing firm Rosemont Media celebrates eleven consecutive years of attendance at the American Society for Aesthetic Plastic Surgery's annual symposium, The Aesthetic Meeting.
San Diego, CA — Each year, plastic surgeons and aesthetic healthcare professionals from around the world gather at The Aesthetic Meeting, hosted by the American Society for Aesthetic Plastic Surgery (ASAPS). The Aesthetic Meeting 2019 will be held in New Orleans, Louisiana from May 16-21. For the eleventh consecutive year, Rosemont Media will be in attendance, providing information about SEO (search engine optimization) and marketing strategies tailored specifically for plastic surgery and cosmetic medical practices. The plastic surgery marketing firm can be found at booth #526 during the following hours:
Saturday, May 18th: 9:00 am – 5:00 pm
Sunday, May 19th: 9:00 am – 5:00 pm
Monday, May 20th: 9:00 am – 5:00 pm
Additionally, Rosemont Media CEO Keith Humes will provide a brief educational talk at Station One on Sunday, May 19th at 1:25pm.
Two thousand-nineteen marks Humes' 20th year as an attendee at The Aesthetic Meeting, and he is proud of the advancements Rosemont Media has brought to the aesthetic healthcare industry over the years. He notes that the company was among the first modern digital marketing firms in the space to go beyond selling directory listings by providing ethical, cutting-edge direct marketing opportunities for surgeons.
Rosemont Media specializes in plastic surgery marketing, offering clients comprehensive services such as responsive website design, link building, media buying, social media marketing, personalized written content, and more. Humes explains that all available products and services are customized specifically to meet the needs and preferences of each client. Two of Rosemont Media's long-time clients—Dr. Richard Zeff and Dr. Mark E. Richards—had this to say about the SEO company:
"I have been with Rosemont virtually since they began. [Keith Humes] already had extensive experience marketing Plastic Surgery as well as other medical specialties. He has maintained a staff of talented individuals who pay close attention to your website and marketing needs. I can't imagine a more experienced, attentive and creative team!" —Richard Zeff, MD
"I have been a Rosemont Media client since their inception. These people rock!!! They are available, personable, and most importantly knowledgeable! They use my money wisely in managing my website and social media presence, recognizing my unique office style and specialty. I recommend them highly to anyone well outside by business catchment area. ;)" —Mark E. Richards, MD
At The Aesthetic Meeting 2019, Humes will be accompanied by Rosemont Media National Consulting Director Chris Brown, Medical Consulting Manager Brandon Borenstein, and Senior Medical Consultants Amy McDowell and Joel Spydell. The team says they look forward to discussing digital marketing strategies with current clients and other attendees, in an effort to ultimately find ways to help them improve their overall approach and gain a stronger online presence.
About Rosemont Media
Rosemont Media is an all-inclusive plastic surgery marketing company based in San Diego. For over ten years, CEO Keith Humes and his team of digital marketing experts have successfully utilized innovative strategies to connect prospective patients with leading aesthetic healthcare professionals in the United States, Canada, and beyond. All products and services are customized and created in-house; never outsourced. Additionally, Rosemont Media offers market exclusivity to each of the board-certified plastic surgeons with whom they work, giving clients a competitive edge in their unique markets.
To learn more about Rosemont Media, visit rosemontmedia.com and facebook.com/rosemontmedia. Keith Humes is available for interview upon request.
Contact:
Rosemont Media
Keith Humes
[email protected]
(858) 200-0044