Austin Dermatologist Launches Specialty Site Devoted to Mohs Skin Cancer Surgery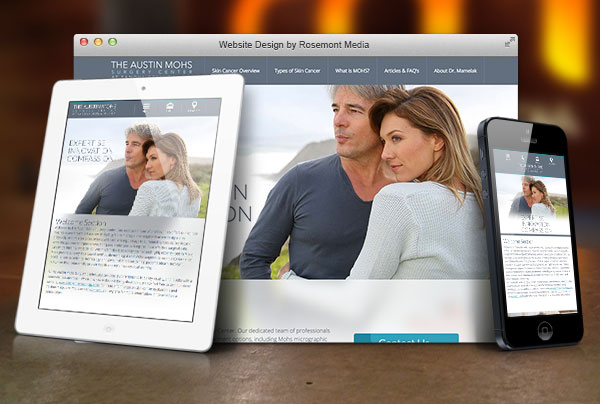 Dr. Adam Mamelak recently announced the launch of his practice's new responsive website, which offers viewers convenient access to information about Mohs micrographic surgery.
Austin, TX—Seeking to provide a practical resource on skin cancer treatments, Dr. Adam Mamelak, a dermatologist in Austin, recently announced the launch of his specialty website for The Austin Mohs Surgery Center. Created to help educate patients on types of skin cancer and an innovative treatment option known as Mohs micrographic surgery, the site offers an enhanced viewing experience, an attractive, user-friendly layout, and an adaptable design to help make on-the-go access more convenient.
One of the key features of the new website is its responsive format, which allows patients using Internet-compatible devices to view the entire site without needing to scroll back and forth across the screen to see all the information supplied on the page. Rather, the website's layout dimensions will automatically adjust to fit the screen of tablets, smartphones, laptops, and desktop computers, which Dr. Mamelak hopes will benefit the growing number of individuals that utilize mobile technology to access the Web.
For the development of his new website, Dr. Mamelak collaborated with medical website design firm Rosemont Media. The Austin Mohs Surgery Center site has been optimized with the latest medical SEO strategies to increase its online presence. Additionally, the site is further enhanced with a unique, single-page layout that allows viewers to vertically scroll through a seamless transition of content or quickly locate a particular section via a navigational bar. Ultimately, the Austin dermatologist believes this provides a more enjoyable browsing experience and increases access to valuable information about skin cancer and potential treatments.
About Adam J. Mamelak, MD, FRCPC, FAAD
Board-certified in both Canada and the United States, Dr. Mamelak is the founder of The Austin Mohs Surgery Center and Sanova Dermatology. He earned his medical degree from Queen's University in Ontario, Canada – where he received the prestigious Gold Medalist award – before completing his dermatology residency at Johns Hopkins University. He then studied Mohs Micrographic Surgery and Procedural Dermatology at the Texas Medical Center in Houston. In addition to attaining numerous accolades, Dr. Mamelak also created the first-ever Mohs micrographic surgery practice in Ottawa. He is available for interview upon request.
For more information about Dr. Mamelak and his Mohs surgery and dermatology practice, please visit austinmohssurgery.com and sanovadermatology.com