Boston Plastic Surgeon Launches Fully-Loaded Responsive Website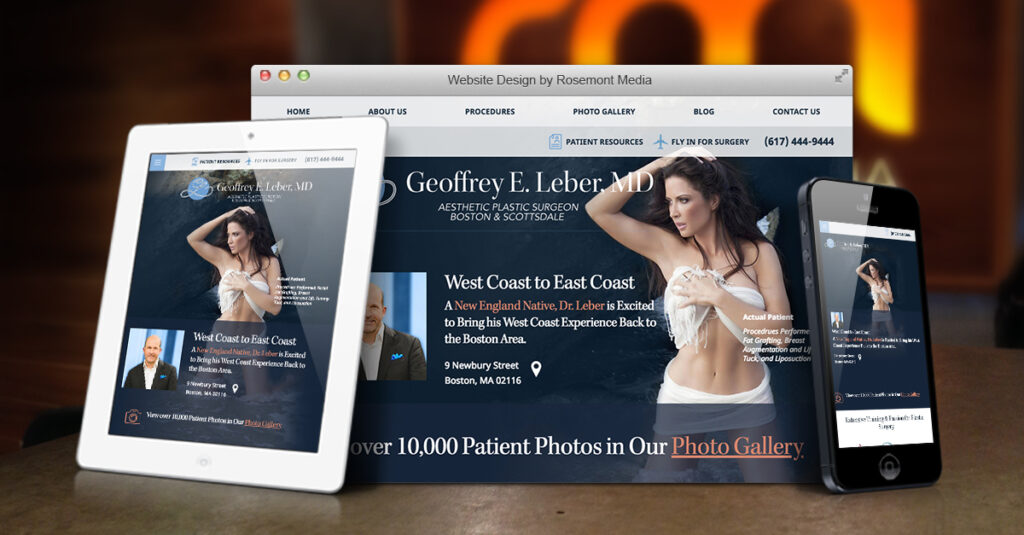 Dr. Geoffrey E. Leber unveils a state-of-the-art medical website designed for his East Coast office; the fully-equipped site features custom landing pages, responsive capabilities, and other modern elements.
Boston, MA — Seeking a return to his East Coast roots, Arizona-based plastic surgeon Geoffrey E. Leber, MD launched an innovative responsive website to serve as the digital counterpart to his recently opened practice in Boston. The new site mirrors the elite sensibilities and dedication to patient results Dr. Leber is known for on both sides of the nation, while emphasizing the needs, goals, and preferences of New England patients.
To design and develop the fully-loaded contemporary website, the Boston plastic surgeon collaborated with international medical marketing firm Rosemont Media. Distinctive features include an expansive before-and-after photo gallery featuring over 10,000 images, an easily-navigable responsive design, and unbiased patient testimonials. The site is also packed with original content on facelift surgery, breast augmentation, abdominoplasty, fat grafting, and other leading cosmetic procedures to aid patients in their research.
Dr. Leber is distinguished by his revolutionary approach to aesthetic treatment, which is designed to reduce recovery times, improve comfort, and achieve better outcomes. Similarly, his website boasts a revolutionary approach to digital medical marketing, utilizing the latest SEO strategies to optimize his visibility in his marketplace. As a result, patients in the Boston area can more easily find the information they are seeking from a leader in the field.
About Geoffrey E. Leber, MD, FACS
Dr. Geoffrey Leber was born and raised on the East Coast but moved to the West for medical training at some of the most prestigious institutions in the country. He opened his private practice in Scottsdale, Arizona, where he continues to perform a comprehensive array of aesthetic procedures for the face, breasts, and body. His success led him to return to his former home to open a second office and offer bi-coastal cosmetic treatment using state-of-the-art techniques that can achieve some of the most natural-looking results possible.
Dr. Leber is certified by the American Board of Plastic Surgery and a Fellow of the American College of Surgeons. He earned his medical degree from Hahnemann University School of Medicine and completed additional medical training at Tufts University and the Medical College of Wisconsin. Dr. Leber is a member of numerous esteemed medical organizations, including the American Society for Aesthetic Plastic Surgery and the American Society of Plastic Surgeons. He has also received the Patients' Choice Award five years in a row.
For more information about Dr. Leber and his plastic surgery practice, please visit doctorleber.com, drleber.com, and facebook.com/GeoffreyLeberBoston. He is available for interview upon request.
Contact:
Geoffrey Leber, MD
Boston Office:
9 Newbury Street
Boston, MA 02116
(617) 444-9444
Scottsdale Office:
11000 N. Scottsdale Rd., Ste. 200
Scottsdale, AZ 85254
(480) 945-5522
Rosemont Media
(858) 200-0044
www.rosemontmedia.com