Dallas Plastic Surgeons Reveal New Responsive Website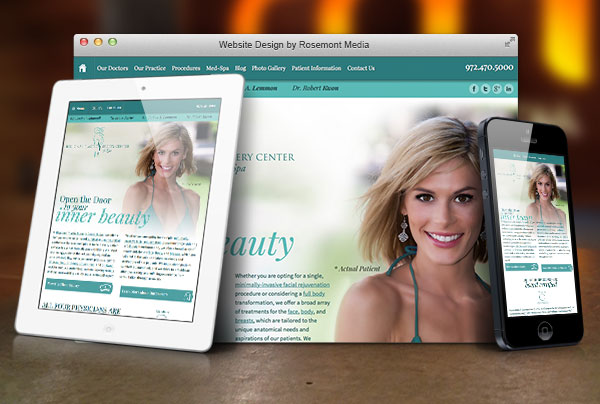 Regional Plastic Surgery Center & Spa's new adaptable website can be easily accessed from internet-compatible mobile devices, enhancing the user experience at home and on the go.
Dallas, TX—An increasing number of individuals are searching for medical content while on the go, explain the Dallas plastic surgeons at Regional Plastic Surgery Center & Spa. To assist current and potential patients, Dr. Denton Watumull, Dr. Bruce Byrne, Dr. Joshua A. Lemmon, and Dr. Robert Kwon launched a state-of-the-art responsive website for their practice that is designed to provide exceptional functionality across a variety of Internet-compatible devices, including smartphones, laptops, tablets, and desktop computers. Due to the automatically adjusting format, visitors can now view a wide range of content without having to scroll horizontally to access the entire page.
In addition to the innovative layout, the new website features distinctive personal touches combined with modern design elements, which are intended to offer a more desirable browsing experience. Each physician has a curated gallery of before and after photos, as well as a selection of video and written patient testimonials to help individuals determine if a procedure, such as breast augmentation, liposuction, facelift, or BOTOX® Cosmetic, may be right for them. Recognizing the need for enhanced visibility in its online marketplace, the practice also had its website equipped with the latest medical SEO strategies, which help the site earn a high page rank on Google, Bing, Yahoo, and other search engines.
To create an appealing online destination that can offer the highest level of usability possible, the Dallas plastic surgeons partnered with Rosemont Media, an Internet marketing and medical website design firm located in San Diego. Rosemont Media utilized its in-house team of developers, designers, and writers to produce a customized site that could serve as an easily navigable resource on some of the most popular cosmetic procedures available.
Ultimately, Drs. Watumull, Byrne, Lemmon, and Kwon state that their goal with the upgraded website is to provide an exceptional online user experience that reflects their practice philosophy of maintaining the safest, most effective, and highest-quality patient care possible.
About Regional Plastic Surgery Center & Spa
Comprised of four board-certified plastic surgeons—Dr. Denton Watumull, Dr. Bruce Byrne, Dr. Joshua A. Lemmon, and Dr. Robert Kwon—Regional Plastic Surgery Center & Spa is a plastic and reconstructive surgery practice serving the Dallas, Richardson, Irving, and Rockwall areas. Prioritizing safety and results through advanced techniques and compassionate care, the skilled surgeons, medical team, and patient care coordinators at the practice are dedicated to helping individuals achieve their desired aesthetic outcomes.
For more information about Regional Plastic Surgery Center & Spa, please visit create-beauty.com.