Dallas Rhinoplasty Surgeon Enhances Digital Face of Practice with New Website Design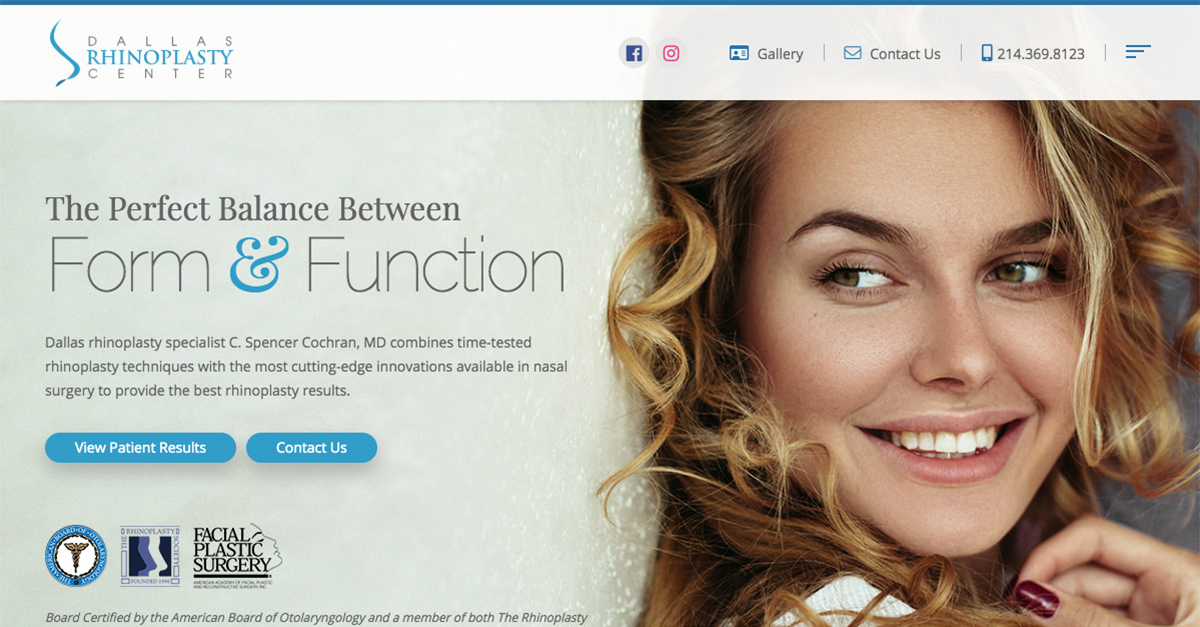 Dr. C. Spencer Cochran has upgraded his website to maximize aesthetics, function, and patient education—three key elements of his approach to nasal surgery.
Dallas, TX — C. Spencer Cochran, MD devotes his entire surgical practice to rhinoplasty and revision rhinoplasty for women and men seeking to improve the appearance and/or function of the nose. In an effort to continually enhance all phases of the patient journey—which begins with preliminary procedural research and education—he recently teamed with plastic surgery marketing firm Rosemont Media to revamp his website into an ultra-modern, user-friendly resource for nasal surgery.
The primary goals of Dr. Cochran's website upgrade were to refine the look, functionality, and educational value of the site, which were achieved through a complete redesign, smoother browsing capabilities on all devices, and customized content creation. The homepage now boasts a clean, elegant aesthetic and seamless transition between fixed-background and parallax scrolling that serves as a striking first impression of Dr. Cochran's commitment to cutting-edge innovation. When visitors navigate deeper into the site, they will find uniquely designed pages for rhinoplasty, revision rhinoplasty, and virtual consultations that blend detailed information with complementary imagery and other unique elements—creating a stimulating, more impactful user experience.
Additional features that help to distinguish Dr. Cochran's new website include:
An expandable and collapsible navigation menu that allows for simple browsing while keeping internal page designs clean
Icon-like buttons linking to Dr. Cochran's social media accounts for more practice information, news, and engagement
An extensive before-and-after photo gallery showcasing the results Dr. Cochran has achieved for his patients
Leading medical SEO strategies that aid in the site's ability to rank competitively for key search terms on top search engines
Ultimately, Dr. Cochran says he is extremely pleased with the updated design, and he hopes anyone interested in primary or revision rhinoplasty finds the website to be an excellent resource for discovering what can be achieved through nasal surgery performed by a skilled and experienced surgeon.
About C. Spencer Cochran, MD
Dr. Cochran is a rhinoplasty specialist and founder of the Dallas Rhinoplasty Center. Having dedicated his medical career to nasal surgery, his areas of expertise include primary and revision rhinoplasty, ethnic rhinoplasty, nasal fracture repair, septoplasty, turbinoplasty, nasal reconstruction, and more. Dr. Cochran has repeatedly been named one of the "Best Doctors in Dallas" by D Magazine, as well as a "Super Doctor" by Texas Monthly.
For more information, visit rhinoplasty-usa.com and facebook.com/DallasRhinoplastyCenter. Dr. Cochran is available for interview upon request.
Contact:
Dallas Rhinoplasty Center
8144 Walnut Hill Lane, Suite 170
Dallas, TX 75231
(214) 369-8123
Rosemont Media
(858) 200-0044
www.rosemontmedia.com