Del Mar Dermatologist Unveils New Responsive Website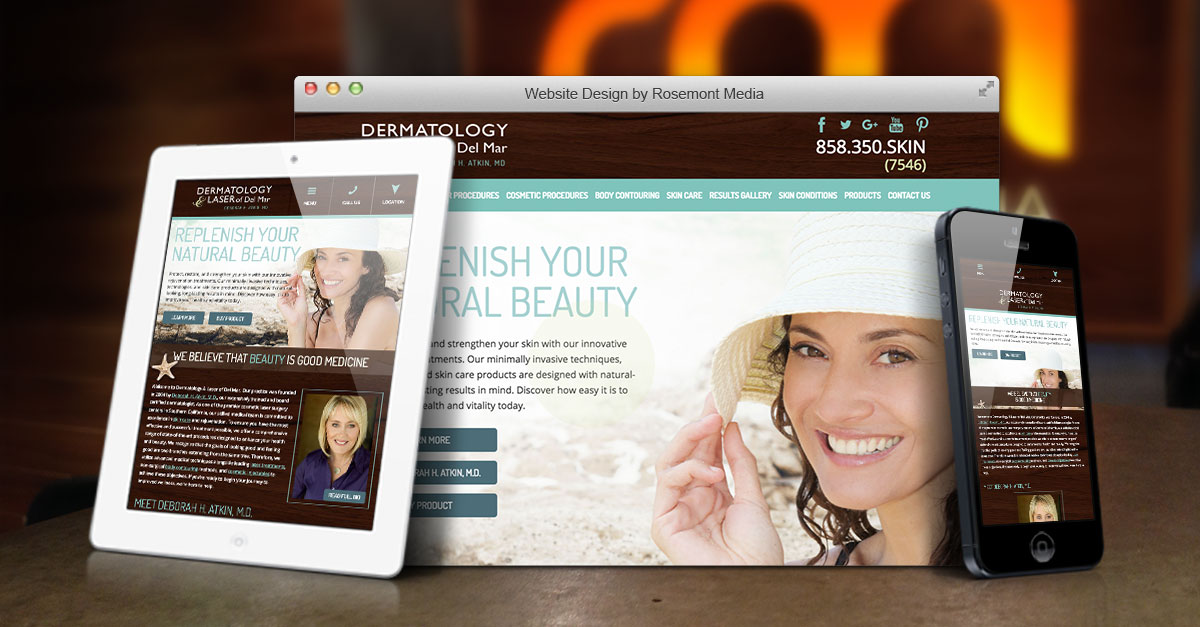 Deborah H. Atkin, MD of Dermatology & Laser of Del Mar debuts a new practice website featuring a soothing design, easily navigable layout, and responsive capabilities.
Del Mar, CA — Skin care goes beyond cosmetic enhancement and medical need, according to Deborah H. Atkin, MD. The Del Mar dermatologist believes exceptional skin treatment can relieve stress and enhance one's health in numerous ways. To make access to high quality skin care easier than ever, she recently teamed up with Rosemont Media, a medical marketing agency, to upgrade her practice website. The innovative new site for Dermatology & Laser of Del Mar offers current and prospective patients a convenient way to find information they are seeking, schedule appointments, shop for products, and more.
Utilizing a responsive website design, one in which individuals can comfortably view the site from traditional desktop computers and mobile devices alike, was a high priority for Dr. Atkin. Additionally, she wanted to incorporate coastal imagery and a beach-toned color palette that reflected the stunning surroundings of the office location. The content was considered just as essential, and it covers a comprehensive range of skin conditions and treatment options, including laser procedures, cosmetic procedures, body contouring, and esthetician services.
To bolster the visibility of the website in its online marketplace, Rosemont Media employed leading medical SEO strategies. Helpful patient reviews also are displayed on the homepage to assist users in forming an idea of what to expect from treatment. Other enticing features include the regularly updated blog and before-and-after photo gallery. Dr. Atkin says the combination of functional and aesthetic elements mirrors her approach to patient care, which combines health and beauty to achieve optimal results.
About Dermatology & Laser of Del Mar
Located in the San Diego and Del Mar, CA area, Dermatology & Laser of Del Mar was founded by Deborah H. Atkin, MD, a board certified dermatologist. In conjunction with her team of highly experienced medical professionals, Dr. Atkin offers a comprehensive array of cosmetic and general skin treatments. She emphasizes a patient-first approach that includes using leading laser technology and the most advanced techniques available. In addition to addressing common and complex skin concerns, Dr. Atkin and her team are dedicated to community outreach programs and are active in a number of philanthropic pursuits.
For more information about Dr. Atkin and Dermatology & Laser of Del Mar, please visit dermdelmar.com and facebook.com/dermdelmar.