Los Angeles Facial Plastic Surgeon Upgrades Website to Responsive Design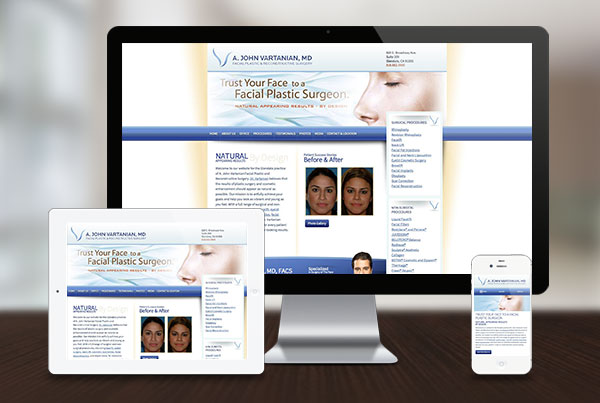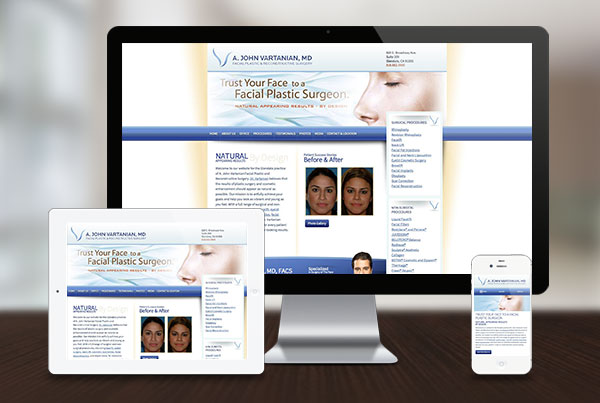 Dr. A. John Vartanian has equipped his website with a responsive design to provide a more user-friendly resource for patients researching facial plastic surgery and cosmetic enhancement.
Los Angeles, CA — Dr. A. John Vartanian, a facial plastic surgeon in Los Angeles, recently announced the launch of his newly-upgraded website intended to serve as a comprehensive tool for viewers researching facial plastic surgery and noninvasive skin rejuvenation treatments. Working closely with medical website design firm Rosemont Media and its experienced team of writers, designers, and developers, Dr. Vartanian was able to create a unique, informative, and user-friendly resource for both current and prospective patients.
Upon accessing the site, visitors can find information regarding Dr. Vartanian's experience, patient testimonials, and before-and-after photos. Additionally, they can also obtain extensive information about the procedures offered at his practice, including:
In an effort to enhance user experience, Dr. Vartanian says he decided to implement an advanced design element known as responsive website design. With this new feature, he explains that the site is now compatible with any internet-ready device – including tablets, smart phones, laptops, and desktop computers – and the layout should automatically adjust to better fit the screen size of the device the viewer is using.
Dr. Vartanian is pleased with the outcome of his website, and says he is excited to provide patients with a user-friendly educational tool for researching facial plastic surgery. He adds that he hopes his website will be beneficial to visitors, as well as help them fully understand what to expect for the cosmetic facial procedures in which they are interested.
About A. John Vartanian, MD

Dr. Vartanian graduated from the University of California, Irvine and earned his medical degree from the Chicago Medical School. He later completed his residency training in head and neck surgery, as well as a general surgery internship, at the University of Illinois at Chicago Medical Center. Dr. Vartanian is also one of few selected surgeons to complete the prestigious, UCLA-affiliated facial plastic and reconstructive surgery fellowship with Dr. Frank Kramer. He is available for interview upon request.
To learn more about the practice of Dr. Vartanian, visit facial-plastic.com, or the practice's Facebook page at facebook.com/dr.john.vartanian.