Plastic Surgeon in Houston Unveils Enhanced Website with Unique Design Features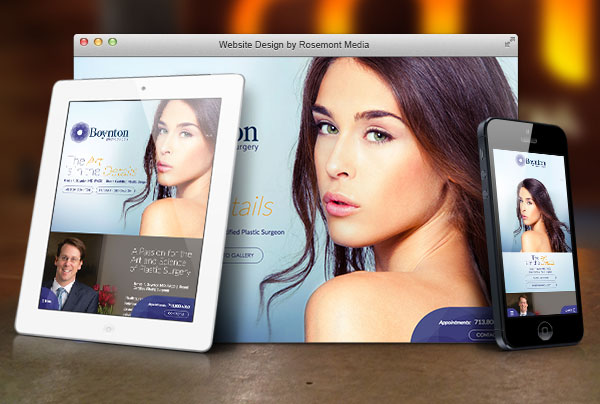 James F. Boynton, MD, FACS of Boynton Plastic Surgery upgraded his website with responsive capabilities and unique design features to provide visitors with an improved viewing experience.
Houston, TX — Dr. James F. Boynton, a board certified plastic surgeon in Houston, recently launched a newly revitalized website designed and developed in union with San Diego-based plastic surgery marketing firm Rosemont Media. Equipped with a responsive design that instinctively reformats based on the device from which the site is being accessed, the customized website acts as an inclusive resource for men and women researching breast augmentation, abdominoplasty, liposuction, gynecomastia treatment, and numerous other surgical and nonsurgical plastic surgery procedures.
A unique detail of Dr. Boynton's new website is the flower-esque logo – known as the "Boynton Bloom" – that can be found throughout the site. With its multifaceted layers and interwoven pattern, the Houston plastic surgery says the Boynton Bloom "symbolizes the advent of transformation and the delicate art of facilitating change." Other distinctive elements of the website include:
Parallax scrolling on the homepage
A widescreen layout throughout the site
A navigational menu that expands when clicked on and compresses when not in use
Detailed procedural pages containing original content
Extensive bio pages highlighting Dr. Boynton's credentials, honors, and awards
A comprehensive before-and-after photo gallery
Apart from its visual and functional aspects, Dr. Boynton's website is also equipped with the Internet marketing industry's latest, most effective search engine optimization strategies for plastic surgeons. This behind-the-scenes feature helps the site rank competitively for popular keywords and searches made on Google, Yahoo, and other leading search engines.
Ultimately, Dr. Boynton is thrilled to provide current and potential patients with an aesthetically pleasing, user-friendly tool for conducting online research, and he hopes anyone interested in plastic surgery views the updated website as a reflection of his unwavering commitment to excellence across all aspects of his practice.
About James F. Boynton, MD, FACS
Dr. Boynton graduated from Duke University prior to earning his medical degree from the University of Texas Medical School at Houston. At his practice, Boynton Plastic Surgery, he offers an expansive range of breast enhancement, facial rejuvenation, and body contouring procedures. In addition, he also provides a full array of non-surgical skin care treatments and services. Certified by the American Board of Plastic Surgery, Dr. Boynton is a Fellow of the American College of Surgeons, as well as a member of the American Society of Plastic Surgeons, the American Society for Aesthetic Plastic Surgery, and several other esteemed organizations.
To learn more, visit boyntonplasticsurgery.com, plus.google.com/116742002551605456947/about, and facebook.com/DrBoynton. Dr. Boynton is available for interview upon request.