Redding CA Ophthalmologists Unveil Newly Redesigned Responsive Website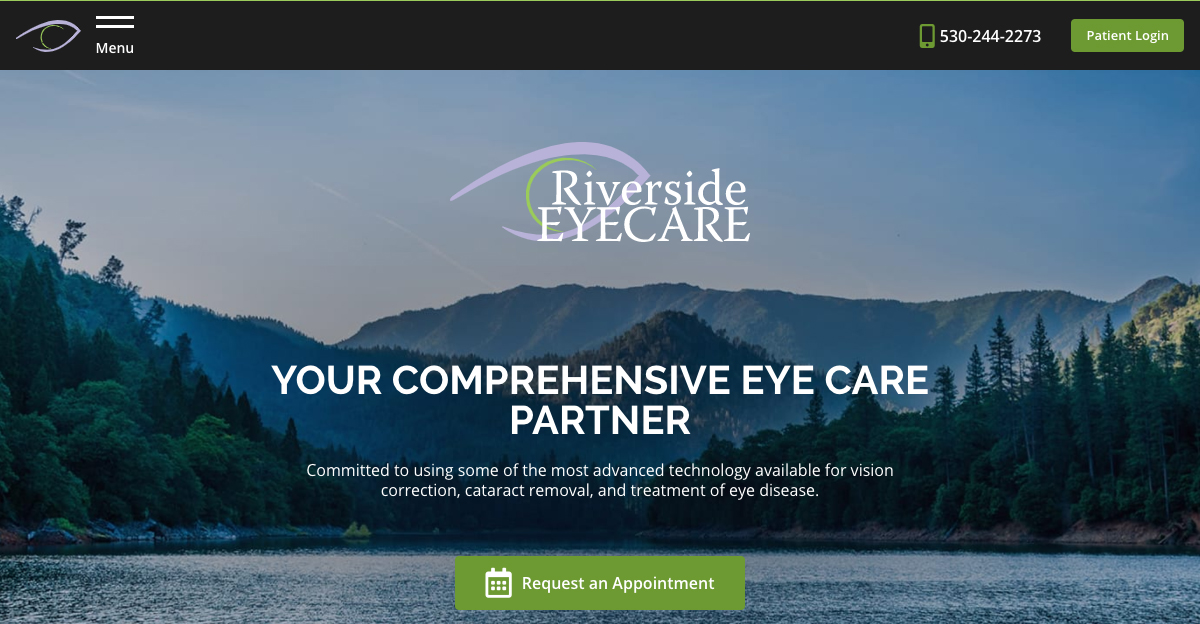 Riverside EyeCare Professionals and Rosemont Media teamed up to create a new website that elevates the look and functionality of the practice's online presence.
Redding, CA – Riverside EyeCare Professionals, a long-time client of San Diego-based web marketing agency Rosemont Media, recently decided it was time to modernize all aspects of their website to better serve their patients, online audience, and business as a whole. Together with their trusted team at Rosemont Media, Redding eye doctors Michael Sumsion, MD and Sean Sumsion, MD discussed their goals for the website and a custom package was designed to meet their various needs.
Most importantly, the new website needed to emphasize that Riverside EyeCare Professionals serves the Shasta County area and provides the full scope of vision care and correction services, including LASIK, cataract surgery, optometry, and the treatment of eye conditions. To achieve this, the homepage was designed to spotlight each area of practice, along with sections for each doctor, and scenic local imagery. The dropdown menus, intuitive navigation, and buttons also make it easy for visitors to explore the website and find the information they are looking for. The content for the new website was also reorganized and expanded to provide users with comprehensive, easy-to-understand resources about the various eye conditions and vision concerns treated at the practice, as well as in-depth information about the procedures, technology, and products they offer. Custom pages were also created to highlight Riverside Optical, their on-site optical shop, and cataract surgery. These thoughtfully designed and well-organized pages incorporate diagrams, videos, and other interactive features that help the information on the page come to life.
The sleek, modern design of the website is not only attractive, it's also responsive—making it mobile-friendly and fully functional on both wireless and stationary Internet-connected devices. This means that visitors using smart phones, tablets, laptops, and desktop computers are all able to easily view and interact with the website on a variety of different screen sizes. The website has also gained enhanced speed and improved visibility in Google search results with the help of clean coding and advanced search engine optimization (SEO). SEO assists Google in recognizing the Riverside EyeCare Professionals' website as a trusted vision care resource, which ideally leads to top positioning in local searches for the services the practice provides.
Riverside EyeCare Professionals has also incorporated a wealth of complementary patient information, a regularly updated blog, and a patient portal to facilitate communication between the practice and its patients. Through the website, current and prospective patients are able to log into the patient portal, access forms, view special offers and events, request appointments, read online reviews, and call the practice with the click of a button.
Ultimately, Drs. Michael and Sean Sumsion are very pleased with their new website and all of the advanced features it offers. In the upcoming year, the practice plans to continue to expand their online content and further update the website to meet the evolving needs of their patients and business.
About Riverside EyeCare Professionals
Riverside EyeCare Professionals is led by board-certified ophthalmologists Michael Sumsion, MD and Sean Sumsion, MD. Since 1990, Dr. Michael Sumsion has been practicing in Redding, and he opened his private practice, Riverside EyeCare Professionals, in 1997. Dr. Michael Sumsion has more than 20 years of experience treating a variety of eye conditions with state-of-the-art technology, advanced techniques, and innovative procedures. At the practice, the eye doctors offer a wide variety of services, including cataract surgery, glaucoma treatment, LASIK laser vision correction, and corneal transplants. Optometry and optical services are provided by Michael Franzone, OD, MPH on the second floor of the Park Marina office inside Riverside Optical. The doctors are available for interview upon request.
For more information about Riverside EyeCare Professionals and Riverside Optical, please visit recp-eyemd.com, facebook.com/RiversideEyeCareProfessionals, and @riversideoptical on Instagram.
Contact:
Riverside EyeCare Professionals
2801 Park Marina Drive
Redding, CA 96001
(530) 244-2273
Rosemont Media
(858) 200-0044
www.rosemontmedia.com