Reno Eye Doctors Introduce New Responsive Website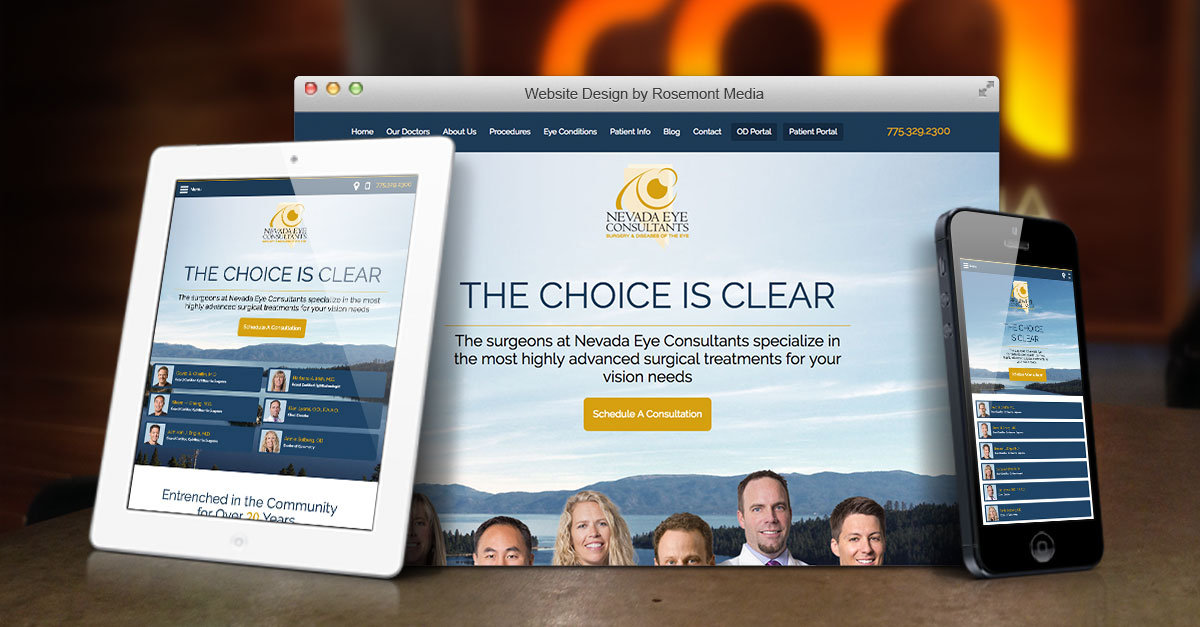 Nevada Eye Consultants reveals an upgraded website featuring responsive design, patient-centered elements, and an aesthetically appealing layout, mirroring the practice's focus on attention to detail.
Reno, NV — To extend the quality of care associated with the in-office experience, Reno vision care practice Nevada Eye Consultants recently teamed up with medical marketing firm Rosemont Media to develop an innovative website featuring the latest accessibility features. From a responsive design to adjustable font sizing, the upgraded site serves as an online destination where patients can learn more about vision correction services from extensively trained eye doctors.
An increasing number of patients are using mobile devices to search for eye doctors, and the responsive website design makes it possible for users to access information from virtually anywhere. To further enhance the visitor experience, the size of the text can be increased or decreased as needed to comfortably read the content. Nevada Eye Consultants' founder and medical director, Dr. David Chaffin, explains that small, thoughtful details like these help support the patient-focused approach that is the foundation of the practice philosophy.
Other notable highlights include a patient portal, updated blog, and media page featuring videos discussing the latest techniques and technology. Prospective patients who are researching vision correction options can review the implantable contact lens (ICL) and LASIK testimonials pages to develop a better idea of what to expect when seeking treatment from Nevada Eye Consultants.
About Nevada Eye Consultants
Located in the Reno and Lake Tahoe, NV area, Nevada Eye Consultants has provided an expansive selection of eye care services to patients of all ages for over 20 years. The practice emphasizes exceptional care and state-of-the-art technology at every stage of treatment, and is comprised of a team of six extensively trained eye doctors and surgeons. Led by Dr. David Chaffin, one of four board certified ophthalmologists on staff, Nevada Eye Consultants is dedicated to preserving and improving each patient's eyesight and remaining at the forefront of the vision correction field.
For more information about Nevada Eye Consultants, please visit nevadaeye.com and facebook.com/NevadaEye.