Rhode Island Plastic Surgeon Unveils New Design for Practice Website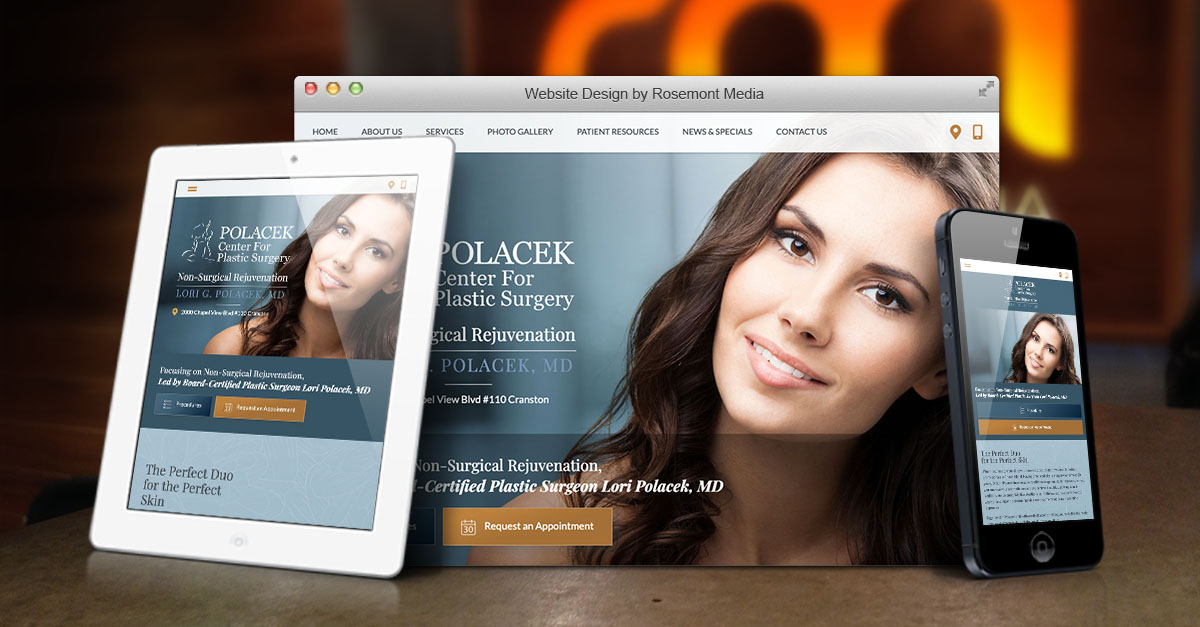 Lori Polacek, MD has launched an updated website design for the Polacek Center for Plastic Surgery to provide an educational and user-friendly resource for patients.
Cranston, Rhode Island — Dr. Lori Polacek, a board-certified plastic surgeon in Rhode Island, recently launched an updated look for her practice website. At the Polacek Center for Plastic Surgery, Dr. Polacek and Licensed Medical Aesthetician Beth Walker provide a wide range of non-surgical aesthetic solutions. When patients navigate to the practice's website, they can find comprehensive details about these treatments, as well as helpful information about Dr. Polacek and her practice.
To enhance the website's appearance and usability, Dr. Polacek and her team worked with medical website design firm Rosemont Media. Through this collaboration, the website underwent a complete makeover to achieve its modern new look and easy-to-use layout. When visitors arrive on the site, they can find the information they need by browsing through the organized navigation at the top of their screen. Throughout each page are innovative design features to engage the reader, as well as responsive website capabilities that cause the page to automatically resize to the optimal screen dimensions of the Internet device in use.
The website was also outfitted with original content to help educate current and prospective patients, providing them with an informational resource to learn about a variety of aesthetic treatments. These procedural pages were also optimized using up-to-date medical SEO practices. This allows local men and women to find Dr. Polacek's website more easily within search engines, as they look for answers to frequently asked questions. Patient testimonials, before-and-after photos, and a regularly updated blog are also available on the site.
With the website's recent launch, Dr. Polacek looks forward to helping patients learn more about her practice and the non-surgical care they provide in an attractive, user-friendly layout.
About Dr. Lori G. Polacek
Dr. Polacek is a board-certified plastic surgeon who focuses on non-surgical aesthetic care at her private practice in Cranston. After graduating from Brown University with a degree in Biology, Dr. Polacek completed medical school at the Boston University School of Medicine, where she also underwent her General Surgery residency. Dr. Polacek continued to the Lahey Clinic Medical Center in Burlington, Massachusetts to train in a Plastic and Reconstructive Surgery residency. After 26 years of plastic surgical experience, Dr. Polacek transitioned to exclusively offering minimally invasive aesthetic solutions, including treatments like CoolSculpting®, BOTOX® Cosmetic, laser skin resurfacing, and much more. Dr. Polacek is available for interview upon request.
For more information about the Polacek Center for Plastic Surgery, visit polacekplasticsurgery.com and facebook.com/Polacek-Center-for-Plastic-Surgery-302016813683733/.
Contact:
Polacek Center for Plastic Surgery
2000 Chapel View Blvd. #110
Cranston, RI 02920
(401) 331-0202
Rosemont Media
(858) 200-0044
www.rosemontmedia.com