Richmond Plastic Surgeons Launch Website Devoted to Medical Spa Skin Treatments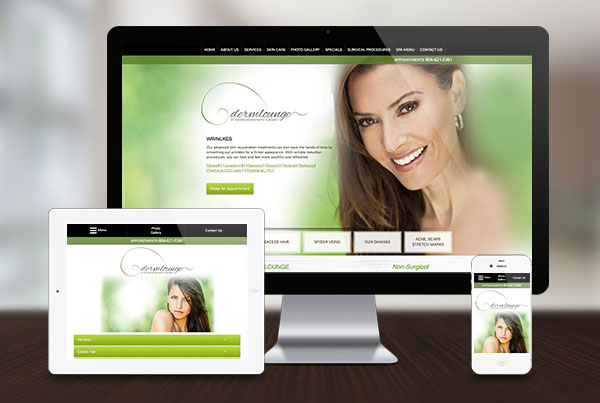 Dr. Neil J. Zemmel and Dr. Steven J. Montante have recently revealed a new website centered around the all-inclusive medical spa housed within their plastic surgery practice.
Richmond, VA — As an integral component of their comprehensive approach to cosmetic enhancement, Richmond plastic surgeons Neil Zemmel, MD, FACS and Steven Montante, MD have recently launched a new website devoted to Dermlounge – their state-of-the-art medical spa housed within Richmond Aesthetic Surgery. Developed in partnership with medical website design firm Rosemont Media, the new site features an aesthetically-pleasing layout customized to convey the quality of care and results patients can expect to receive at Dermlounge.
Accessible via navigational drop-down menus, the site hosts elaborate informational pages for an expansive range of skin care treatments and services, some of which include:
Aside from treatments and procedures, visitors to the site can also readily access:
Doctor and Aesthetician Bios
Treatment Specials
Before-And-After Photo Galleries
The Practice Blog
Practice Contact Information
In an effort to enhance user experience, the Dermlounge site is equipped with a responsive website design, meaning the layout of the site will automatically scale to fit the screen dimensions of any device from which it is accessed, including desktop computers, laptops, tablets, and smartphones. Additionally, the site is optimized with the latest SEO and SMO strategies intended to help it rank competitively for key terms on popular search engines.
Ultimately, Drs. Zemmel and Montante say they are excited to provide patients with a comprehensive skin care and medical spa resource that effectively complements their practice's surgical website, just as the nonsurgical treatments and services offered at Dermlounge can help complement and enhance results achieved through cosmetic surgery.
About Neil Zemmel, MD, FACS
Dr. Zemmel graduated from the College of William and Mary and earned his medical degree from the University of Virginia School of Medicine. He then went on to complete a six-year program in plastic and reconstructive surgery at the Virginia Commonwealth University Medical Center. He is certified by the American Board of Plastic Surgery and is a member of the American Society of Plastic Surgeons, the American Society for Aesthetic Plastic Surgery, and the American College of Surgeons, among other medical organizations. Dr. Zemmel is available for interview upon request.
About Steven Montante, MD
A graduate of the University of Scranton, Dr. Montante earned his medical degree from the University of Pittsburgh School of Medicine. He then went on to complete his surgical training at the Medical College of Virginia at Virginia Commonwealth University where he joined the Plastic Surgery Residency Program. He is board-certified in Plastic and Reconstructive Surgery, and he is an active member of the American Society of Plastic Surgery. Dr. Montante is available for interview upon request.
For more information about Drs. Zemmel and Montante, visit dermlounge.com, richmondplasticsurgery.com, and vabreastsurgery.com.