The Eye Institute of Utah Launches Advanced New Website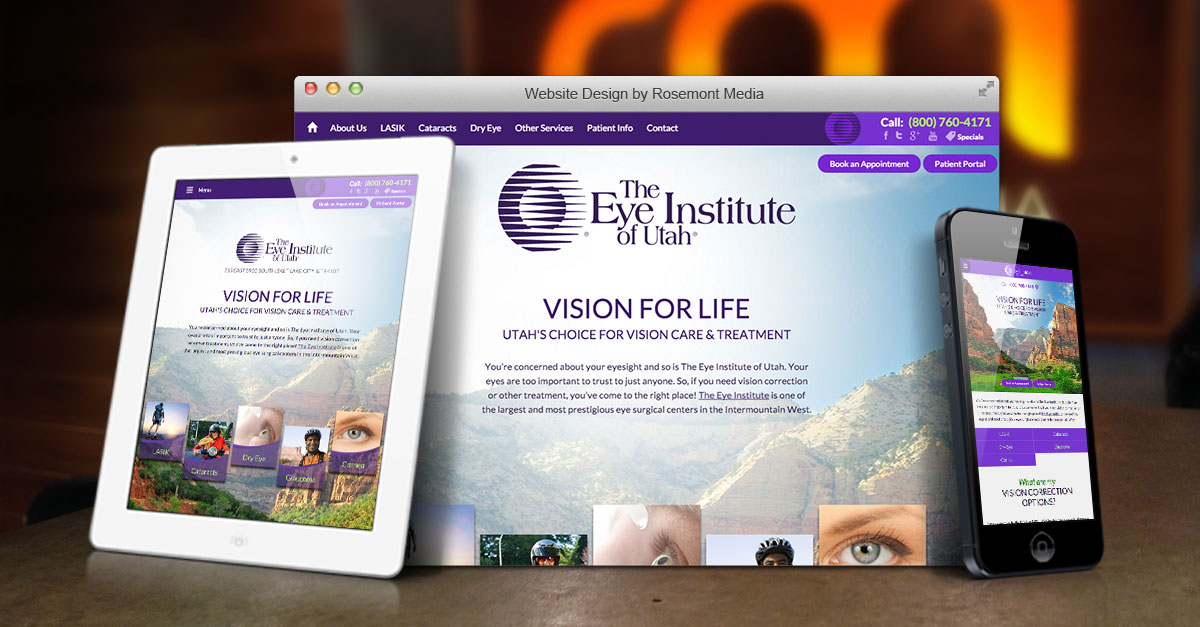 The Eye Institute of Utah announces the launch of its new website which elegantly delivers an informative, interactive experience for new and current patients alike.
Salt Lake City, UT – The Eye Institute of Utah is announcing the launch of an advanced new website that reflects its reputation as one of the nation's most prestigious eye care and vision correction centers. A composite of the latest in website technology and stunning artistic design, the practice says their innovative website is the ideal vehicle for attracting new patients and delivering a comprehensive resource of easily accessible information. Most immediately noticeable is the striking look of the website that beautifully displays vivid outdoor images from Utah's spectacular natural landscape, which the practice's doctors believe to be one of the many daily gifts of clear vision.
In partnership with Rosemont Media, a medical Internet marketing firm based in San Diego, The Eye Institute of Utah was able to develop a highly customized website that incorporates responsive design, SEO, intuitive navigation, interactive functionality and in-depth procedural and patient-focused information. With this combination of features, the doctors say patients can find and access the practice website from any type of device (phone, tablet, laptop or desktop computer) and quickly locate the information they are looking for. The website presents the full scope of procedures offered at The Eye Institute of Utah, drawing special attention to two main practice areas of LASIK surgery and treatment of cataracts, which each have dedicated landing pages. These landing pages are specially designed to structure and disseminate information in a way that is both enjoyable and of maximum benefit to the reader.
In addition to written procedure content, the website features a wide range of complementary resources which deliver extensive and current information about the practice, provide enhanced user-access and showcase relevant alternative media. This includes:
Bios for each surgeon
Educational videos
Interactive vision questionnaires
Printable pamphlets
A patient portal to facilitate patient/practice communication
Practice newsroom and blog
Patient testimonials
Information about ongoing clinical trials and research
Ultimately, the team of doctors from The Eye Institute of Utah believe that with the help of Rosemont Media they have succeeded in creating a dynamic new online resource that performs optimally for both current and prospective patients seeking information about eye care services.
About The Eye Institute of Utah
The Eye Institute of Utah is a leading eye care center in Salt Lake City that serves patients from throughout the Intermountain West and surrounding states. As one of the most advanced and respected practices in the nation, The Eye Institute of Utah features a team of exceptionally skilled doctors and surgeons that provides a full range of custom cataract, laser vision correction and oculoplastic surgeries, as well as treatments for dry eye, glaucoma and other corneal and retinal diseases. Since its inception in 1980, The Eye Institute of Utah has been dedicated to the advancement of eye care treatment and medical knowledge through ongoing clinical studies and research programs.
For more information about The Eye Institute of Utah, please visit theeyeinstitute.com or facebook.com/theeyeinstitute.