Why You Need a Content Marketing Strategy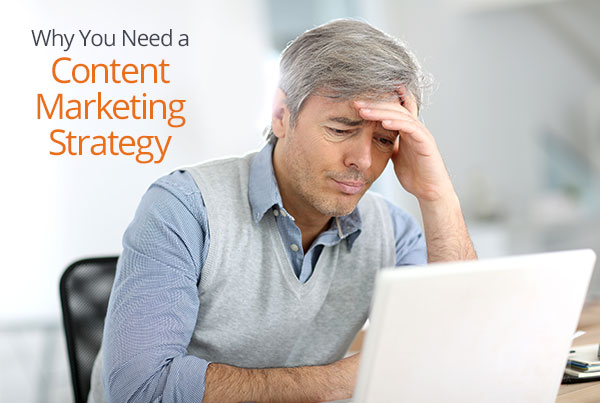 Here's the situation: Spring is here, and with warmer temperatures come flowers, foliage, and birds. While you normally welcome all that spring brings to your yard (except maybe the pollen), this year is different. This year, that family of bluebirds for whom you so graciously built a home to attract last year has decided your birdhouse is not up to their standards anymore. No, they'd rather upgrade…to your house. That's right, while you were at work they went to town on your siding, and you now have non-paying tenants who love nothing more than to rise with the sun each morning.
Fortunately, all this did was accelerate the inevitable fact your siding needed to be replaced within the next year or two, birds or no birds. So what's the first thing you do to figure out what type of new siding you should purchase? You search the Web for answers to a number of questions: What's the best siding material available?; What are the benefits of HardiePlank vs. vinyl?; Who should I hire to replace my siding?; How much will it cost to re-side my house?; and so on and so forth.
Now, wouldn't it be nice if you came across one company's website that could answer all your questions, as well as provide you with key information about which you didn't even think to ask? A website that's literally a one-stop resource for everything you want to know about siding. If you did stumble upon such a site, you'd most likely be more inclined to contact this company for an estimate, wouldn't you? After all, they certainly seem to be the experts in siding.
That's beauty of content marketing. By developing an effective content marketing strategy for your medical or dental website, you can help position your practice as an expert, grow your brand awareness, and increase your opportunity to be found online. Additionally, following an editorial calendar can ensure consistent, relevant information is being added to your site, which helps to engage patients while educating them on everything they want to know about a particular treatment or procedure of interest. When executed properly, content marketing can lead to greater patient loyalty, ultimately resulting in consumer action (i.e. scheduling a consultation/appointment).
To learn more about the benefits of content marketing for medical and dental practices, be sure to stay tuned for our next blog post. Or, if you'd like to speak with one of our consultants about setting up your own content marketing plan, feel free to contact Rosemont Media today.