Beverly Hills Cosmetic Dentist Reveals Two New Advanced Websites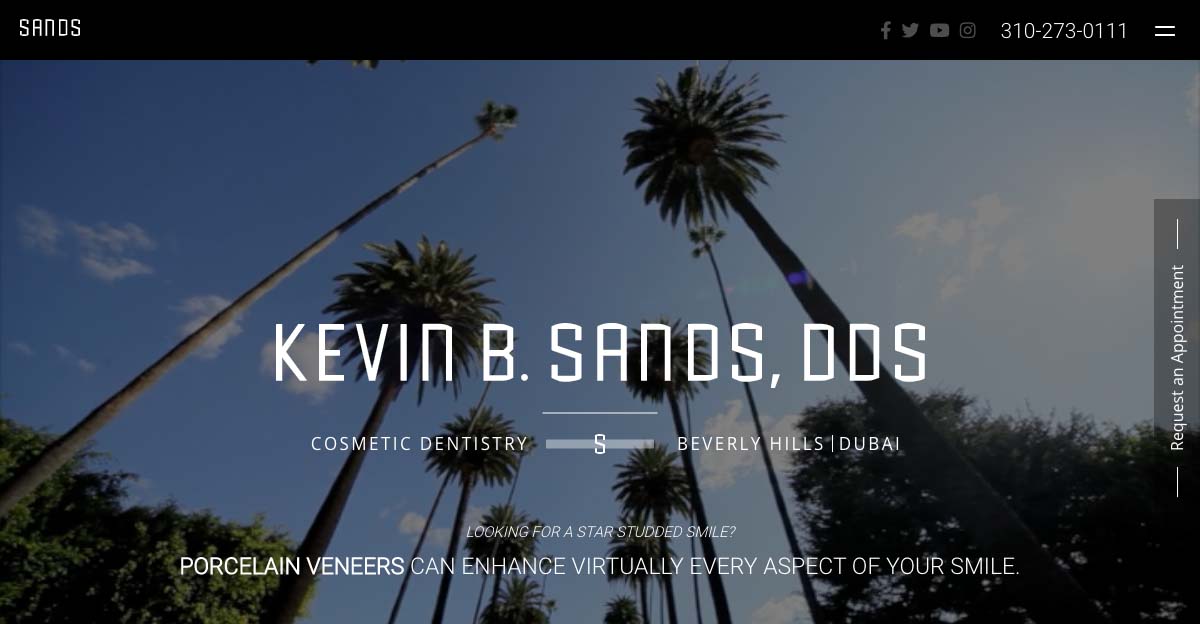 Dr. Kevin B. Sands transformed his dental websites into modern, customized, high-performance masterpieces with the help of Rosemont Media's talented team of web marketing experts.
Beverly Hills, CA – Beverly Hills cosmetic dentist Kevin B. Sands, DDS is arguably best known for the star-quality smiles he creates for some of the world's most recognizable celebrities. As a world-class dentist with high-profile clientele and a successful practice, Dr. Sands has for many years relied upon his trusted website marketing team at Rosemont Media to help keep his online presence ahead of the curve. Recently, Dr. Sands decided to move forward with a full redesign and rebuild of both his main practice website and specialty porcelain veneers website. The goal of these projects was to give the websites a fresher, more modern look, optimize the user experience, improve functionality, and enhance performance on the search engines.
Dr. Sands' new websites, which went live last month, have surpassed his expectations and ushered in a new era of online excellence for his practice. The crown jewel of these websites is the custom video feature that greets visitors on the homepage. The dynamic video montage combines iconic Beverly Hills scenery with images of Dr. Sands alongside his most famous patients, highlighting the essence of his world-renowned cosmetic dentistry practice.
As users explore the websites, the sleek, elegant design and intuitive navigation make it easy to find the content they are looking for, whether it is educational information about the treatments Dr. Sand's offers, pricing averages, before-and-after photos of patients' smiles, or blog articles about the latest trends in cosmetic dentistry. Best of all, the responsive design allows the websites to display properly and function optimally on mobile and stationary devices—providing access to any visitor using an internet-connected smart phone, tablet, laptop, or desktop computer.
From a more technical standpoint, Dr. Sands' new websites were constructed with online marketing success in mind. The coding that powers the websites was upgraded to the highest standards, which boosts speed and allows for impressive performance on the search engines. Also included is advanced dental search engine optimization (SEO) customized to suit the specific treatments Dr. Sand's offers. With Rosemont Media's dental SEO, potential patients searching Google for porcelain veneers, smile makeovers, and other popular procedures in the Beverly Hills and Los Angeles area can find the practice more easily through improved positioning in search engine results.
Dr. Sands looks forward to continued success in the years ahead as he continues to grow his practice. With his new websites and the support of his team at Rosemont Media, Dr. Sands hopes to keep meeting the needs of his web-savvy patients and expanding his brand recognition in the online marketplace.
About Dr. Kevin B. Sands
For more than 15 years, Dr. Kevin B. Sands has been creating some of the most beautiful and recognizable smiles in entertainment. Dr. Sands earned his doctor of dental surgery (DDS) degree from the prestigious USC School of Dentistry and has completed advanced training in aesthetic and restorative dentistry techniques from the renowned Las Vegas Institute for Advanced Dental Studies. At his practice in Beverly HIlls, Dr. Sands offers the full spectrum of cosmetic and restorative dentistry options including porcelain veneers, dental implants, porcelain crowns, and smile makeovers. He is a member of several prominent professional organizations, most notably the American Academy of Cosmetic Dentistry, the American Dental Association, and the California State Dental Association.
For more information about Dr. Sands, please visit beverlyhillscosmeticdentist.com, porcelainveneersinbeverlyhills.com, and facebook.com/cosmeticdentistbeverlyhills.
Contact:
Kevin B. Sands, DDS
414 North Camden Drive, Suite #940
Beverly Hills, CA 90210
(310) 273-0111
Rosemont Media
(858) 200-0044
www.rosemontmedia.com