Encinitas Cosmetic Dentists Launch Stunning New Website to Celebrate Practice Partnership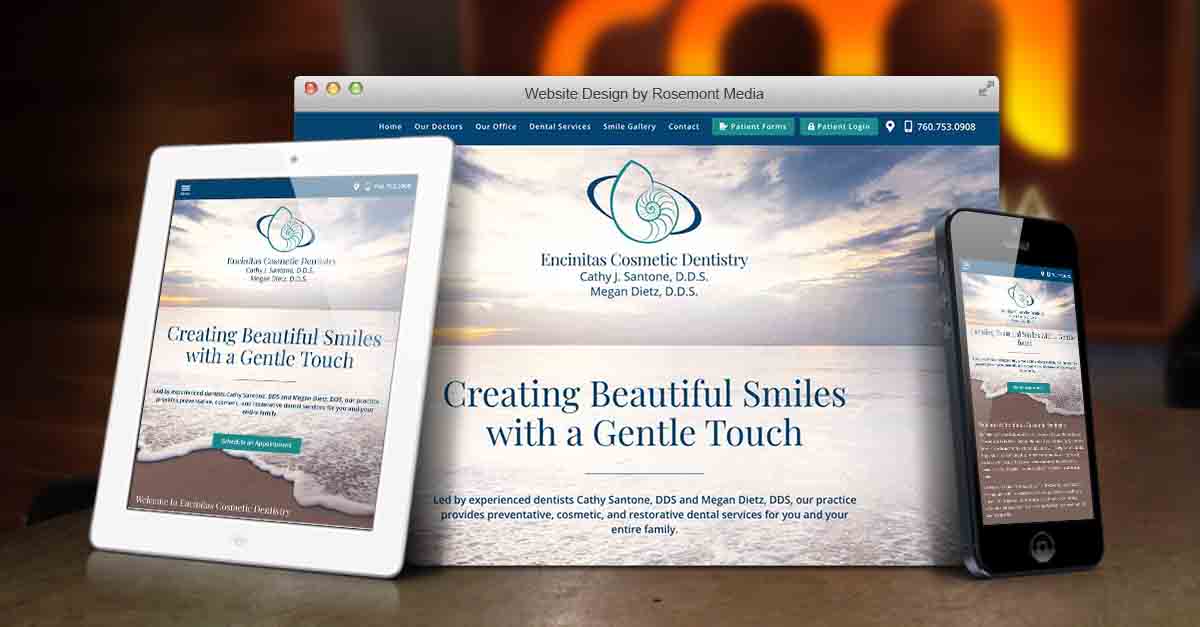 Following their decision to go into practice together, Encinitas-based dentists Cathy Santone, DDS and Megan Dietz, DDS unveiled the brand new website design for Encinitas Cosmetic Dentistry—a longtime provider of high-quality and holistic dental care for individuals in North County, San Diego.
Encinitas, CA — As strong believers in patient education, Dr. Cathy Santone and Dr. Megan Dietz recently launched their new practice website as a comprehensive dental resource for individuals seeking care in Encinitas and nearby regions. Fully responsive in functionality and easily accessible on a phone, tablet, or desktop, the site gives patients of all ages the opportunity to learn about the advanced treatment options that can make their dream smile a reality.
While navigating the online home for Encinitas Cosmetic Dentistry, users can seamlessly peruse through the multitude of cosmetic, restorative, and conservative dental treatments at their disposal. With full pages outlining innovative services—such as Invisalign® and dental implants—on a sleek and user-friendly interface, current and prospective patients should be able to refer to the site to obtain a solid understanding of which treatments are most ideal for their unique goals. A built-in before-and-after smile gallery, as well as custom-written content, also work to keep patients well-informed of the benefits, risks, and limitations of any given dental procedure.
In collaboration with Rosemont Media, LLC, a local healthcare marketing company, Dr. Santone and Dr. Dietz have introduced the responsive dental website with the goal of providing accurate and reputable information for the Encinitas community regarding their dental care. The site design is brought to life by a calming, beach-inspired theme, which the dentists hope will offer patients an idea of the warm, friendly, and relaxing environment at their San Diego practice.
About Encinitas Cosmetic Dentistry
Encinitas Cosmetic Dentistry is a leading dental practice in North San Diego County that offers the full spectrum of cosmetic, restorative, and family dentistry treatments. Led by Dr. Cathy Santone and Dr. Megan Dietz, Encinitas Cosmetic Dentistry emphasizes building healthy smiles using conservative techniques whenever possible. Their environmentally-friendly and paperless practice not only offers popular cosmetic treatments like porcelain veneers and teeth whitening, but they also provide oral cancer screenings, tooth-colored fillings, and other preventative dental services. With advanced dental technology consisting of laser dentistry, as well as TMJ disorder and sleep apnea treatment, Drs. Santone and Dietz aim to improve a patient's oral health while considering the wellness of their entire being. Dr. Santone and Dr. Dietz are available for interview upon request.
To learn more, please visit encinitascosmeticdentistry.com or facebook.com/encinitascosmeticdentistry.
Contact:
Encinitas Cosmetic Dentistry
891 Santa Fe Drive
Encinitas, CA 92024
(760) 753-0908
Rosemont Media
(858) 200-0044
www.rosemontmedia.com