Philadelphia Dental Practice Debuts Innovative Responsive Website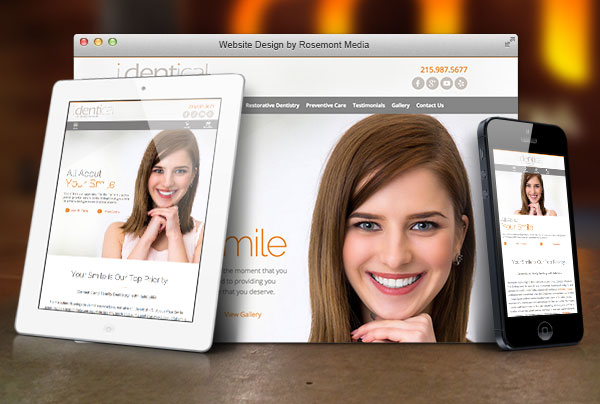 Dr. Rafael E. Yanez of I.Dentical – All About Your Smile launches a new practice website with responsive capabilities for enhanced accessibility and an improved user experience.
Philadelphia, PA — Dr. Rafael E. Yanez, a dentist in Philadelphia, says he strives to exceed patient expectations in multiple ways. In pursuit of this goal, the founder of I.Dentical – All About Your Smile recently reached out to dental marketing firm Rosemont Media to upgrade his practice website to enhance the user experience. The newly launched site features abundant cutting-edge design elements, including a responsive layout, that are intended to make browsing convenient, informative, and more enjoyable.
Dr. Yanez explains that the number of individuals utilizing mobile devices to research dental content and schedule appointments is rising. To target these active users, the website is outfitted with a responsive design that automatically shifts to suit the screen dimensions of laptops, tablets, and smartphones, as well as traditional desktop computers. Customized content, integrated with leading SEO strategies, provides current and prospective patients with a helpful resource on a wide array of popular procedures, including:
Porcelain Dental Veneers
Periodontal Care
Full Mouth Reconstructions
Other updates include a Google office tour — allowing individuals the opportunity to virtually explore the practice — and video testimonials. Dr. Yanez says he emphasizes comfort, safety, and results with each treatment, and he believes gentle, compassionate care is the difference that can make people positively anticipate dental visits. The new website, he adds, is one more way to deliver on this patient-oriented philosophy.
About I.Dentical – All About Your Smile
Led by Dr. Rafael Yanez, I.Dentical – All About Your Smile is located in Philadelphia, Pennsylvania. Accompanied by his team of skilled dental hygienists and friendly staff, Dr. Yanez offers a comprehensive range of procedures, including general, cosmetic, and restorative dentistry services. Emphasizing service, comfort, and results, the practice strives to achieve excellence at every stage of the treatment process. In addition to being a Certified Invisalign® Preferred Provider, Dr. Yanez and his staff also provide dental implants, porcelain veneers, teeth whitening, full mouth reconstructions, and more.
For more information about I.Dentical – All About Your Smile, please visit dentist-philadelphia.com and facebook.com/Identical-All-About-Your-Smile-287379361304429.