Providence Pediatric Dental Practice Launches Responsive Website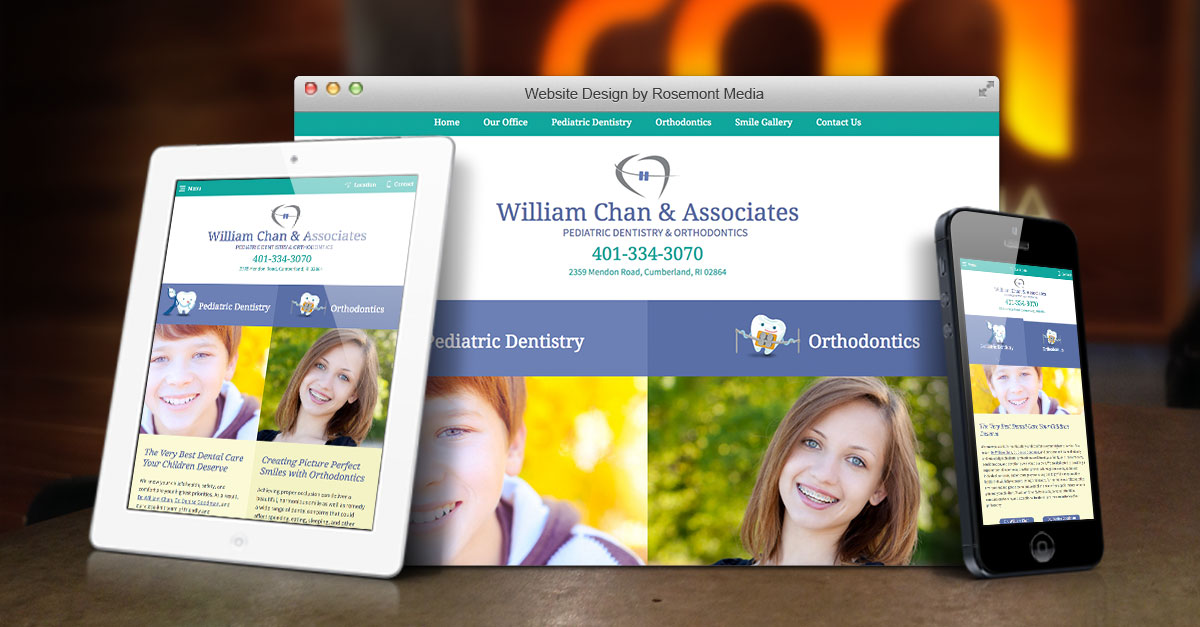 The dentists and orthodontist at William Chan & Associates reveal a new responsive website that caters to the needs and preferences of busy families.
Cumberland, RI — Pediatric dentistry is designed to help kids develop healthy oral hygiene habits and care for their teeth and gums as they mature. The dentists and orthodontist at William Chan & Associates, a pediatric dental and orthodontic practice in Providence, understand that kids and parents can benefit from having greater access to information about early life dentistry. To make this goal a reality, they paired with dental marketing agency Rosemont Media to design, develop, and launch a responsive website for their practice.
In addition to offering convenient access from mobile and traditional Internet-capable devices, the new website also serves as a handy, on-the-go dental resource. Loaded with original content, prominent contact information, and before-and-after photos, the clean layout and soft-toned color palette can give parents peace of mind before and in-between office appointments. In addition to comprehensive pediatric dental care, the site provides material on orthodontic treatment for kids, teens, and adults seeking straighter, better functioning teeth and jaws.
Simplicity and convenience were primary concerns, which is why the new website is equipped with the latest dental SEO strategies. As a result, current and prospective patients can more easily locate the site using popular search engines like Google, Bing, and Yahoo. Details like this reveal the doctors' commitment to honest and attentive care, which is a hallmark of the Rhode Island practice.
About William Chan & Associates
William Chan & Associates is a pediatric dental and orthodontic practice located in the Cumberland and Providence, Rhode Island area. Led by two dentists, Dr. William Chan and Dr. Denise Goodman, and an orthodontist, Dr. Ben Chan, the office emphasizes honest, patient-focused care. Utilizing the most advanced technology available, children and teens can learn proper oral hygiene techniques and develop healthy lifelong habits. Furthermore, early life, two-phase, and adult orthodontic treatment is available to address crooked teeth and malocclusion.
For more information about William Chan & Associates, please visit chandentalri.com.