Restorative & Implant Dentistry of Bayside in Queens, NY Reveals New Website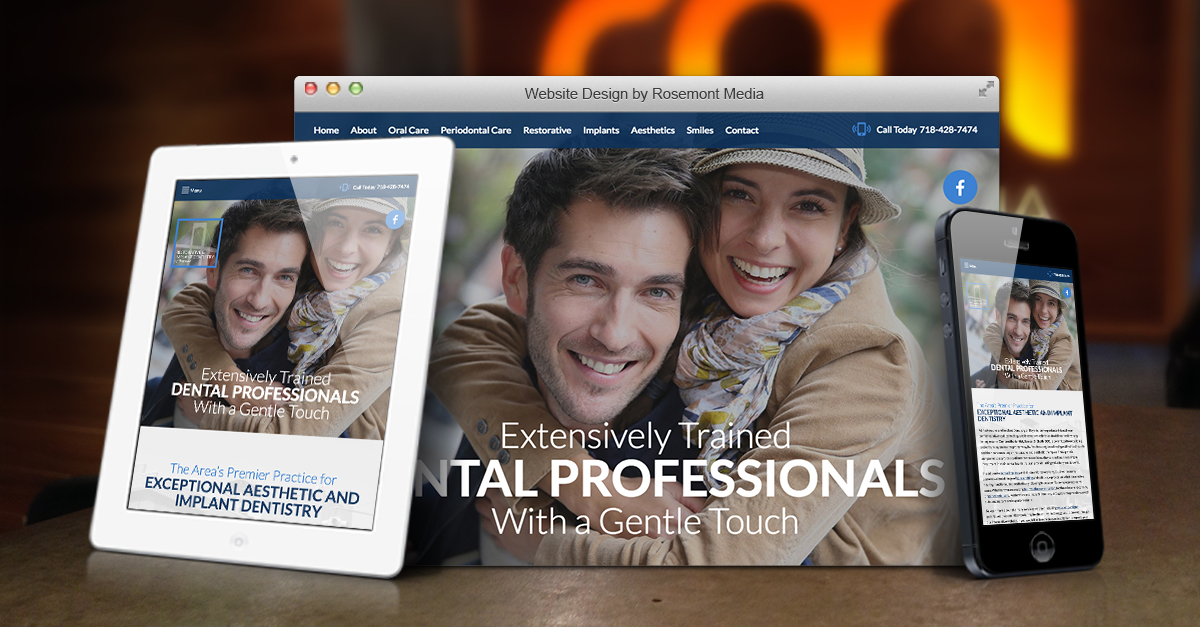 Prosthodontist Sameet Sheth, DDS launches a state-of-the-art dental website designed for mobile compatibility, optimal search engine performance, and an intuitive user experience.
Queens, NY – When Queens prosthodontist Sameet Sheth, DDS established Restorative & Implant Dentistry of Bayside, he developed a practice philosophy and treatment style designed to provide lasting improvements in dental health, functional teeth replacements, and aesthetically pleasing smiles. Dr. Sheth also sought an innovative dental website design firm to revamp and manage his online presence. He connected with Rosemont Media, a digital marketing agency offering a full spectrum of web services in San Diego. After an in-depth discussion with Dr. Sheth, the firm's dedicated team of experts formulated a custom website package tailored to suit his specific needs and practice goals.
The new website for Restorative & Implant Dentistry of Bayside combines cutting-edge website functionality and effective marketing features with educational content and elegant visual elements to provide visitors with a world-class user experience. In keeping with Dr. Sheth's requests, the designers created a sleek, modern blue-gray theme featuring the local cityscape and the youthful, professional feel of the practice. While the responsive design of the website scales to fit mobile and desktop screens alike, parallax scrolling and blocked page layouts create dynamic movement during page browsing and clearly define areas of informative content and imagery. Whether visitors are using a smartphone, tablet, or laptop, the website can maintain an attractive appearance and functions optimally.
Behind the scenes, an advanced dental SEO strategy enhances the website's visibility on the search engines and encourages individuals searching for specific dental services in the Queens area to learn about treatment techniques offered at Restorative & Implant Dentistry of Bayside. Once visitors reach the website, the intuitive navigation makes it easy to find detailed information on a wide range of relevant dental topics. For those interested in connecting with the practice to learn more or schedule an appointment, push to call buttons, email contact fields, and social media account icons provide convenient avenues for communication. The built-in content management system (CMS) makes content updates, blogs, and before-and-after photo uploads a quick and painless process.
Ultimately, Rosemont Media and Dr. Sheth constructed a website that is ideal for helping Restorative & Implant Dentistry of Bayside flourish online. In the coming year, the website will continue to be improved and fine-tuned to keep pace with emerging search trends, practice objectives, and user preferences.
About Restorative & Implant Dentistry of Bayside
Restorative & Implant Dentistry of Bayside is located in Queens, New York City and offers a broad range of advanced dental procedures designed to reconstruct and rehabilitate smiles affected by damage, disease, and/or aesthetic concerns. NYU-trained prosthodontist Sameet S. Sheth, DDS is board certified by the American Board of Prosthodontists and provides comprehensive dental treatment focused on periodontal care, bone grafting, replacement of missing teeth, tooth restoration, cosmetic enhancements, and maxillofacial reconstruction. From clinical evaluation to the final stages of treatment, Dr. Sheth utilizes advanced techniques and technology to deliver conservative care aimed at providing patients with healthy, functional, long-lasting results. He is available for interview upon request.
For more information about Restorative & Implant Dentistry of Bayside, please visit baysidedentalspa.com and facebook.com/Restorative-and-Implant-Dentistry-of-Bayside-214755645224164/
Contact:
Restorative & Implant Dentistry of Bayside
38-39 Bell Blvd.
Suite #250
Bayside, NY 11361
(718) 428-7474
Rosemont Media
(858) 200-0044
www.rosemontmedia.com