Schweitzer & Schweitzer, PC in NYC Launches Modern New Dental Website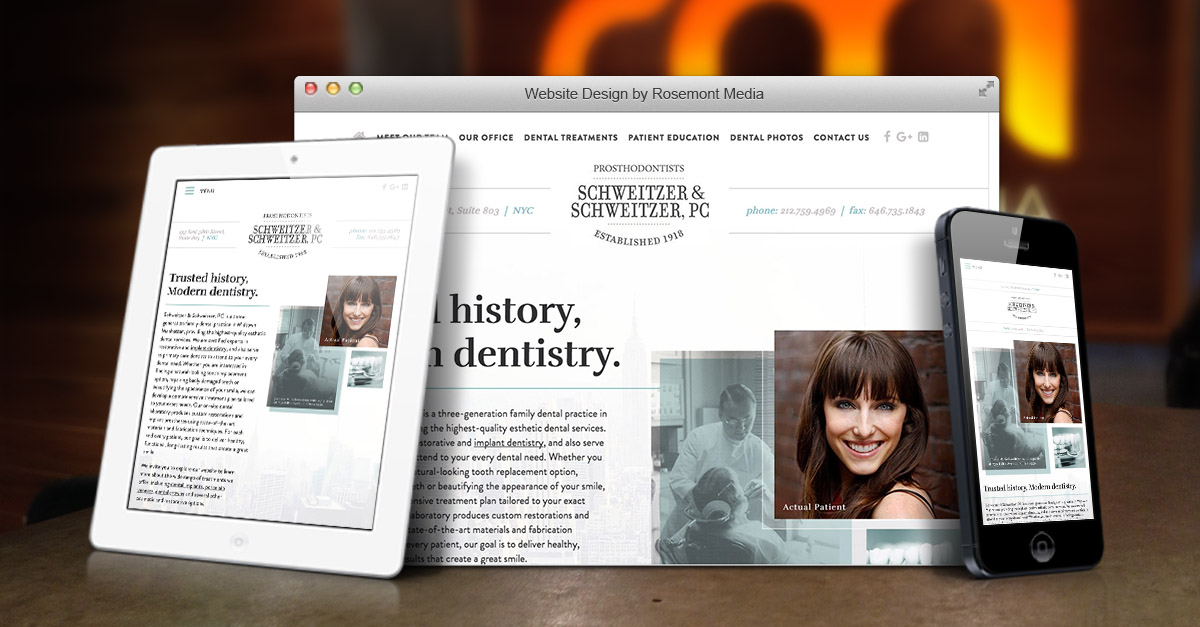 Schweitzer & Schweitzer, PC unveils a sophisticated new website offering a responsive design, extensive patient resources, advanced functionality, and an intuitive user experience.
Manhattan, NY – The team of NYC prosthodontists at Schweitzer & Schweitzer, PC provides Midtown Manhattan with a wide range of advanced restorative, cosmetic, and implant dentistry services. When it came time to upgrade and revamp its website, the practice chose to partner with San Diego-based dental marketing company Rosemont Media to achieve their primary objectives: develop a modern website that reflects the long family history of the practice, incorporate a New York City feel, and provide visitors with an outstanding user experience.
The custom website developed for Schweitzer & Schweitzer, PC combines all of the latest design elements and innovative features to create a dynamic vehicle for attracting and educating patients. The responsive functionality of the new site allows it to be accessed, viewed, and easily navigated by users on smartphones, tablets, laptops, and desktop computers. Visually, the personalized design utilizes a subtle color pallet of greys and muted seagreen, historical photographs, and well-organized sections of informational content displayed over a distant backdrop of New York City.
In an effort to create a useful educational resource for current and prospective patients alike, every procedure and treatment offered at Schweitzer & Schweitzer, PC is carefully explained in easy-to-understand language. The custom content also emphasizes the benefits of seeking a certified prosthodontist for procedures like dental implants, porcelain veneers, implant supported dentures, and full-mouth restoration.
Behind the scenes, a strategic dental SEO program that works synergistically with content marketing efforts was incorporated into the site to gain visibility on search engines for the top services Schweitzer & Schweitzer, PC provides. Finally, a before-and-after photo gallery featuring patient smiles was added to show examples of the quality work done by the prosthodontists.
Ultimately, through a fruitful collaborative process, Schweitzer & Schweitzer, PC and Rosemont Media were able to create a stunning and dynamically functioning website that benefits patients while providing a competitive edge to the practice in its online marketplace.
About Schweitzer & Schweitzer, PC
Schweitzer & Schweitzer, PC is a prosthodontic practice located in Midtown Manhattan that offers a diverse range of advanced dental services. Focused on improving the form, function, health, and esthetics of teeth, the prosthodontists deliver comprehensive, detail-oriented care and utilize quality materials for beautiful, long-lasting results. The practice's convenient on-site dental lab creates custom restorations for every need, from dental implants and porcelain veneers to full arch dentures. Whether patients have extensive decay, are missing several teeth, or have experienced a traumatic injury that has damaged their teeth, Schweitzer & Schweitzer, PC offers the expertise, technology, and experience necessary to properly rebuild smiles.
For more information about Schweitzer & Schweitzer, PC, please visit schweitzerdental.com and facebook.com/Schweitzer-Schweitzer-PC-204702349543412/.
Contact:
Schweitzer & Schweitzer, PC
133 East 58th Street
Suite #803
New York, NY 10022
(212) 759-4969
Rosemont Media
(858) 200-0044
www.rosemontmedia.com