St. Louis Cosmetic Dentist Introduces New Responsive Website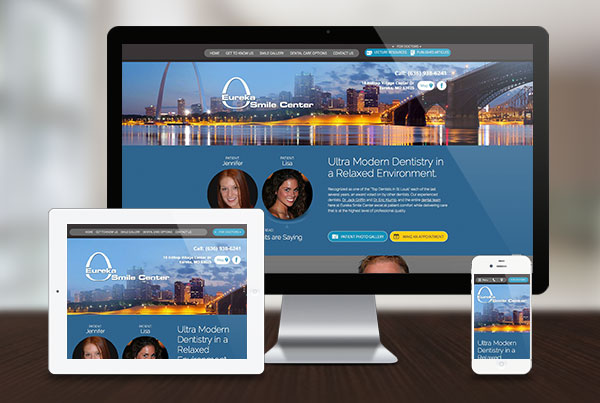 Dr. Jack Griffin of Eureka Smile Center recently launched a new, user-friendly website for patients considering general, restorative, and cosmetic dental care.
Eureka, MO — Dr. Jack Griffin, a St. Louis cosmetic dentist, recently upgraded the website for his Eureka dental practice. Eureka Smile Center offers a variety of options in general and preventative dental care, cosmetic dentistry, and dental restorations. Dr. Griffin says his new website has a user-friendly, aesthetically-pleasing design that also serves as a comprehensive resource for individuals seeking dental care. Current patients and those who are researching their dental options have access to a wealth of information on many dental procedures offered at Eureka Smile Center, including:
On the new website, people can also learn more about: the professional backgrounds and experiences of both Dr. Griffin and his associate, Dr. Eric Klumb, other office staff members, amenities and technology used in the office, new patient information, and more. In addition to being an informative resource for online visitors, one of the aspects Dr. Griffin says he is excited to introduce is the new responsive website design. This state-of-the-art feature makes it easier for viewers to easily navigate through the website from any internet-ready device, and it ultimately works to enhance both functionality and appearance of the site. Whether the viewer is accessing the site with a desktop computer, laptop, tablet, or smartphone, the site will automatically reorganize its information and scale down to adjust to the screen size of the device. Options such as one-touch connectivity to email the practice or to locate it on a maps or navigation application will present themselves for visitors accessing the website on-the-go with a smartphone.
Dr. Griffin partnered with dental website design firm, Rosemont Media, to create this new website. He says he is very pleased with the results, and he hopes people seeking information on general, cosmetic, or reconstructive dentistry options will find the site useful and easy to navigate.
About Jack Griffin, Jr. D.M.D.
Dr. Jack Griffin, Jr., founder of Eureka Smile Center, completed dental school at Southern Illinois University. Since graduation, he has remained committed to staying on top of the latest advanced dental techniques and has spent over 2,000 hours continuing his education. Dr. Griffin is a Diplomat with the American Board of Aesthetic Dentistry and he is accredited with the American Academy of Cosmetic Dentistry. He has also earned Mastership status from the Academy of General Dentistry. Dr. Griffin is a member of several other professional organizations, including the Academy of General Dentistry, the American Orthodontic Society, and the Academy of Computerized Dentistry. He has lectured nationally and has been published in a variety of dental journals discussing the latest cosmetic dental treatments. He is available for interview upon request.
To learn more about Eureka Smile Center, please visit eurekasmile.com, or the practice's Facebook page at facebook.com/EurekaSmileCenter.