2018 Internet Marketing Predictions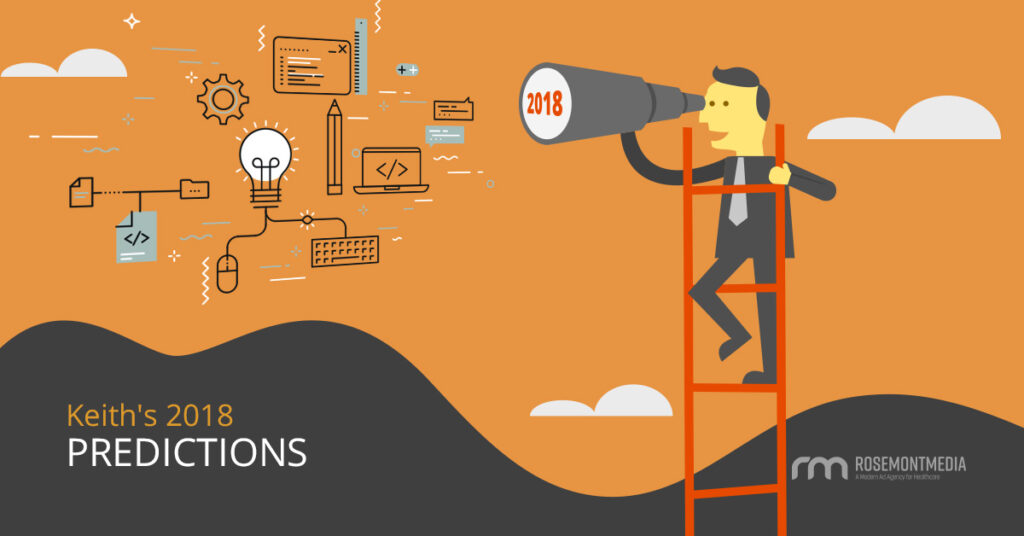 CEO and Rosemont Media Founder, Keith Humes, creates an annual list of predictions for the coming year. In addition to his forecast for 2018, see which of his 2017 predictions for Internet marketing missed the mark, and which are on the rise:
Mobile continues to dominate the web marketing landscape as the most used website version on both search and social platforms. Take some time and review your mobile website in detail to be sure the information regarding your most important services is highlighted. Speed, speed, and more speed is the name of the game in 2018 as Google moves to a mobile-only index.
My prediction wins and fails for 2017—let's start with the win (even though this has not been a win for consumers). Here is my 2017 recap regarding fake news:
"Fake News articles dominated the headlines this past year, and they will continue to dominate in 2017 as Facebook and Google continue to do nothing to prevent them or safeguard users. Google previously initiated a program called Authorship, which displayed a tag with the actual author of a specific article, but they have recently scrapped this project. In order to combat the influx of fake news, we will need some type of ability to track the trustworthiness of authors, allowing the ethical journalists to rise to the top."
It's kind of sad that the two biggest tech companies in the world—Google and Facebook—knew the enormous amount of fake news being distributed, yet did nothing to stomp it out. For all the good these companies have done in regards to connecting our world into a much smaller place, the ugly side of these platforms has become very exposed in 2017. The lack of privacy has also exposed itself this year, again teaching us to be mindful of content we are putting up for the world to see. It's time for these tech companies to grow up and realize the power they wield. It's time to install safeguards to verify good news sources and verify real people on the Internet, rather than allow fake profile accounts to run rampant. Oh yeah, and maybe they should not collect ad revenue for election-based ads from other countries.
My "Epic Fail" prediction was regarding in-store beacons. Here's my 2017 recap:
"Beacons? You will hear more about them in 2017. This is an in-store device that identifies users, then broadcasts to offer up specials and services via apps on your phone. It also tracks in-store conversions. It's unclear if it will be applicable for healthcare, due to privacy issues, but you will most likely have a beacon experience this year!"
Oh well… you can't predict them all. Onward and upward to 2018! Here are four other hot predictions you will hear about this year:
Artificial Intelligence (AI) technology and programmatic media buys
Net neutrality
Cross-channel and cross-device tracking
Voice search and personal assistants
With an ever-changing tech landscape, there is a wealth of new information to digest and put into action. Take advantage of prosperous new opportunities this New Year by allowing Rosemont Media to help your company. Whether it's fielding questions on the evolving medical and dental market or helping your website get on the map with a modern revamp, we can work collectively to create an outstanding product that will allow you to stand out in a competitive online world. Please contact us today to get started.