Turning a Negative Online Review Into a Positive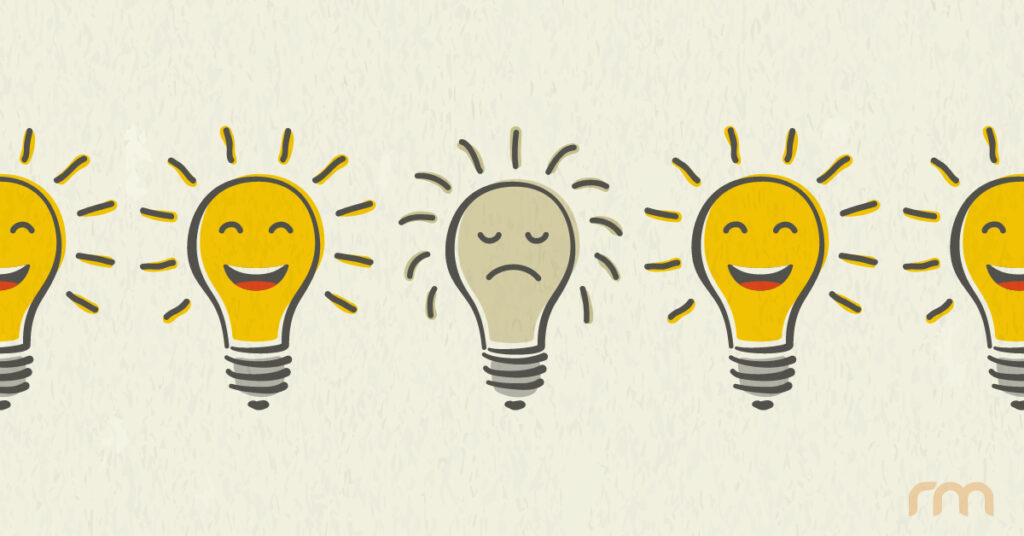 As many doctors and dentists already know, cultivating positive patient reviews has become a critical aspect of building trust and legitimacy online. Authentic experiences provided by real patients are highly valued by individuals seeking an elective healthcare practitioner. Google Local listings, Yelp!, RealSelf, and Facebook are generally regarded as being the most visible and influential outlets for patient-generated content and ratings. So, what's to be done when negative criticisms emerge? While there are limits on the degree of influence you can have on your reviews, our experts at RM have developed some general guidelines for how to best handle unfavorable evaluations and how to find the positive value that may lie within.
Not All Negative Reviews are Harmful
While it may seem like having all glowing reviews and 5-star ratings would provide the most significant advantage to your practice, research now shows that having a small number of reviews containing mildly negative information may actually amplify the impact of positive information. A recent study performed by researchers at Stanford GSB and Tel Aviv University explains that as long as these negative reviews do not criticize aspects that are central to an individual's value proposition, then they tend to have positive value. Furthermore, these unfavorable reviews may even encourage recruited patients to leave a more positive evaluation of their experience.
Chris Brown, Rosemont Media's National Sales Director, also advises clients that a certain amount of unfavorable reviews can lend credibility to the idea that your reviews haven't been paid for, tampered with, or manipulated to create a false illusion of perfection. Internet savvy consumers who can only find positive reviews of the doctors and dentists they are considering may wonder if they are being intentionally deceived. A red flag like this can undermine the trust you have worked so hard to build with your online audience.
Constructive Criticism
It may be hard to read reviews that criticize you and your practice; however, in some cases you may find valuable information that can help you achieve higher ratings in the future. Some hypothetical examples might be:
A patient who expresses disappointment in the price of treatment may inspire you to add financing options that make costs more affordable.
Problematic wait-times may motivate you make your office run more efficiently.
Complaints about lack of individual patient attention may influence you to hire more nursing staff or spend more time in patient appointments.
Our advice is to glean as much as you can from legitimate criticisms and take positive steps toward enacting improvements. You may even want to highlight new changes at the practice on your Facebook page or in blog entries to show your dedication to improving patients' experiences at your practice.
Shift Your Perspective
Keep in mind that a surprising majority of individual complaints are usually the result of a miscommunication. Information exchanged between a doctor/staff member and a patient can get misconstrued or forgotten in the course of an appointment and may be the impetus behind a less-than-favorable review. In these cases, the following steps may prove effective in helping to ameliorate the situation:
Reach out to the patient in private to apologize for any misunderstandings. This presents the opportunity for both parties to come to an agreeable solution, and may motivate the reviewer to update their experience online. Patients generally appreciate when a practice cares enough about their satisfaction to reach out personally and provide a resolution.
Don't get defensive or mad. Tone can easily be misinterpreted through text, so it's important to be mindful of how your response to a negative review may be perceived. Responding angrily to an individual's feedback will only further alienate them, paint you in a passive aggressive light, and lend credence to their complaints.
Take measures to minimize the risk of miscommunications in the future. Improving practice protocols can help ensure a reviewer's negative experience only serves as an isolated incident and does not become part of a larger pattern.
While it may not feel like it, accruing a few bad reviews is fairly normal — especially when you've been established for a long time. If you're continuously striving to provide a high quality of care, a handful of negative experiences shouldn't tarnish your reputation.
Continuously Campaign for Positive Reviews
Encouraging positive reviews from happy patients can diminish the overall impact of negative reviews. Our most successful clients focus on providing their patients with world-class customer service at every stage of their experience and encouraging satisfied patients to write reviews. While payment and gifts are not legitimate ways to obtain favorable reviews, it can be helpful to remind patients who express their gratitude or have a long-standing relationship with the practice that writing reviews is a great way to deliver praise. Often, your satisfied patients are thrilled to be able to share their personal story and help guide prospective patients to your practice.
Options for Removing Negative Reviews
You may think that having a bad review removed or hidden is the best approach; however, more often than not, the best course of action is to leave the review alone or ignore it. That said, in extreme cases a truly defamatory review can be devastating, and there may be steps you can take to rectify the situation. Each review website has its own set of rules and regulations you must follow to try and eliminate negative reviews; however, this approach can be difficult, time consuming, and may not deliver the results you hope for. Asking our Rosemont Media representatives about the best course of action in your situation could provide you with the answers you need to hear. We have confronted reputation management issues like these for many of our dental and medical clients, helping them navigate the most beneficial path.
Contact Rosemont Media
In today's elective healthcare marketplace, taking charge of your online reputation is vital to the welfare and success of your practice. For experienced assistance with reputation management and successful website marketing strategies, we encourage you to contact Rosemont Media to speak with our knowledgeable consultants today.
Editor's note: The original version of this post was published on October 25, 2016.