3 Reasons Why Google Authorship is Important: Part III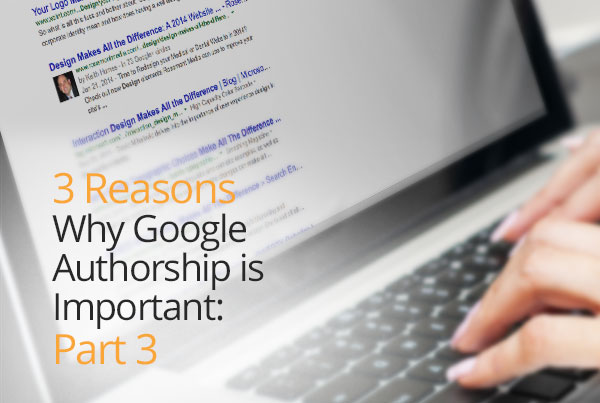 Earlier this week, we discussed how Google Authorship can enhance your search results listing and help you stand out from competition. In this third and final installment of our three-part blog series, we're going to show you how Google Authorship can increase engagement between your practice and your online audience.
If you haven't read Tuesday's post, be sure to check out 3 Reasons Why Google Authorship is Important: Part II to get caught up.
Increasing Online Engagement
If you'll recall from part one of our series, we mentioned Google Authorship provides the means to connect your Google+ account to every piece of content you write and publish. This, as we also noted, enables online visitors to access all other pieces of content you've authored and linked to your account. So how does this increase online engagement? To demonstrate, let's use the same search result we used in part one.

Under the URL, you can see text that reads, "by Keith Humes – in 72 Google+ circles." This text actually contains two different redirects. If you were to click on the Google+ circles portion of text in an actual listing, you'd be directed to Keith's Google+ profile.
Now, imagine for a second the above listing is yours. Directing online viewers (or, in your case, potential patients) to your Google+ profile enables them to access information about your credentials, recent articles you've posted, photos, videos, and even reviews about your practice. This is an invaluable resource for patients who have not met you in person, but are interested in what you have to offer.
Circling back to the listing above, if were to click on the "by Keith Humes" link, you'd be redirected to another Google results page looking something like this: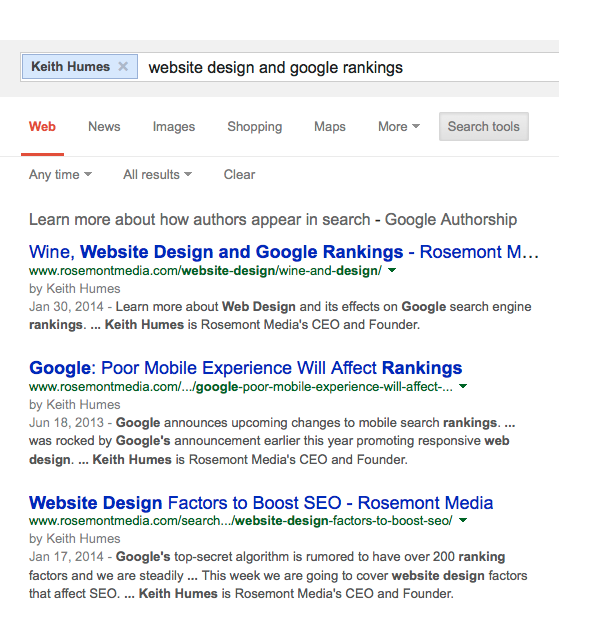 This results page exclusively contains Google listings for related content authored by Keith. In your case, had a patient clicked on your "by Dr. John Doe" link, they would have access to every piece of content you've authored pertaining to their inquiry in one way or another.
For example, someone seeking information about breast augmentation would now have access to every procedural page and blog post you've written about the breast enhancement procedure. The same goes for teeth whitening, LASIK surgery, or whatever treatments and procedures you offer at your practice. Not only is this an excellent resource for patients researching potential treatment options, but it also provides an great opportunity for patients to establish a connection with you and your practice before ever stepping foot in your office.
Conclusion
As you can see, Google Authorship is important for three key reasons: search engine optimization, enhanced search result listings, and increasing your online engagement with viewers.
To learn more about Google Authorship, or to have Rosemont Media help you set up an Authorship account for your practice, please don't hesitate to contact us today.