Link Building Tips You Need to Know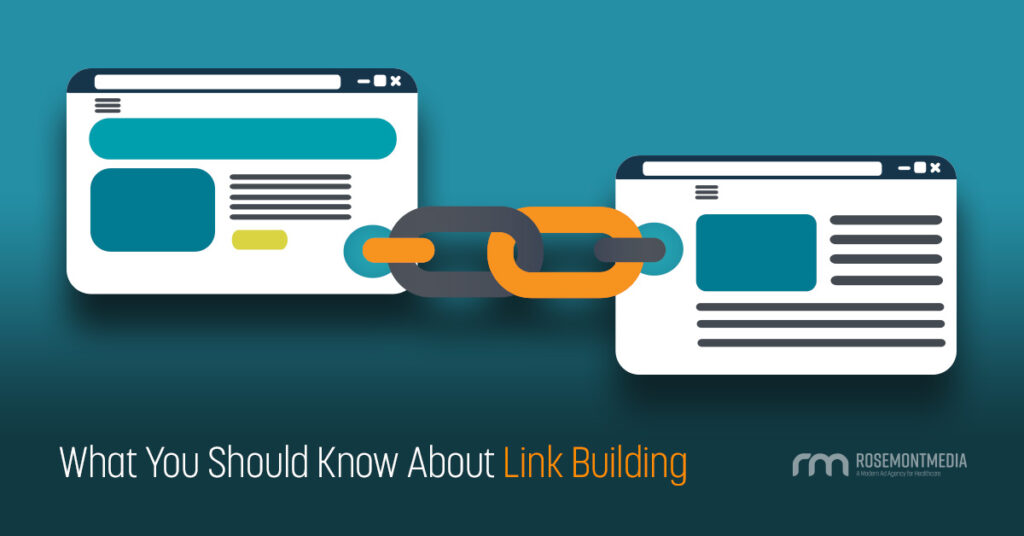 While many surgeons and dentists in elective healthcare have heard the term "link building" when discussing an SEO strategy with their website marketing team, understanding what it means and how it's done correctly can be a bit of a mystery. In an effort to explain the basics of modern link building and how to cultivate internal and external links that support your search engine optimization plan, we have compiled some helpful advice below.
What Is Link Building?
Link building is a process focused on developing the quality and number of inbound links to a website, as well as improving the site's internal linking strategy, with the goal of increasing ranking in the search engine results pages.
Why Does Quality Link Building Matter?
The simple answer is that without a strong grasp on the condition of your link profile and link building strategy, your website may face disastrous consequences on the search engines. Google's Penguin update began penalizing PageRank and even blocking websites with an overabundance of low-quality, "spammy" links in 2012, and those who do not abide by "best practice" rules quickly drop out of favor in rankings.
Action Steps for a Quality Link Portfolio
If your goal is to improve the visibility of your website and achieve top ranking on Google, we suggest you review these easy-to-follow tips. These guidelines have been distilled directly from our team's linking experience and expertise:
Analyze Your Current Links
Assessing your current link profile is the first step in managing your linking strategy. Identifying all of the internal links (those that go from page to page within your website) and external links (those going from your site to an outside source or vice versa) associated with your website will give you the opportunity to evaluate whether each link may be harming or benefiting your website.
Identify Low-Quality Links
Low-quality or spammy links are defined in several ways, and our team recommends using these questions to separate the good from the bad:
Is this link relevant?
Does this link originate from a reputable source?
Is the link coming from a page that is "stuffed" with links?
Does the link flow naturally within the context of the content?
Does the link misrepresent its source or destination?
Remove or Disavow Low-Quality Links
Ridding your website of bad external linking and sub-optimal internal linking practices is the next step in improving your link profile. The links that you have the most control over are your internal links and the external links that originate within your website. We suggest:
Revising your interlinking strategy using quality linking tactics
Removing detrimental external links and "Links" pages from your website
Low-quality links originating from outside sources may prove to be a bit more tedious and challenging to remove, but it can be done. Contacting the source and requesting that they remove or modify the offending link is the best place to start. If your repeated efforts are fruitless, Google allows you to "disavow" problematic external links you've been unable to remove. For practices who do not have a lot of time to deal with link removal, having an experienced team dedicated to cleaning up your link profile can be extremely valuable.
Once your low-quality links have been removed, revised, and/or disavowed, you may submit your website to Google for re-evaluation.
Establish a High-Quality Link Building Strategy
A high-quality link building strategy is a multifaceted endeavor that works in harmony with your overall website marketing plan to deliver optimal results. We suggest the following tips to get you started:
Maintain internal linking standards when adding or expanding website content.
Identify reputable sources with which you would like to establish links. Great places to start include the Better Business Bureau (BBB), professional associations, and alma maters.
Create and promote compelling original content either in the form of website content, blogs, or press releases, and utilize social media marketing to build awareness.
Engage in citation management through a trusted company like Yext, which offers powerful software tools that connect your practice to relevant directories while providing you with the ability to control your business listings simultaneously.
As the health and scope of your link profile improves, you may notice your search engine result positioning (SERP) improving as well.
Perform Ongoing Link Management
You or your SEO team needs to be the watchdog for your link profile to ensure your linking practices are continually up-to-date—which includes everything from implementing the latest strategies to ensuring any low-quality external links are handled quickly and effectively. By closely and consistently monitoring your link portfolio, you set yourself up for greater digital marketing success.
Let Rosemont Media Help
Do you think detrimental linking is affecting your website's positioning on Google? Contact one of our Website Marketing Consultants to help take control of your online presence and bring your performance on search engines to new heights. As one of the nation's leading website agencies specializing in the elective healthcare market, Rosemont Media has a team of in-house experts who can handle every aspect of your online marketing strategy. From comprehensive link building and management to website design, SEO, and content development, our professional team has the knowledge and experience to take care of all your website needs.