Suddenly Lose Placement on Google?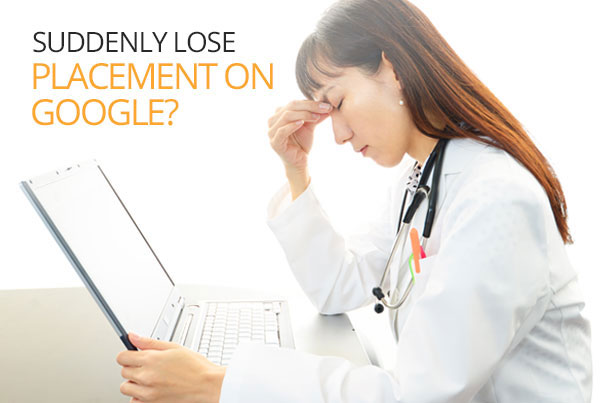 As a practice owner, you want your website to show up on Google for certain keyword searches, preferably at the top of page one. Search engine optimization is the way to get there but what happens when it backfires and you see your site disappear off Google?
SEO: No Simple Path to the Top
Search engine optimization has always been trial and error, since Google won't release its search algorithms and gives sometimes vague guidelines about best practices. It's hard to know what elements will make for excellent placement so there are plenty of SEO companies who take SEO techniques to an extreme, regardless of the effect on user experience.
Google Penalizes Black Hat Tactics
SEO techniques that are unethical and try to game the search algorithms are called "black hat SEO". Black hat tricks have always been frowned upon by Google and recent algorithm updates like Panda and Penguin punish sites with shady SEO practices and also elevate sites with quality content. At Rosemont Media we have always used a conservative approach to SEO, taking into consideration the user experience as well as search engine results.
From Page One to Page None
The results of Penguin and Panda have been seen in our office as we have been contacted by doctors whose sites have suffered significant losses in visibility on Google. Unfortunately this isn't an uncommon occurrence for doctors who may not know how to choose a reputable SEO company.
Don't Let Your Site Be Punished by Google
The moral of the story is to work with a quality SEO company with excellent webmasters who stay current with the ever-evolving world of SEO. Be wary of companies that promise exact rankings in Google within a short time frame. SEO takes time to build and reaching page one isn't going to be the result of flipping a switch. If you believe your site is suffering in rankings due to SEO contact us for a complimentary site evaluation.