Aloha Laser Aesthetics in Honolulu Reveals New Medical Spa Website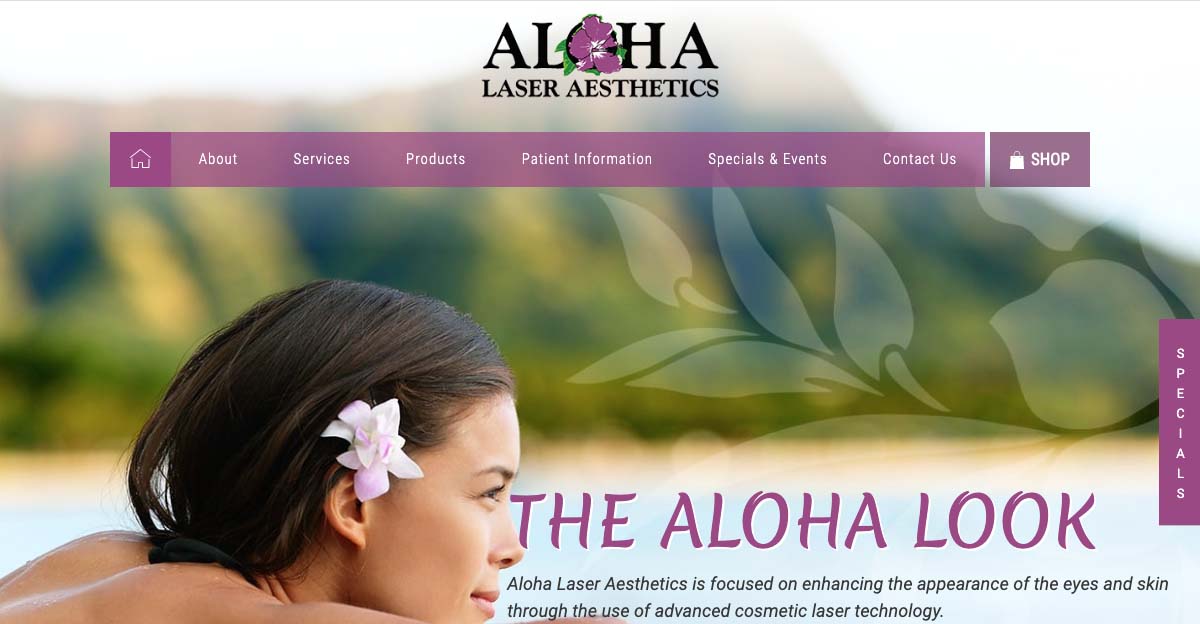 With help from the team at Rosemont Media, Aloha Laser Aesthetics now has a beautiful, state-of-the-art website that is as advanced as the world-class medical spa it showcases.
Honolulu, HI – As a leading medical spa and aesthetic laser center in Honolulu, Aloha Laser Aesthetics offers a comprehensive range of treatment options performed by Medical Director Alan Faulkner, MD and a highly trained team of experienced medical aestheticians. When it came time to develop a website for Aloha Laser Aesthetics, Dr. Faulkner chose to join forces with the website marketing specialists at Rosemont Media to develop an innovative website that reflects the sophisticated, personal, and technologically advanced nature of the practice.
Dr. Faulkner wanted a website that would work as an easy-to-use informational resource for current and prospective patients, as well as provide visitors with an inside look at what makes Aloha Laser Aesthetics a superior choice for a variety of non-surgical cosmetic treatments. Many of the treatments and products available at the practice are specifically tailored to the needs, lifestyles, and cosmetic goals of local patients, offering optimal outcomes with minimal, if any, downtime.
Visually, the website Rosemont Media created blends gorgeous island-themed imagery and lilac accents to represent the natural scenery and outdoor lifestyle that is synonymous with Hawaii. The design is modern and user-friendly, seamlessly combining elegant aesthetics with the latest in website functionality and features. Visitors to the website can easily browse through its contents using the intuitive navigation, dropdown menus, and buttons to find the information they are looking for. The responsive design of the website allows it to fit various screen sizes and function optimally on a variety of mobile and stationary internet-connected devices. Additionally, when internet users are in search of the treatments and services offered at Aloha Laser Aesthetics, advanced search engine optimization (SEO) built into the website helps them connect more easily with the practice in Google results.
Whether users want to learn about treatments, products, technology, special offers, or the Aloha Laser Aesthetics team, each page is easy to explore and filled with descriptive custom-written content designed to answer any questions patients may have. The website also allows patients to shop ALASTIN® skincare products, request appointments, call the practice with the push of a button, and submit email inquiries. Dr. Faulkner hopes that the new website will meet the needs of web-savvy patients and can familiarize visitors with all of the incredible non-surgical skin rejuvenation, anti-aging, laser hair removal, and body contouring options that are offered at Aloha Laser Aesthetics.
About Aloha Laser Aesthetics
Dr. Alan Faulkner created Aloha Laser Aesthetics to provide residents of Honolulu with the opportunity to benefit from the latest non-surgical cosmetic treatments and aesthetic laser technology. Patients seeking smoother, healthier, younger-looking skin and firmer, leaner body contours can choose from a variety of state-of-the-art treatments that are customized to achieve their goals. Dr. Faulkner and his team of skilled aestheticians are extensively trained in innovative aesthetic treatment approaches, products, and technology—including wrinkle relaxing injections, dermal fillers, skin rejuvenation lasers, non-invasive body contouring systems, and more. At Aloha Laser Aesthetics, the focus is always on delivering safe, comfortable, and enjoyable treatment experiences that help patients look and feel their best.
For more information about Aloha Laser Aesthetics, please visit alohalaseraesthetics.com and facebook.com/alohalaseraesthetics.
Contact:
Aloha Laser Aesthetics
1100 Ward Ave., Suite #1000 A
Honolulu, Hawaii 96814
(808)792-3937
Rosemont Media
(858) 200-0044
www.rosemontmedia.com