Aloha Laser Vision Launches Responsive Website Featuring Innovative Design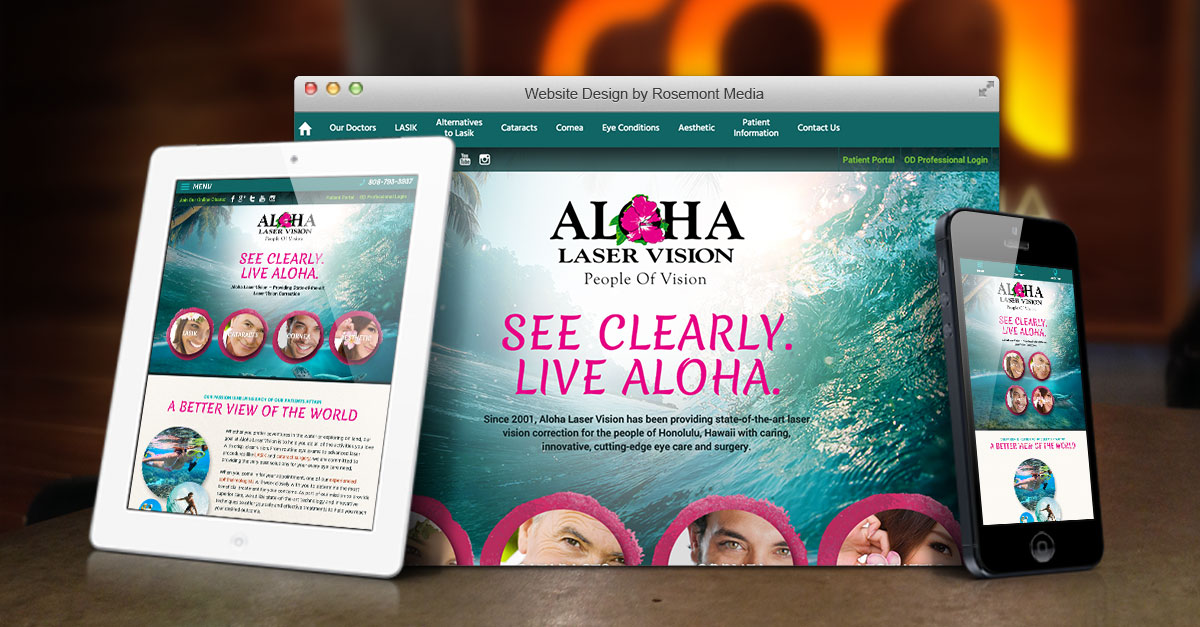 Aloha Laser Vision reveals its sophisticated new website, which combines leading edge design elements and intuitively organized resources to deliver a dynamic user experience.
Honolulu, HI – As a leading authority in eye care and laser vision correction in Hawaii, Aloha Laser Vision realized the need for modernizing and expanding its web presence with an upgraded website design. The practice partnered with Rosemont Media, a San Diego-based Internet marketing company, to develop a comprehensive website that prominently displays the diverse array of advanced treatment options they offer, the expertise of their surgeons, and high level of patient care they provide.
Visually, the website delivers a vivid display of Hawaii's cultural and outdoor splendor seamlessly combined with a variety of innovative features, including intuitive navigation, accessible drop down menus, and a responsive design, which enables full website functionality on mobile and stationary devices. The homepage features state-of-the-art visual effects which depict a beautiful Hawaiian ocean scene slowly coming into focus, exemplifying the benefit of vision correction. Also incorporated into their customized website package is a robust medical SEO and content development strategy intended to promote and develop procedural, technological, and patient-focused information.
For visitors to the site, information about all of the services and treatments offered at the practice is clearly delineated into main categories, including LASIK, LASIK Alternatives, Cataracts, Cornea, and Aesthetic. In these groupings, visitors will find helpful, easy to understand content that fully outlines pertinent aspects of eye conditions, treatments, and the results patients can expect to achieve. Additionally, Aloha Laser Vision has chosen to incorporate a wealth of complementary patient information, a regularly updated blog and news room, and a patient portal to facilitate effective communication between the practice and its patients.
Honolulu LASIK surgeon and practice founder Dr. Alan Faulkner explains that the new website brings out all the best Aloha Laser Vision has to offer its patients. Ultimately, the teams at Aloha Laser Vision and Rosemont Media were able to succeed in creating a visually stunning, modern, and functionally dynamic online resource that meets the evolving needs of today's web savvy patients.
About Aloha Laser Vision
Aloha Laser Vision is a premier eye care and laser vision correction center in Honolulu. Founded in 2001 by Dr. Alan Faulkner, Aloha Laser Vision has continued to bring the latest, most effective vision enhancing technology to residents of Hawaii. The practice features a team of respected and exceptionally skilled eye surgeons and staff, all of whom are dedicated to delivering improved vision and the highest level of patient care. Aloha Laser Vision provides a full range of vision correction procedures, including LASIK, custom cataract surgery, and PRK. In addition, the practice offers a selection of aesthetic services, treatments, and skin care products.
For more information about Aloha Laser Vision, please visit alohalaservision.com and facebook.com/alohalaservision.