Austin Dermatologist Unveils Newly Improved Website Design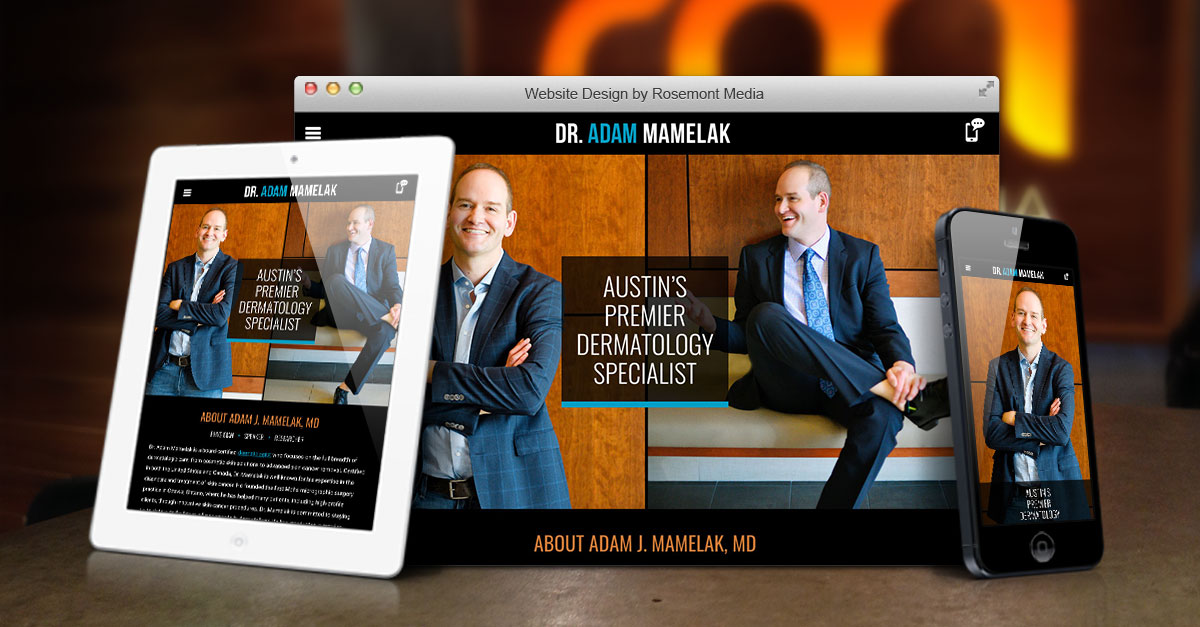 Dr. Adam Mamelak has launched an updated design for his dermatology website, highlighting the variety of skin care services he provides.
Austin, TX — To better reflect the quality of care he provides, Austin dermatologist Adam Mamelak, MD recently transformed the look of his website. With inviting design elements and a user-friendly layout, visitors can access valuable information about Dr. Mamelak's experience and the skin care treatments he offers.
Board certified in both the U.S. and Canada, Dr. Mamelak is known for his advanced expertise in skin cancer treatments, most notably for Mohs micrographic surgery. Visitors of his newly redesigned website can find details about this complex specialty, as well as cosmetic skin care and clinical dermatology—all in a clean and organized layout.
Updates made to his existing website are as follows:
Responsive Capabilities: To accommodate the screen size of varying Internet devices, the website pages automatically adjust to smartphones, tablets, and personal computers for optimal viewing.
Search Engine Optimization: Equipped with up-to-date SEO strategies, Dr. Mamelak's information can more easily be found in search engines for people to conduct research, make an appointment, or submit a media inquiry.
Original Content: The pages have been refreshed with valuable content that helps visitors get to know Dr. Mamelak and his dermatology services.
Blog: This space was created to provide general information about skin health and treatments, as well as current news about Dr. Mamelak.
Testimonials: To help the public get an idea of what they can expect when collaborating with Dr. Mamelak, a testimonials page has been provided with reviews from his patients.
Gallery: When it comes to skin treatments, seeing is believing. The portfolio of before-and-after pictures highlight the dramatic results Dr. Mamelak has helped patients achieve through solutions like Mohs surgery, vein treatments, hair restoration, and more.
The fundamental website design was developed by medical marketing firm Rosemont Media. Based in San Diego, the company's design team worked with Dr. Mamelak to customize his new and improved website. Through this collaboration, they were able to effectively upgrade Dr. Mamelak's existing site, making it easier for patients and media sources to learn about his credentials and get in touch with him.
About Adam J. Mamelak, MD
Dr. Mamelak is a board-certified dermatologist who specializes in the full spectrum of dermatology conditions, including advanced skin cancer solutions. After founding Sanova Dermatology, where patients receive comprehensive skin care services, Dr. Mamelak started The Austin Mohs Surgery Center in Austin. Here, he devotes his time to helping patients with skin cancer through innovative treatment options. Dr. Mamelak completed his medical training at Queen's University in Ontario and Johns Hopkins University in Baltimore. He regularly conducts research and is a published author in many medical journals. Dr. Mamelak is available for interview upon request.
To learn more about Dr. Mamelak, feel free to visit dradammamelak.com and facebook.com/DrAdamMamelak.
Contact:
The Austin Mohs Surgery Center
12319 North Mopac Expressway
Bldg. C, Suite #110
Austin, Texas 78758
(512) 369-3210
Rosemont Media
(858) 200-0044
www.rosemontmedia.com