How to Engage in Your Own Social Media Marketing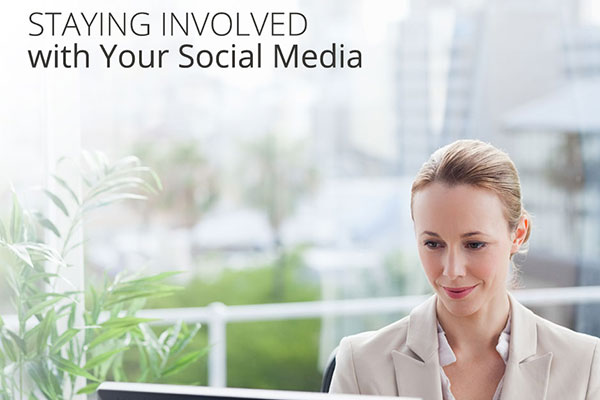 So, you've accepted that your practice needs social media marketing – you're posting with hashtags, promoting Facebook content regularly, and even incorporating social video marketing into your strategy… but what if I told you that's not enough to create a robust social media marketing plan? According to a recent study, 89% of patients researching cosmetic doctors prefer physicians who are active on social media. Sure, having any presence on social media and maintaining an editorial calendar of regular weekly posts is important, but it's not enough to just have a few posts published each month and never look at your social pages ever again. It doesn't actually mean anything or create results if you are also not active on your own social sites.
In addition to developing and implementing a social campaign with expert strategists, here are some ways both you and your employees can engage with your own social pages to enhance the benefits of your social strategy:
Dedicate time to participate in conversation. Thank your patients for their comments, answer questions, and even leave friendly comments on photos that patients post to your page.
Act as company advocates. Get the conversation going by participating in fun trivia, true or false posts, or other posts that ask followers questions. You and your employees should also regularly share your practice's social posts to your personal pages.
Humanize the page with your own photos. Branded content that is well-thought-out with clear marketing goals to either drive traffic back to your website or encourage followers to inquire about a service is great, but you can enhance your page with your own photos of your personal/family time, hobbies, vacations, office events, etc. Take this opportunity to also share fun facts about yourself and your staff.
A great way to set reminders to interact with your Facebook page is to turn on the notifications for your page. Make sure "Get Notifications" is checked in the dropdown menu when you like your page (as highlighted below).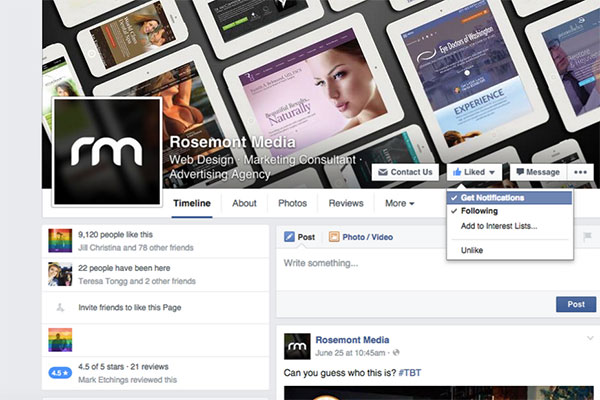 If you and your staff are not active on your own practice page, how can anyone else interact with you? Increased activity can build closer one-on-one connections with current and prospective patients. Conversations can also lead to more conversions because remaining active on social media is like attending networking events everyday.
Contact Us
Our social media marketing team regularly monitors our client social pages and sends email reminders to answer questions and private messages, helping to maximize social media activity and engagement with followers. We also have suggestions on what types of personalized content can enhance your page. If you are interested in working with Rosemont Media to improve your social strategy, contact us today.