Baltimore Plastic Surgeon Reveals Elite, New Website to Educate Patients on Surgical and Non-Surgical Cosmetic Treatment Options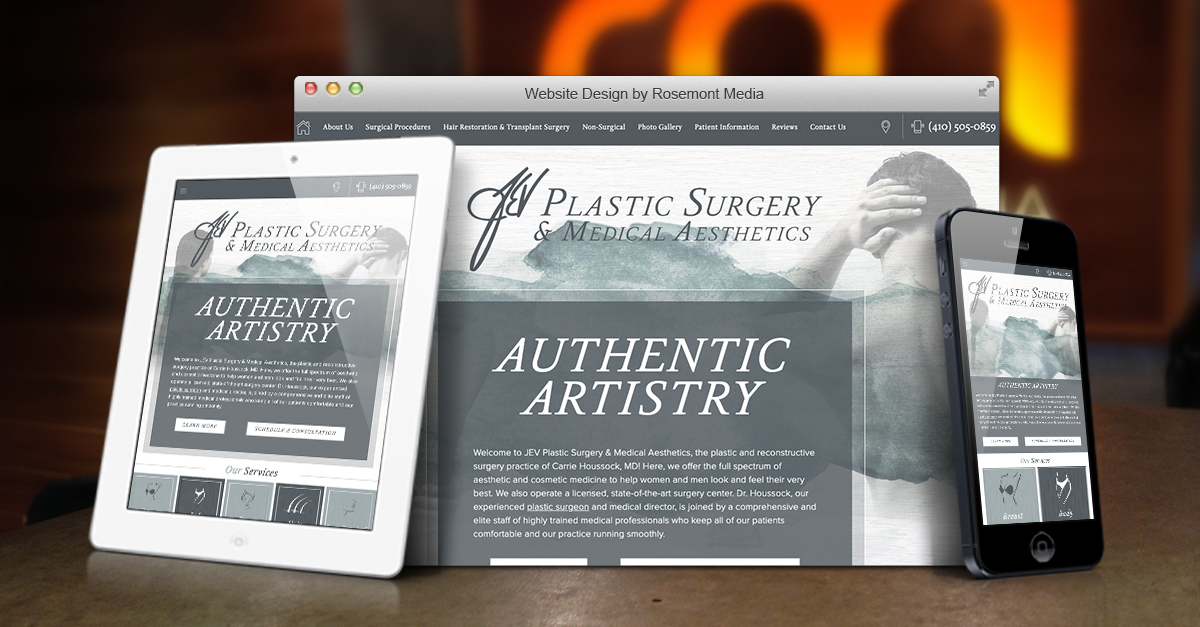 Dr. Carrie Houssock, a nationally acclaimed plastic surgeon based in Baltimore, recently launched a new website to showcase the diverse range of aesthetic treatments and procedures performed at JEV Plastic Surgery & Medical Aesthetics.
Baltimore, MD — For individuals in Baltimore looking for aesthetic treatments performed with medical expertise, JEV Plastic Surgery & Medical Aesthetics is considered a primary option for surgical and non-surgical procedures alike. As the facility's Medical Director, Dr. Carrie Houssock wanted to provide patients with an easily accessible online resource to learn key facts about the treatments they're interested in. In response, Rosemont Media, LLC. — a healthcare marketing firm based in San Diego — collaborated with Dr. Houssock to create a top-notch medical website design detailing vital information about the practice's treatment options, including cost estimates, recovery instructions, candidacy requirements, and frequently asked questions, among other essential facts.
Some features showcased on the new website for JEV Plastic Surgery & Medical Aesthetics include a responsive website design readily adaptable to any screen size, "fast facts" on cosmetic procedures highlighted at the top of each page, and an extensive patient gallery providing men and women with an idea of the outcomes possible with aesthetic surgery. Along with information about Dr. Houssock's surgical procedures, the new site also introduces a range of non-surgical body contouring and facial rejuvenation treatments, such as CoolSculpting®, VirtueRF® microneedling, and cosmetic injectables. Custom-built pages detailing Dr. Houssock's hair restoration services are also featured prominently in the site design. These pages work to communicate the various treatments available for men and women struggling with hair loss, whether one desires a minimally invasive approach or more long-lasting surgical solutions.
The team at JEV Plastic Surgery & Medical Aesthetics hopes their new website can serve as a digital encyclopedia of accurate information for Baltimore residents considering aesthetic enhancement. With its user-friendly layout and patient-centric site design, Dr. Houssock believes their online presence can present a cursory introduction into the type of personalized care individuals can expect when they schedule a consultation at JEV Plastic Surgery & Medical Aesthetics.
About Carrie Houssock, MD
Dr. Carrie Houssock is a plastic and reconstructive surgeon offering a vast array of surgical and non-surgical procedures at her Baltimore-area practice, JEV Plastic Surgery & Medical Aesthetics. Dr. Houssock specializes in top cosmetic procedures such as breast augmentation, liposuction, and facelift surgery. Her skill in each of these procedures has been recognized by Newsweek, a national publication that named her one of "America's Best Plastic Surgeons 2021." Dr. Houssock's background includes residency training at both the University of Pennsylvania and the prestigious Johns Hopkins Hospital. At the latter institution, Dr. Houssock was awarded the Frank Coulson Jr. Award for Clinical Excellence. In addition to acting as owner and Medical Director at JEV Plastic Surgery & Medical Aesthetics, Dr. Houssock also volunteers for service organizations like JeffSEAL, JeffHOPE, and Operation Smile. Dr. Houssock is available for interview upon request.
Contact:
JEV Plastic Surgery & Medical Aesthetics
4 Park Center Court, Suite 100
Owings Mills, MD 21117
(401) 484-8860
Rosemont Media
(800) 491-8623
www.rosemontmedia.com