Beverly Hills Plastic Surgeon Launches Advanced Responsive Website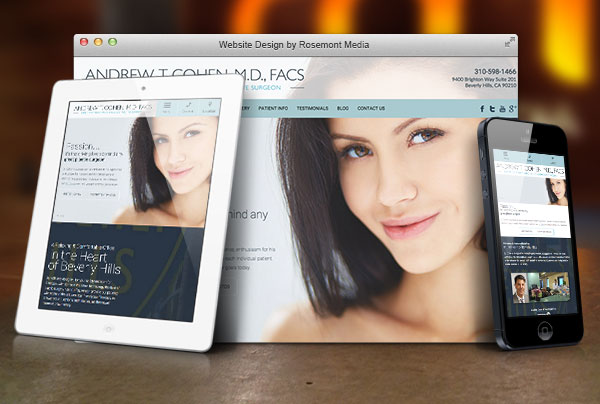 Dr. Andrew Cohen is unveiling a new website to provide a desktop and mobile-friendly educational resource for individuals considering plastic surgery and non-surgical cosmetic enhancement procedures.
Beverly Hills, CA – Dr. Andrew T. Cohen, a board-certified plastic surgeon in Beverly Hills, is opening the doors on a new, interactive website designed to serve as a comprehensive tool for people who are looking for information on some of the latest plastic surgery and aesthetic enhancement options. Complete with virtual tours of the practice and a video introduction to Dr. Cohen, the site includes detailed pages on procedures ranging from breast augmentation and facial rejuvenation to male plastic surgery and non-surgical skin treatments.
Dr. Cohen's new website has been created utilizing a responsive medical website design, making it possible for it to be viewed and navigated easily on desktop computers, laptops, tablets, and smartphones without compromising depth of content or full accessibility. The site also includes what's known as parallax scrolling, an innovative design element which merges content and imagery in an advanced new way. Along with an informative biography of Dr. Cohen and an overview of his philosophy of care, the new website includes:
Full descriptions of facial surgery, breast enhancement, body surgery, and non-surgical cosmetic enhancement procedures
A before-and-after photo gallery
Patient testimonials
An updated blog
Frequently asked questions
Dr. Cohen's new website was developed in collaboration with Rosemont Media, a medical marketing company based in San Diego that creates custom-designed websites for an array of healthcare fields. Dr. Cohen says he hopes his new site serves as a true reflection of his Beverly Hills plastic surgery practice, offering patients a warm welcome and illustrating the type of thorough communication, state-of-the-art procedures, and friendly environment they can expect.
About Andrew T. Cohen, MD, FACS
Dr. Andrew Cohen is certified by the American Society of Plastic Surgeons and a member of the American Board of Plastic Surgeons, the American Society for Aesthetic Plastic Surgery, the California Society of Plastic Surgeons, and many other organizations. A Southern California native, Dr. Cohen completed his Plastic Surgery and General Surgery residencies at Loma Linda University Medical Center, followed by a Fellowship in Aesthetic and Oculoplastic Surgery at Paces Plastic Surgery in Atlanta, Georgia. Dr. Cohen formerly served as the Clinical Chief of Plastic Surgery at Cedars Sinai, and has been an invited lecturer at a variety of medical conferences and symposia. Dr. Cohen is available for interview upon request.
For more information on Dr. Andrew T. Cohen and his practice in Beverly Hills, please visit drandrewcohen.com or facebook.com/pages/Plastic-Surgery-Beverly-Hills-Andrew-T-Cohen-MD-FACS/335904540071