Richmond Plastic Surgeon Launches Specialty Breast Augmentation Website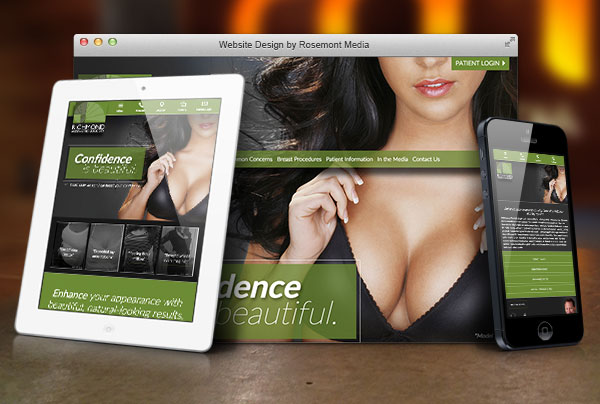 Neil J. Zemmel, MD, FACS announces the recent launch of Richmond Aesthetic Surgery's new website that focuses on breast augmentation and patients' results from the procedure.
Richmond, VA – To provide a more comprehensive resource for those considering breast augmentation, Dr. Neil J. Zemmel, a board-certified plastic surgeon in Richmond, recently launched a new specialty website focusing on the procedure. Renowned for his expertise in breast surgery, Dr. Zemmel utilizes the new website as a place for patients to not only learn about breast augmentation, but also find real-life examples of his previous patients. The design emphasizes the patient's point of view, as it displays before-and-after images, testimonials, and stories.
When visitors access the homepage, they can find quotes and photos of real patients, as well as a section focusing on one patient, in particular, who documented her entire experience, from before the consultation to after her recovery. This is shared to help patients understand the breast augmentation process, so they feel more comfortable and informed about their decision.
The website offers several pages devoted to breast surgery, with information about the procedure, common concerns, patient stories, and an elaborate breast gallery. Visitors can find hundreds of Dr. Zemmel's breast augmentation cases, allowing them to familiarize themselves with what they can potentially achieve should they move forward with the procedure.
For the creation of his specialty website, Dr. Zemmel worked closely with medical website design firm Rosemont Media. Through this collaboration, the site was equipped with the latest SEO strategies, a state-of-the-art responsive design, and a user-friendly layout. With its recent launch, Dr. Zemmel hopes patients find the website to be a valuable resource as they begin their breast augmentation journey.
About Neil J. Zemmel, MD, FACS
Board-certified plastic surgeon Dr. Neil J. Zemmel is the founder of Richmond Aesthetic Surgery. After graduating from the College of William and Mary with his undergraduate degree, he earned his Medical Degree from the University of Virginia. Dr. Zemmel was then selected into a 6-year residency program at the Virginia Commonwealth University Medical Center, where he trained in general surgery, as well as plastic and reconstructive surgery. To stay abreast of the latest advancements in plastic surgery, he remains an active member of the American Society of Plastic Surgeons, the American Medical Association, and more. Dr. Zemmel is available for interview upon request.
For more information about Richmond Aesthetic Surgery, visit richmondplasticsurgery.com, richmondbreastimplants.com, vabreastsurgery.com, and plus.google.com/109479035144616950506/about.