Eye Care Practice in Chester County, PA Launches Newly Upgraded Website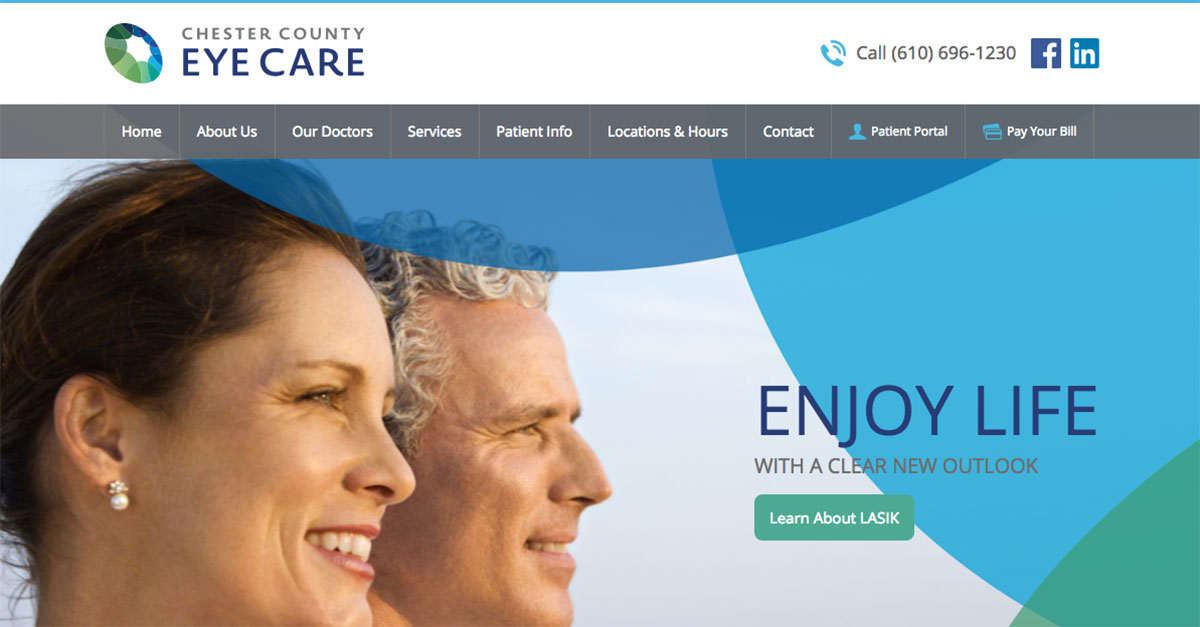 Chester County Eye Care announces the unveiling of its new, highly educational website with responsive capabilities and innovative design features.
West Chester, PA — As part of their ongoing effort to remain leaders in vision correction and ocular healthcare services, the eye doctors of Chester County Eye Care partnered with Internet marketing firm Rosemont Media to launch a newly improved and expanded website. Equipped with a custom layout and unique design features, the site provides a one-stop, comprehensive resource for individuals interested in anything from routine eye exams and contact lenses to LASIK surgery and glaucoma treatment.
With the use of mobile devices continuing to skyrocket, the Chester County eye doctors insisted that the website cater not only to visitors on desktop or laptop computers, but also those accessing the site from tablets and smartphones. This request was made possible by a responsive design that enables the layout of the site to automatically detect and seamlessly adjust to fit the screen dimensions of the particular device being used in order to provide an optimal viewing experience.
In addition to the advanced responsive design, the Chester County Eye Care website is further enhanced by the following elements:
A combination of fixed-background and parallax scrolling on the homepage
A simple-to-use navigational dropdown menu
Biography pages for each doctor at the practice
Detailed information on various eye conditions and treatment options
A multitude of educational videos
A patient portal and online billpay
A password-protected referring doctors section
An informative Press Room and continually updated blog
Aside from visual and educational features, the Chester County Eye Care website is outfitted with a variety of leading medical SEO strategies. Intended to help the site rank competitively in major search engines, these behind-the-scenes elements make it so people seeking information about vision care services in the Chester County area can more easily locate the site when searching the Web.
Ultimately, the team at Chester County Eye Care feels the newly enhanced website mirrors the practice's dedication to continually improving the level of service it provides the community, and the doctors hope prospective patients both young and old will consider it a helpful and trusted tool when conducting their online research.
About Chester County Eye Care
Chester County Eye Care has been delivering the highest standard of ocular care and vision correction services for more than 40 years. With offices in West Chester, Exton, and West Grove, the practice provides a comprehensive span of treatments and procedures designed to treat poor vision, cataracts, macular degeneration, glaucoma, dry eye, and several more conditions. In addition, the team offers an assortment of injectable fillers and other cosmetic techniques to help rejuvenate one's facial appearance. Above all, Chester County Eye Care is committed to ensuring each and every patient receives an optimal quality of care in a safe, friendly, and comfortable environment.
For more information, visit chestercountyeyecare.com.