Houston Plastic Surgeon Unveils Two New, State-of-the-Art Websites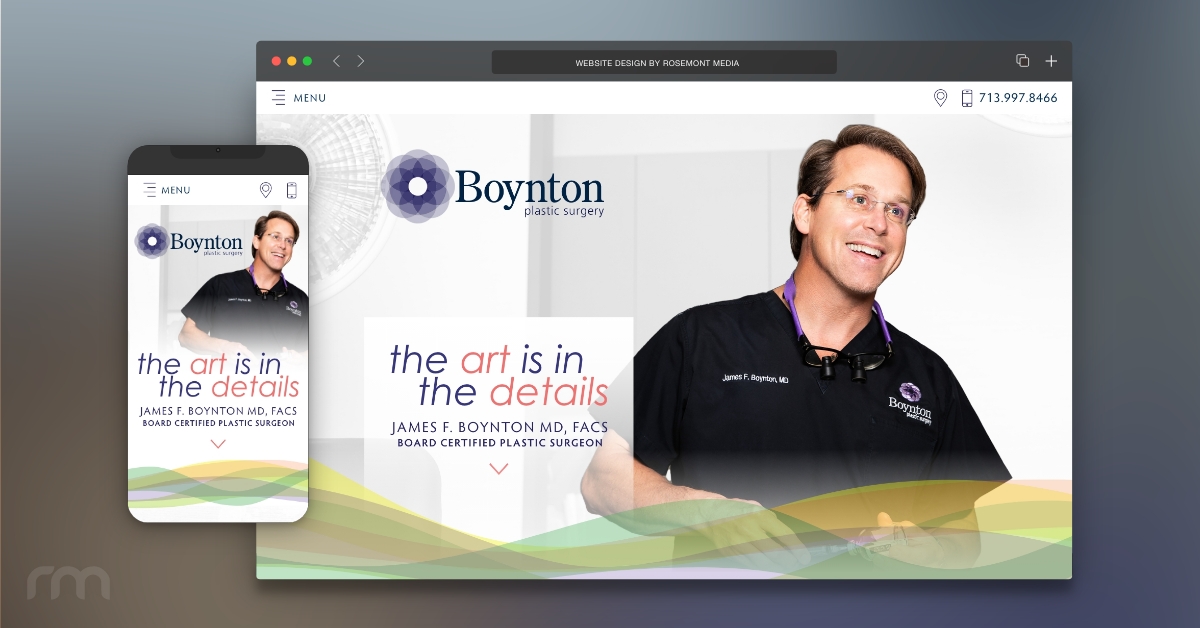 Dr. James F. Boynton, a board-certified plastic surgeon and the head of Boynton Plastic Surgery in Houston, has opened the virtual doors on a new website dedicated to providing viewers with extensive educational descriptions about surgical and non-surgical treatments for cosmetic enhancement. Additionally, Dr. Boynton has launched a separate website exclusively devoted to the topic of gynecomastia and advanced treatment options for that condition.
Houston, TX – Dr. James F. Boynton, a board-certified plastic surgeon in Houston, is announcing the launch of two new websites devoted to providing viewers with an extensive educational resource on subjects relating to plastic surgery and cosmetic enhancement for both women and men. Dr. Boynton says these state-of-the-art websites offer individuals considering procedures that can enhance their appearance a thorough look at the many treatments available and what they can expect from them, as well as a detailed view inside his practice and his overall approach to care.
The two websites—one encompassing the full breadth of plastic surgery and non-surgical treatment options available from Boynton Plastic Surgery, and the other focusing exclusively on treatment for the common condition known as gynecomastia—have been built in a responsive website design format. This makes it possible for the sites to be easily navigated and viewed in full on smartphones, desktops, laptops, and tablet computers. For Dr. Boynton's main website, high-resolution photos along with graphic animations and videos are seamlessly interwoven through an inviting design scheme and informative content to provide viewers with a pleasant, educational, and user-friendly experience. In addition to detailed pages on popular procedures such as in-office facelift surgery, breast augmentation, Mommy Makeovers, BOTOX® Cosmetic, and many other treatment options, the website includes several pages describing Dr. Boynton's biography, credentials, and experience, as well as a before-and-after photo gallery, a patient reviews page, and information on the practice's "Fly-In" plastic surgery program for patients visiting from areas outside of Houston.
While the main website for Boynton Plastic Surgery covers the full selection of treatments at his practice, Dr. Boynton also launched another new website focused on one particular condition: gynecomastia. Experienced by young and mature men alike, gynecomastia is a common affliction that results in an excess collection of glandular tissue and/or fat cells in the breasts, ultimately producing an enlarged appearance. Dr. Boynton studied under some of the preeminent gynecomastia surgeons in the world and has spent a great deal of his career as a plastic surgeon performing gynecomastia surgery and male breast reduction procedures to help men successfully address the concern and reduce self-consciousness about their appearance. This additional new website is exclusively dedicated to explaining numerous facets of gynecomastia and available treatment options, covering the possible causes of the condition, the various types of gynecomastia, what patients can expect from the variety of surgical techniques performed by Dr. Boynton, and what the results can potentially look like.
With these state-of-the-art websites, developed in collaboration with Rosemont Media, a medical website design firm headquartered in San Diego, Dr. Boynton hopes to provide viewers with a trove of helpful information that can give them a detailed look at specific treatments and procedures that may be ideal for their needs and goals. He also notes that the websites are designed to give individuals an overview of the kind of treatment they can expect from himself and his team of aesthetic professionals, along with his overall philosophy of care. Additionally, Dr. Boynton hopes these websites can provide readers with a deeper understanding of how an experienced and qualified plastic surgeon can combine customized treatment plans with advanced techniques and a friendly bedside manner to produce the best possible, most natural-looking results.
About James F. Boynton, MD, FACS
Board-certified by the American Board of Plastic Surgery, Dr. James F. Boynton is a Fellow of the American College of Surgeons and an active member of several prestigious medical organizations and societies, including the American Society of Plastic Surgeons®, The Aesthetic Society®, and others. Dr. Boynton has been recognized as a Top Doctor in H-Texas magazine and Houstonia magazine, a RealSelf Top Doctor, a Top Plastic Surgeon by the Consumers' Research Council of America, and as one of Castle Connolly's Top Doctors® in America. He is known for utilizing advanced techniques that allow many patients to experience less recovery time from major procedures, such as facelift surgery. Dr. Boynton incorporates a wide array of surgical and non-surgical options into the comprehensive selection of treatments for the body, breasts, face, and skin that is offered at his practice. Dr. Boynton is available for interview upon request.
To learn more, visit boyntonplasticsurgery.com, boyntongynecomastia.com, and facebook.com/DrBoynton.
Contact:
Boynton Plastic Surgery
1900 St. James Place
Suite 200
Houston, TX 77056
(713) 800-6060
Rosemont Media
(800) 491-8623
www.rosemontmedia.com